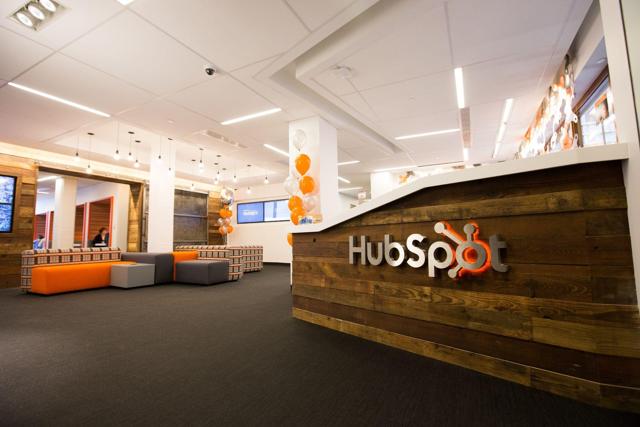 Photo credit. Glassdoor
My team in the office uses HubSpot (NASDAQ: NYSE:HUBS) for customer relations. I fell in love with the product more than three years ago and never looked back. As a small firm, we have been tempted to start using new and cheaper competing products. However, HUBS won our hearts for its quality and its excellent customer service. I don't think we will look back any time soon. HUBS reported a strong quarter and gave promising guidance. However, as much as I love the company, I don't like its current valuation.
For starters, HubSpot is a software company that provides cloud-based marketing and software to companies around the world. The company targets small and medium-sized companies with between 100 and 2000 employees. The company's CRM and marketing products allow clients to reach more customers through content management, marketing automation, search engine optimization, and blogging.
As you can tell, HubSpot operates in a very competitive industry with companies such as Salesforce (NYSE: CRM), SAP (NYSE: SAP), Oracle (NASDAQ: ORCL) and Microsoft (NASDAQ: MSFT). As a result of low barriers to entry, small startups such as Zoho CRM, Insightly, and Infusionsoft have also taken a significant chunk of the market.
HUBS has been good to its investors. In 2014, the company raised $125 million in an IPO that valued it at $880 million. Today, the company has a market capitalization of $2 billion and has outperformed the benchmark and the peer index as shown below. As of December, the company had 21,658 customers.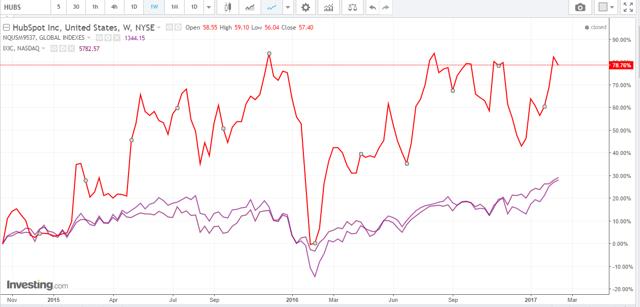 Source. Investing.com
In Q4, HUBS had a stellar performance with billings up 40% to $88.8 million from the same quarter in 2015. Deferred billings grew 48% to $96.6 million YoY. Total Gross margins reached 79%, up 4 points YoY. Subscription gross margin improved by 3 points to 84% while Services margins declined five points to negative 21%.
Operating margins improved 7 points to negative 2%. International revenues went up 67% YoY representing 29% of the total revenues. HUBS expects Q1'17 revenues to range between $78.5 million to $79.5 million and operating income to hit a loss of $3.1 million to $2.5 million. EPS is expected to be between a loss of $0.01 to $0.08. In Q1'16, the company had total revenues of $51 million and EPS of $-0.11.
Valuation
As I mentioned in the introduction, I believe in HubSpot and its CRM, marketing products and excellent customer care. My only problem with the company is its valuation. At the current share price of $57.4, the company has a market valuation of $2.069 billion and an enterprise value of $1.93 billion. Analysts seem to be in love with the company as 11 out of 19 analysts have a current buy recommendation with an average target price of $64.67, a 12% upside.
When valuing companies, I first look at the price-to-book multiple and compare it with the industry average and the company's historical trend. HUBS has a price-to-book of 16.94 compared to the industrial average of 5.64. The company's average P/B multiple was 13.70, 15.88, and 9.54 in 2016, 2015, and 2014 respectively. As a relatively new company showing tremendous growth, this is expected. It has a book value per share of 3.456, which is lower than its peers. Salesforce, SAP, and Oracle have a book value per share of 9.769, 22.68, and 11.81 respectively.
HUBS has a one year forward P/E ratio of 544.67 meaning investors are paying a significant premium. This compares to the one year forward P/E ratio of 48.73 of Salesforce, 17.87 of SAP, and 19.63 of Microsoft. While HubSpot is a good company that can grow by acquisition, I believe investors are currently paying too much.
Consider the image below that compares HubSpot's price based on past earnings, expected growth, and value of assets.

Source. Simply Wall Street
Consider the company's intrinsic value based on future cash flows.

Source. Simply Wall Street
Further, looking at the company, I am also concerned about the future profitability. As an investor, I look to buy undervalued companies that are profitable. HubSpot does not meet the first criteria of being undervalued as explained above. The second criteria is also not met despite the fact that the company has continued to grow its annual revenues as shown below.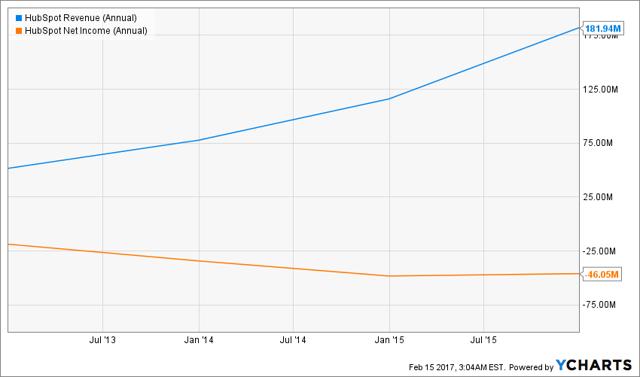 Source. YCharts
As seen, while the company's annual revenues have grown significantly since the IPO, the net revenues have not followed suit. HubSpot's main competitor is Salesforce, which as you will see below has followed a similar suit.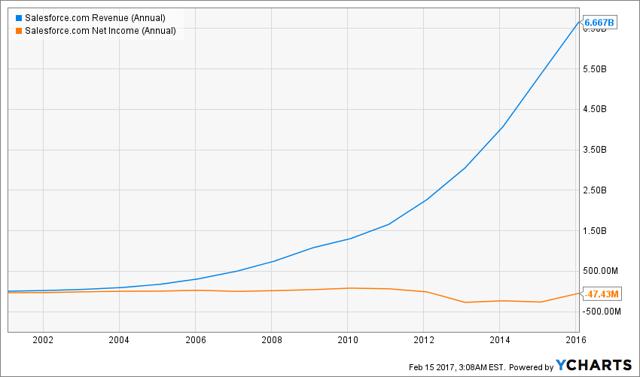 Source. YCharts
CRM has been a public company since 2004, and while the company has grown revenues to $6.67 billion a year, it has not been profitable. Part of the reason is that the company spends so much money on marketing its products. The company also spends a significant amount of money on acquisitions. Unfortunately, HUBS will need to invest significantly in marketing and acquisitions in future. Some of its past acquisitions can be found here.
To continue its growth, the company will keep increasing its budget and adjusting its fees to customers. For instance, in Q3, the company ran a promotion, which offered new customers free onboarding, which was contingent on them paying their subscription fee upfront. In December, as well, the company offered a similar promotion. The management concur that such promotions hurt margins, which are already not good as shown below.

Source. YCharts
Marketo Acquisition
Finally, in May 2016, Vista Equity Partners paid $1.79 billion for a company called Marketo (NASDAQ: MKTO). Marketo offers similar products as HubSpot and had a market valuation of $1.56 billion and projected annual revenues of $206 million. Vista paid a 64% premium over the closing price. Yesterday, HubSpot reported full year revenues of $271 million.
If the company was to be acquired today with a similar premium, the share price would be $95.91 and the market valuation at $3.4 billion. I believe this is a considerably high price considering the two companies had relatively similar financial results. Consider that in Q1'16, HubSpot had revenues of $59 million while Marketo had revenues of $62.2 million.
Final Thoughts
HubSpot is a great company with pretty good growth. However, as demonstrated above, this growth might not translate to profits any time soon. Salesforce is a good example to show how increasing subscriber growth and revenues might not translate to good profits. As also demonstrated, HubSpot operates in a competitive industry with very low barriers to entry. Small local and international companies providing similar services will continue increasing the level of competition in the industry. Therefore, at the current price, I will keep the company in my watchlist and wait for it for a few months.