Source: image disa.mil
The old saying "if you snooze you lose" comes to mind as I reflect on why Corporate Office Property Trust (NYSE: OFC) was my top REIT pick following the presidential election.
The November election is now a full three months behind us, and today we take then President-elect Trump's surprise election win as a given for the next 3.75 years, or so.
However, on November 9, 2016, the markets were in turmoil trying to come to grips with an outcome which investors had discounted as highly unlikely.
I wrote about it all in Mr. Trump's Wild Ride: Post-Election REIT Edition.
Investors saw a swing of over 1,000 points in the Dow 30 Industrials, from down -800 points, to close Wednesday's session up +257 points, near all-time highs.
Back in November, I wrote the recommendation below, (referring back to my Top Pick article if Mrs. Clinton had won the election). I realize that seems a bit circular, but it gives context to my quote below.
"In the comment section of the same article, I was asked by several readers what REIT I would recommend if Trump won the election. My suggestion was defense-focused REIT landlord Corporate Office Properties Trust.
Shares of COPT gained almost 4% on post-election trading. This is an example of a REIT that appears well positioned to benefit directly from increased defense spending under a Trump administration."
Tale Of The Tape - Nice Chart
Fast forward to today, and shares of COPT have posted a huge gain over the past three months.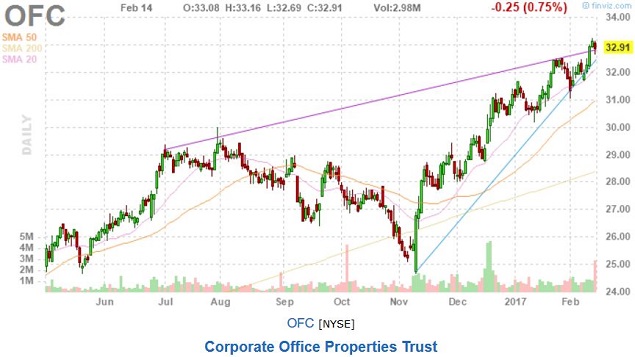 During the past 52 weeks, COPT shares have traded in a range of $20.11 - $33.24 per share. The price appreciation since Nov. 9, 2016, has been an impressive gain of 21.8%.
The consensus price target for OFC shares is $32.19 per share, and the current yield is now just 3.34%. This article will take a close look at COPT and attempt to determine if there is a near-term catalyst to drive shares higher from here.
Sector At A Glance
There are three REITs that are laser-focused on leasing space to government agencies and contractors. In addition to COPT, Easterly Government Properties (NYSE: DEA) and Government Properties (NYSE: GOV) round out the peer group.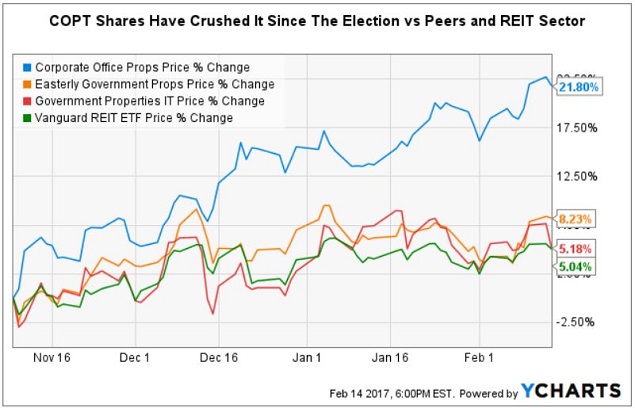 Why has COPT outperformed versus its peers?
A Perfect Storm
While DEA and GOV lease to government tenants, they are not focused on mission critical infrastructure, defense contractors and building data centers for demanding public and private clients.
Notably, developing those specialized facilities represent the core business focus for COPT. The Republican Congress and Trump White House are widely reported as supporting more defense spending and investment in cyber security. The Homeland Security and DoD budgets will likely be expanding in the near term.
On the flip side, there has been plenty of chatter regarding a hiring freeze, or worse, for many government agencies, now viewed as bureaucratic stumbling blocks preventing the private sector from efficiently allocating capital to "Make America Great Again." The GSA handles the leasing for many federal agencies which will be under scrutiny from the Trump administration.
Amazon Web Services?
If you had to guess who builds more data center shells for Amazon.com (NASDAQ:AMZN), COPT or DuPont Fabros (NYSE: DFT), Digital Realty (NYSE: DLR), CyrusOne (NASDAQ: CONE) or Iron Mountain (NYSE: IRM) - you probably guessed incorrectly.
The answer is Corporate Office Property Trust. They are low key about the data center business and rarely bother to update the dedicated COPT data center website. This is in large part due to the piles of non-disclosure agreements signed between the parties. Amazon Web Services and three letter government agencies rarely, if ever, make it easy to learn much about the data center operations.
However, a highly publicized win for AWS back in 2013 was winning the RFP to provide cloud services for the Central Intelligence Agency. Amazon beat out IBM (NYSE: IBM) by proposing a superior cloud architecture that scaled more easily. It was a crushing blow to IBM and really helped to put AWS on the map.
The COPT mission critical data center resume is impressive to say the least. In fact, COPT has ~3.5 million square feet of data centers in its 19 million square foot portfolio.
Notably, most the data center square footage are powered shells, or what Digital Realty refers to as Power Base Buildings. These are essentially high-tech warehouses, triple-net leased to tenants who foot the bill to build out the turnkey space.
In 2013, Digital Realty paved the way for data center shells to be viewed as an institutional quality commercial real estate asset class. Digital contributed nine of its PBB data centers totaling just over 1 million SF into an 80/20 joint venture with a fund managed by Prudential Real Estate Advisors. My back-of-the-envelope math pegs the initial yield at 6.67%, and the leases contained escalators.
Last year, COPT contributed six of the AWS data center shells into a 50/50 joint venture with San Francisco-based GI Partners, the leading data center private equity shop.
"The venture acquired six of COPT's existing, single-tenant, data center properties that contain a total of 962,000 square feet. The unconsolidated venture raised $60 million of 10-year mortgages that bear interest at 3.4% to finance approximately 40% of the value of the properties. GI Partners' affiliate purchased its interest in the venture for approximately $44 million. COPT realized $104 million in proceeds from these transactions."
This created $104 million in liquidity for COPT to bolster the balance sheet and reinvest in core projects. The main COPT focus remains on supporting US government agencies and DoD contractors by constructing and owning mission critical facilities, including: cyber security, Navy support, missile defense, and information technology.
OFC - Overview and Q4 Earnings
COPT reported Q4/FY'16 results last week and hosted an earnings call. The slide below shows that the company has performed as expected.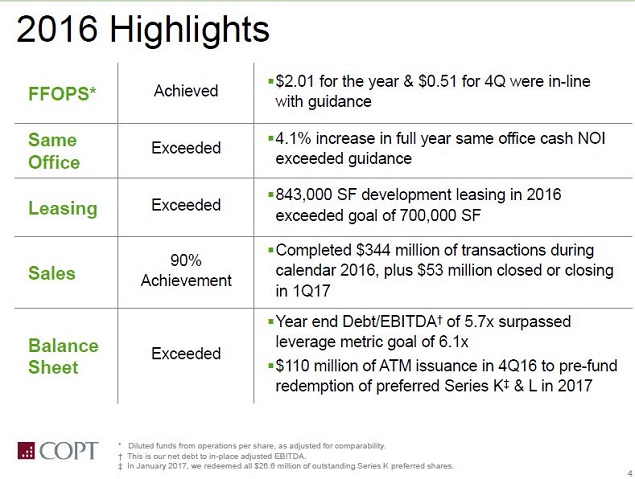 Source: COPT 4Q'16 earnings presentation (all slides)
One of the bright spots from the portfolio upgrade is that same-store NOI growth is now in the very healthy 3%-3.5% range.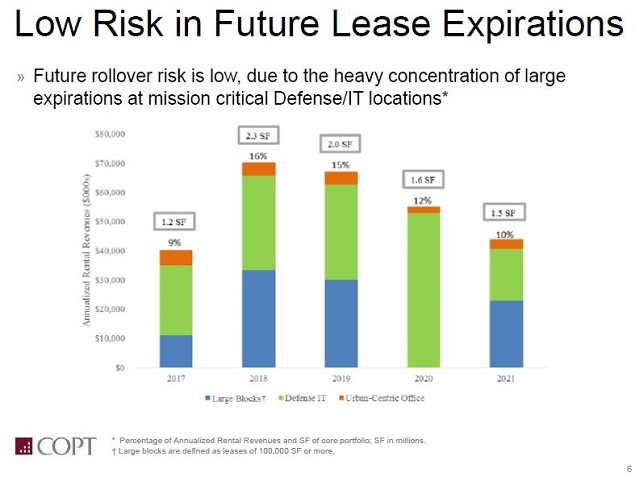 There is very little lease roll-over expected in the near term given the size of the portfolio, although 2018 does have some large chunks of space coming due (at least theoretically).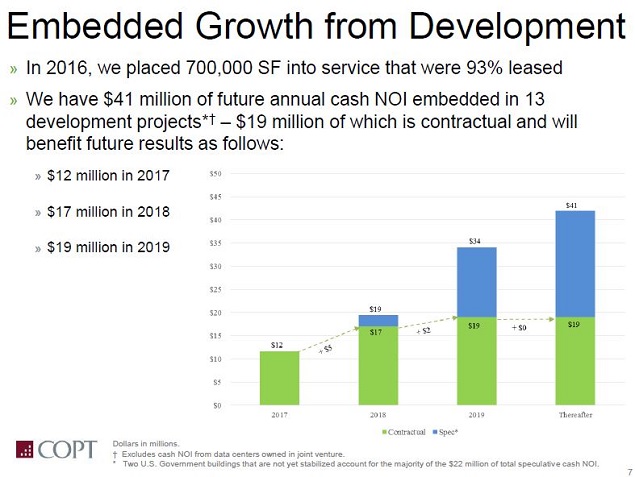 The existing build-to-suit and spec development pipeline isn't large given the 19 million SF base.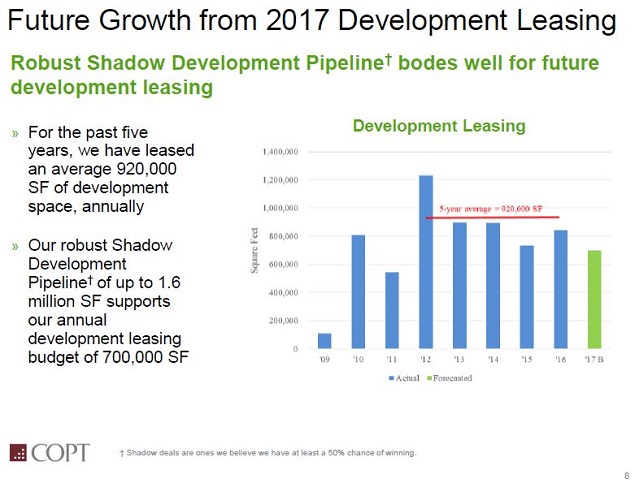 The existing "shadow pipeline" is pretty much inline with the lumpy last few years. It is very difficult to predict the exact timing of when Congress will open the spigot to crank up defense spending. The next fiscal year begins Oct. 1, 2017.
Balance Sheet - Steady Improvement
The OFC balance sheet has been a work in-progress for several years. Since 2011, the company has been focused on its SRP, or Strategic Reallocation Program, and has disposed of $1.5 billion in non-core assets. This has strengthened the balance sheet and upgraded the portfolio.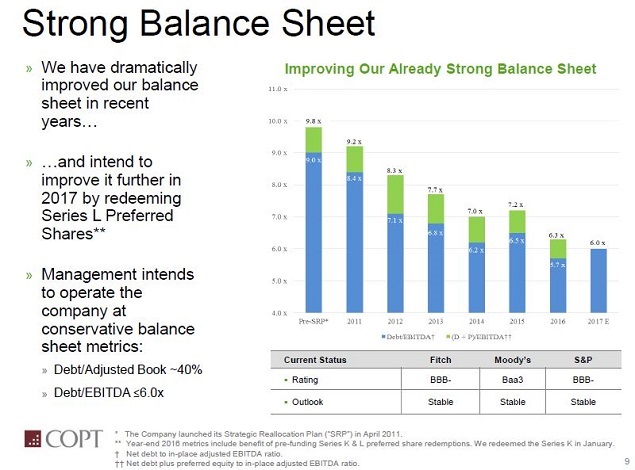 COPT now has an investment grade balance sheet. At first glance, the 6.0x leverage target might seem a bit high, but keep in mind that this is a REIT that always has a pipeline of active development. As construction in progress is completed, and rents start rolling in, it will naturally improve the metrics.
COPT estimates that initial development yields are in the 8%-9% range, much higher than buying existing stabilized buildings with US government agencies as long-term tenants.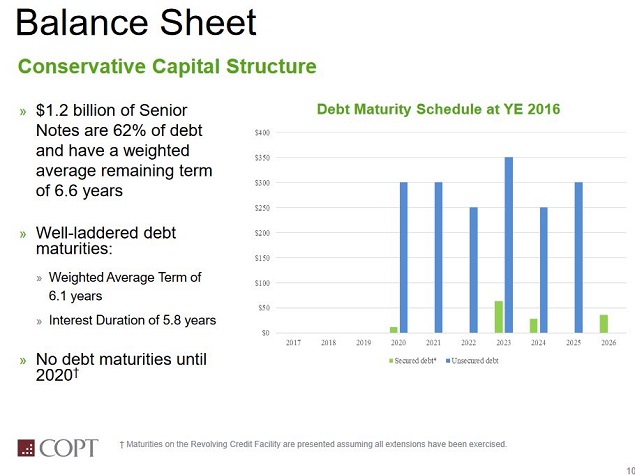 There are no short-term concerns regarding debt rolling over and the maturities of the Senior Notes are well-laddered.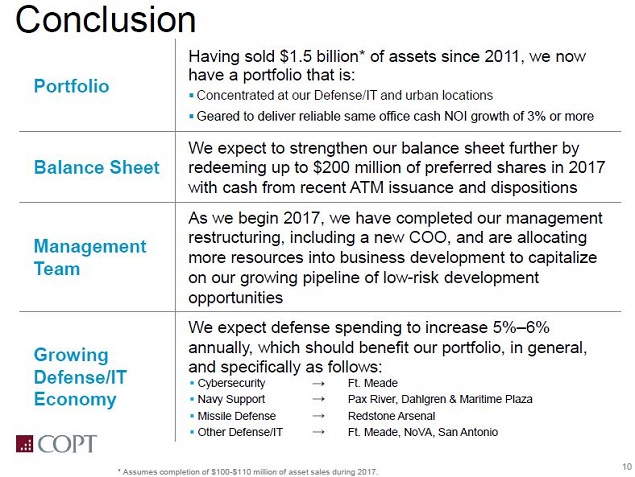 Source: COPT - January 2017 Initial Guidance presentation
FAST Graph - Valuation Analysis
It's time to use the F.A.S.T. Graphs tool to check under the hood. The black line is price. It is a visual comparison relative to the blue line, which is "normal" P/FFO for the selected number of years. The red line corresponds to the dividend yield on the far right of the chart.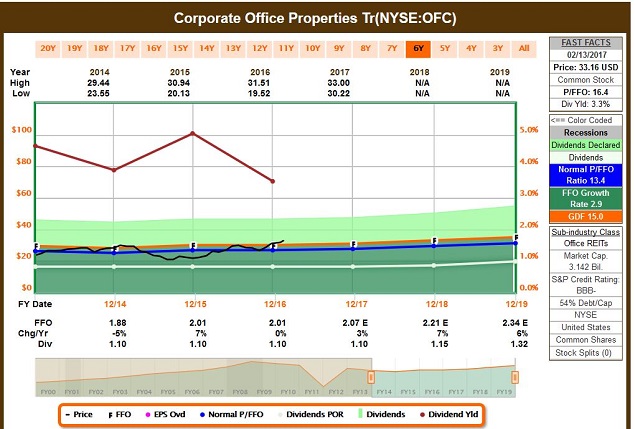 Looking back, there was no reason for COPT to have been on the radar screen for DGI-focused investors.
OFC shares are currently valued three turns higher than "normal." However, keep in mind that during the past five years, the company has undergone a massive portfolio upgrade, repaired a highly-leveraged balance sheet, and made changes in the C-Suite to streamline the org chart.
Paul Adkins joined the executive team in November as COO and additional business development headcount has been added without a commensurate bump in G&A expenses.
Essentially, CEO Steve Budorick has cleared the decks and positioned COPT to begin the next chapter. There are plenty of things for shareholders to be pleased with, and I see a much better trajectory for the FFO per share and distribution growth going forward.
During his prepared remarks on the conference call, Budorick was upbeat regarding Defense/IT spending going forward:
"The President's National Security Memorandum and rebuilding the U.S. Armed Forces issued on January 27 and the memo Secretary of Defense Mattis issued four days later make it clear that defense spending will increase.

Furthermore, the secretary instructed the DOD to cement its fiscal 2017 supplemental budget request to the OMB no later than March 1. If adopted into law, such a supplemental request would increase the DOD's base budget above the $543 billion number already approved but not yet appropriated in the National Defense Authorization Act for fiscal 2017."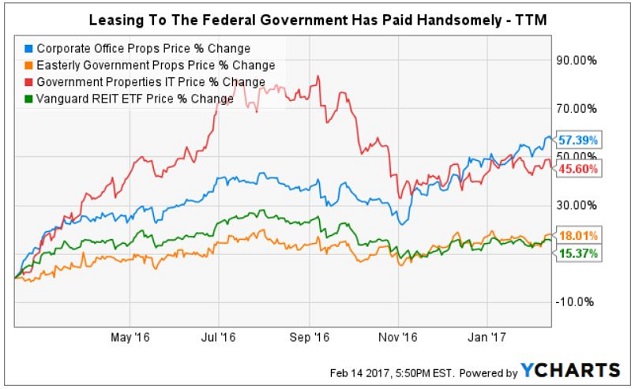 Notably, there has been a heck of a run during the past 12 months, and COPT will not be immune to the short-term headwinds for REITs in a rising rate environment.
Investor Takeaway
The former administration was not considered to be particularly friendly to the defense contracting industry. Despite a few cheap Twitter shots targeting the F-35 and Air Force One contracts, the Trump administration is generally viewed as being favorable to the military, and focused on cyber security. By extension, this should be positive for COPT's business going forward.
Additionally, it appears that COPT is now positioned to begin to grow the dividend. However, I don't see a short-term catalyst for taking the shares higher. The 3.3% yield doesn't get me excited, given the mid-single digit growth rate and lumpiness inherent in government contracting. However, the FFO/AFFO payout is conservative at just ~54%, leaving plenty of room for steady growth.
If you were one of the readers who took me up on my suggestion to purchase OFC shares on November 9, 2016, give yourself a pat on the back. I see no reason not to hang onto the shares for the long run.
However, if you backed up the truck, you may want to take a few chips off the table at current valuations, locking in a ~22% gain. I would wait for a REIT sector pullback to put dry powder to work and hope for a ~10% pullback from current levels.
I am contemplating whether to launch a Seeking Alpha Marketplace Premium subscription service. I would appreciate any feedback from readers who may be interested. Feel free to share them in the comment thread below, or send me an Inbox message.
I relentlessly hunt for diamonds in the rough and rising stars, in addition to closely following data centers, covering REIT blue-chips and breaking news. Please consider following me as a Seeking Alpha author if you would like to be notified when my future articles are published.
Disclosure: I/we have no positions in any stocks mentioned, but may initiate a long position in CONE, DFT, OFC over the next 72 hours.
I wrote this article myself, and it expresses my own opinions. I am not receiving compensation for it (other than from Seeking Alpha). I have no business relationship with any company whose stock is mentioned in this article.