Just the Beginning
Canopy Growth (OTCPK: OTCPK:TWMJF), previously known as Tweed, has emerged as the dominant medical marijuana supplier in Canada. The stock is up over 350% in the past year from $2 to a little above $9 currently. Canopy Growth recently changed its TSX ticker to WEED and announced its acquisition of Mettrum Health Corp (TSXV: MT). Earlier today, the cannabis giant reported its Q3 2017 financials which saw the company posting significant y/y growth on the top line as well as completing a key acquisition in Mettrum Health.
Canopy's y/y Q3 revenue is up 244% from $2.6 million in 2016 to $7.3 million in 2017. For the 9 months ending 12/31, y/y revenue is up an astonishing 227% from $5.9 million to $19.2 million. Despite the healthy growth and great fiscal year thus far, the stock tanked 8% today following the earnings report. We believe this dip, which was expected by those who follow the stock closely, opens up a nice buying opportunity for long term investors who are looking to invest in an industry with massive upside in the next half decade.

Source: NewCannabisVentures
The Macro Picture
Canadians appear to have a much more receptive and collective view on the devil's lettuce than their neighbors to the south. In June 2016, Nanos Research conducted a national survey which displayed that around 7 in 10 Canadians are in favor of legalizing marijuana. According to Canada's Center for Addiction and Mental Health, around 44% of all Canadians have used Marijuana at least once. A bullish report by the Parliamentary Budget Officer of Canada estimates that over 5.2 million adults will be active cannabis users by 2021.
Research firm Canaccord Genuity estimates that 3.8 million Canadians will be active recreational users of Cannabis products by 2021. Canaccord projects legal marijuana sales in Canada to exceed $6 billion CAD by 2021. Canaccord analysts Matt Bottomley and Neil Maruoka remarked that there will be a production shortage of cannabis upon legalization because "the rigorous process of becoming a licensed producer of cannabis in Canada imposes significant barriers to entry". The two analysts explain that "To date, Health Canada has approved 2 percent of applications from growers seeking approval to supply the medical market". Huffpost Canada appends that Health Canada approved merely 23 producers out of the 1200 that applied in the past year. For these reasons, Canaccord claims that bud will have a price floor of $8 until production capabilities are expanded for the industry.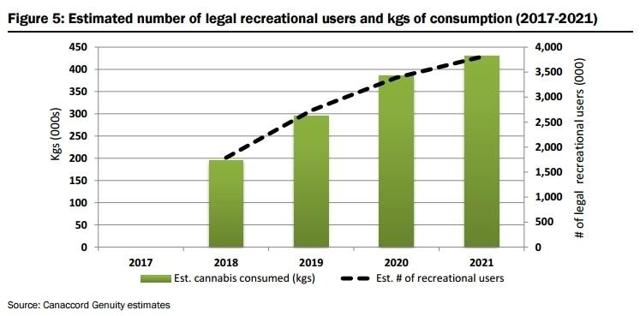 It's worth mentioning that both the liberal and conservative parties in Canada have stated that they are pro-marijuana. Prime minister Justin Trudeau has been actively garnering support to legalize marijuana in an effort to "keep marijuana out of the hands of children and the profits out of the pockets of criminals". Trudeau is expected to present the marijuana legislation in spring 2017. Top conservative candidate Kevin O'Leary also expressed his support for legalization during last night's Montreal debate. Many of my Canadian colleagues actually believe Trudeau's chance of re-election will go down meaningfully if he is unable to bring about legalization. We are inclined to believe our neighbors in the north will completely legalize the plant by early 2019 in the latest.
Analyst Recommendations
Analyst ratings are generally positive for canopy growth. According to Bloomberg, 6 of the 7 sellside firms covering the stock have a buy rating with an average price target of $10.35. The only analyst with a sell recommendation has not set a price target for the stock. Furthermore, the four analysts (Azer, Landry, Ajamian, and Zandberg) with buy ratings have an average return of 19.55% and a benchmark outperform return of 5.31%. Casey Lea, the analyst with a sell rating, has an average return of 3.45% and a benchmark outperform return of -5.05%.
**Pearlstein & Brown do not have performance reports available on Bloomberg

Source: Bloomberg
We believe there is significant industry tailwind for both medical and recreational marijuana. Research reports from Canada Health, Canaccord, and Deloitte all estimate that marijuana sales will reach between $5 billion to $8 billion annually within the next 5 years, assuming legalization takes place. Canopy Growth has established itself as the dominant player in this industry and has positioned itself to benefit from future growth. We believe this earnings dip be short-lived and we will continue to add to our position in the low $9 range.
Disclosure: I am/we are long TWMJF.
I wrote this article myself, and it expresses my own opinions. I am not receiving compensation for it (other than from Seeking Alpha). I have no business relationship with any company whose stock is mentioned in this article.