Gildan Activewear (NYSE: GIL) has grown into an international apparel manufacturing powerhouse, and the current weakness in the stock represents a long-term buying opportunity. While the market soars and investors wring their hands, Gildan is currently down 22% from its 52 week high and offers a fairly compelling contrarian long thesis at today's prices.
Many investors will balk at Gildan's premium valuation compared to that of its most similar competitor, Hanesbrands Inc. (NYSE: HBI), which I will address in a moment. However, my main takeaway from Gildan it that it has achieved its breadth and scale through a mix of organic growth and acquisitions (11 since the 1998 IPO and 3 in 2016 alone) yet carries relatively little debt. After this run Hanes is the only company which comes close to Gildan in size. This should give investors confidence that they are investing in a country that grew from nothing to an industry leader in a sustainable period of time and can now use its heft to acquire other companies without unsustainable "roll-up" tactics.
The company has outperformed its home country index, the S&P/TSX Composite, sixfold in the past five years. However, all growth stories experience hiccups and after years as a leading FOMO inspiration to Canadian investors, it was Gildan's turn to get smacked by the index. It is posting a one year return of 0% while the TSX has risen by 27% over the same period. Not only is the stock is down 22% from its July 2016 52-week high, it has fallen 34.5% from its all-time high, reached in July 2015 after its most recent split. Is this a secular downtrend or just the market taking a rest and offering a window to long-term investors?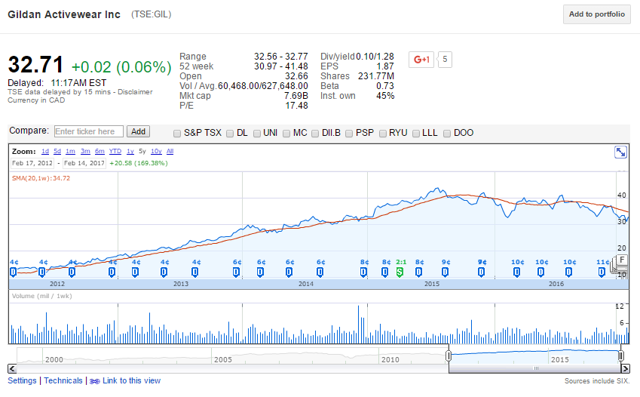 Three factors have contributed to this recent decline:
Revised guidance
The company has a lot of moving parts to manage and it is inevitable that they do not always line up. In Q3, while third-quarter 2016 sales increased 6 percent to $715 million versus a year ago, net income fell to $114.4 million, 49 cents per diluted share, versus $123.1 million, or 50 cents per diluted share, from the previous year.
Sales were up both in the company's printwear and branded segments, boosted by organic and acquisition growth, but margins were impacted by a weaker retail environment.
CFO Rhod Harries quoted in the company's November 3 conference call
"The benefits from manufacturing cost-savings generated by our capital investments and lower raw material costs were more than offset by net selling price, mix and foreign currency exchange headwinds during the quarter," he said.
Although the stock rose on management's optimism for 2017 after that earnings report, it ultimately went took a 5% dive on Monday January 19 which sent it into a 2 month decline it has yet to recover from.
Worries About Growth
In addition to t-shirts and hoodies, the company makes socks, hosiery, printwear, and products under license for companies like New Balance and Under Armour (NYSE: UA). Revenues grew in the important printwear category but margins fell as the company integrated its most recent acquisition, Allstyle designs.
Despite growing revenues impressively every year, the net income is yet to increase by the same factor. But it rarely does right away when it comes from acquisitions: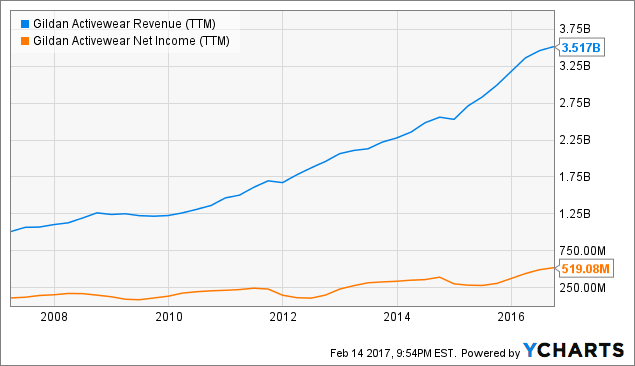 GIL Revenue (TTM) data by YCharts
The company earned 30% gross margin in its most recent quarter, and has consistently earned between 25% and 30% gross margin since year end 2012, when its gross margin were 20%. Record revenue last year and in the coming year should lead to record cash flow, rising dividends (which management has already committed to) and, hopefully, a rising share price. The acquisitions and the costs of integrating them have been the drag on EPS.
Conservative blue-chip stalwart Hanesbrands Inc finds itself in the same out of favor situation as Gildan, skidding 21% in the past year despite nearly doubling its revenues since 2013 and earning better consistently gross margins than Gildan, closer to 35-40% in fact, over the period. I compare the two companies because they are about the same size ($7.75 billion market cap) and the next biggest competitors are a fraction of their size, except for Fruit of the Loom which is part of Berkshire Hathaway (NYSE: BRK.B) and therefore difficult to compare on a standalone basis.
| | | | | | |
| --- | --- | --- | --- | --- | --- |
| Company | PEG | P/E | FCF/Share | P/B | 5 yr dividend growth |
| Hanesbrands | 0.6 | 14.88 | 1.37 | 5.9 | 120% |
| Gildan Activewear | 1.2 | 17.62 | 1.15* | 2.8 | 175% |
Source: figures obtained from Google Finance and morningstar.ca and based on my calculations. Gildan's FCF/share is through 9 months of fiscal 2016.
Hanes has cheaper earnings and future growth priced in at half the price of Gildan's. It also offers more than double the dividend yield (2.88% compared to Gildan's paltry 1.28%). So what's not to like? I think that the value thesis is pretty compelling for Hanes too, except that you see it has a much higher price to book, has grown its dividend slower (both companies initiated dividends about 5 years ago) and most importantly, has over $3.5 billion of debt on its balance sheet or 0.46 debt to equity. Gildan has $691M of long term debt or less than 0.10 debt to equity. There is going to be a premium on this because it equals less risk in the name.
Perhaps Gildan's besting of Hanes on the annual return front can be explained by its superior Cash Return on Invested Capital numbers, a metric preferred by many value investors because it is one of the hardest to fudge, which are at an annual high and 50% higher than Hanes's.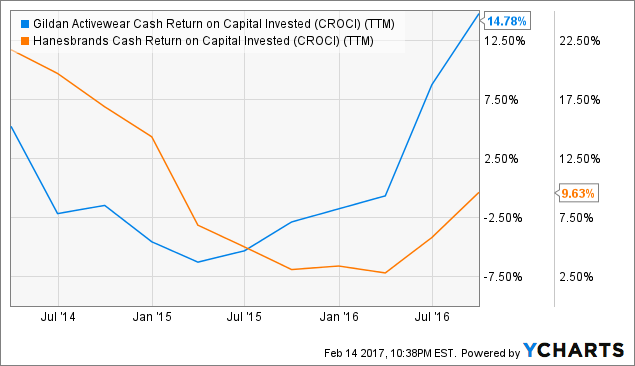 GIL Cash Return on Capital Invested (CROCI) (TTM) data by YCharts
In the interest of thoroughness, I will mention that Hanes is earning a Net Operating Profit After Taxes (NOPAT) about 10% higher than Gildan's, for a similar sized company. Remember, though, that Hanes's full year results are out and Gildan's are not until February 22, which is the big question mark hanging over the stock at this point.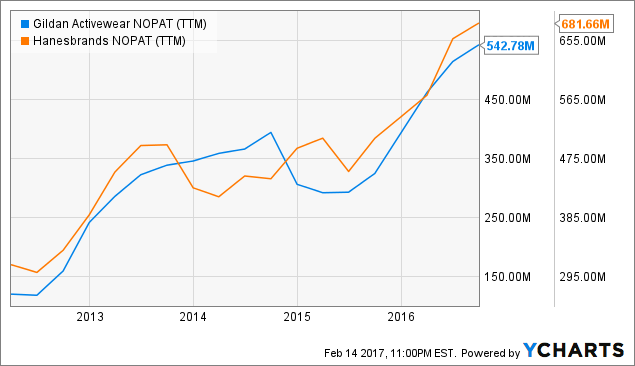 GIL NOPAT (TTM) data by YCharts
Being on the wrong side of the Trump trade
Although founded and headquartered in Montreal, Gildan is a nominally Canadian company at best. The company has extensive operations in the Caribbean, being the largest private employer in Haiti (to which Montreal arguably has the strongest connection of any North American city, although New York and Miami are free to object) and a significant one in the Dominican republic as well, in addition to owning (as most companies in this business do) a facility in Bangladesh. How much fears of punitive border taxes and trade wars affects an actual stock price is difficult to quantify, but however much they have affected Gildan's (which is down 4.36% since November 9th), I think is overblown. Gildan has two facilities in the United States and sources most of its cotton from there. While it has a complicated supply chain like most multinationals, a significant presence exists in the States.
The company is very proactive in inviting investors to ask questions on its website and its investor relations VP Sophie Argirou gave a pretty good answer on this topic when questioned by a Benzinga reporter:
"Argiriou...noted that 97 percent of all apparel sold inside the United States is manufactured and sourced outside of the country so from a competitive standpoint Gildan won't be at any particular disadvantage versus its peers.

On the other hand, Gildan does have substantial manufacturing operations and investments in the United States with approximately 50 percent of its overall cost structure being of U.S. origin, which is expected to be exempt from tax under the Republicans' proposals.

Specifically, the company invested $400 million in U.S.-based yarn spinning operations where workers convert US cotton and man-made fibers into yarns. In fact, the company happens to be the largest domestic consumer of U.S. cotton."
Source: Benzinga
Personally, I think few if any of some of these wackier trade proposals will ultimately end up being enacted into law just because of their obvious impracticality to business. Based on these comments, I'm confident that it's unlikely they would adversely affect Gildan even if they did. The representative also stated the standard boilerplate about how they were monitoring the situation, but commenting or taking action further would be premature and speculative. Which is actually true.
Conclusion
Earnings are coming up 1 week from today, on Wednesday February 22 at 8:30 am EST. As always enterprising investors who are looking to get long the stock anyway can do so for cheaper by writing a put, and this is especially advantageous around earnings. Implied Volatility as of this writing is elevated (at 82nd percentile in its 52 week range). The March 17 $25 put is now trading at a $1.05/$1.25 bid/ask, meaning that you could agree to have the stock put to you for a $24 cost base, a low not seen since one year ago.
People who are risk-averse or unable to use options can of course either buy right away or take a wait and see approach, but the point of this article is that I think the sell-off is overdone. Earnings might provide the initial catalyst needed to slip out of the funk. Otherwise, I think the company is still positioned better than many to deliver great cash flow, dividend growth, and returns on the backs of high-quality, mostly unbranded clothes for years to come.
Disclosure: I am/we are long GIL.
I wrote this article myself, and it expresses my own opinions. I am not receiving compensation for it (other than from Seeking Alpha). I have no business relationship with any company whose stock is mentioned in this article.