Gilead's (NASDAQ:GILD) current alleged failures stem from their former epic success. I suggest that dividend growth investors take advantage of current fear and uncertainty and consider adding GILD to their portfolios.
Over the next two decades, Gild should continue to increase their dividend. Future acquisitions should lead to future revenue increases. This will allow the company to not only cover their dividend but to also aggressively grow their dividend. My belief is that many dividend growth investors follow the crowd and likely do not consider GILD when they think of dividend growth investing.
The sad truth is that we all want to belong and there are a lot of great dividend growth investors and groups to follow here at SA. I suggest blind following creates problems and causes missed opportunities as well as providing little actual safety for your portfolio.
Howard Marks comments, "The power of herd psychology to compel conformity and capitulation is nearly irresistible, making it essential that investors resist them." My guess is that dividend growth investors (NYSE:DGI) are not ready to accept GILD as a solid DGI stock yet despite its 3% yield.
Gild's history has been incredible. Profits were amazing and growth was off the charts, which led to huge gains for stockholders up until 2015. Everyone loved GILD.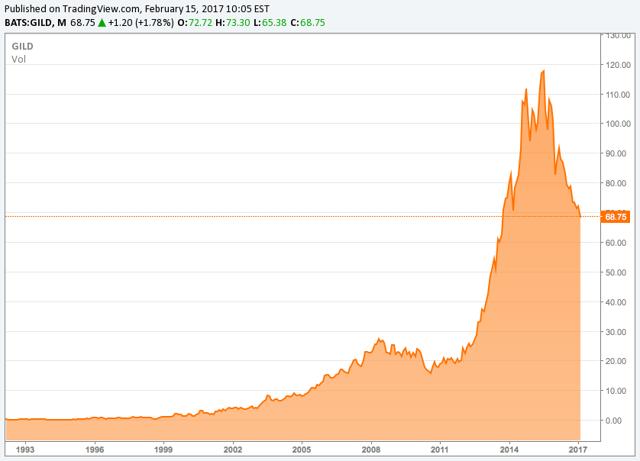 Recently, negative news regarding Gild's HCV revenues combined with fear regarding possible future competition in their HIV/AIDS drugs has made the last two years unpleasant for recent purchasers. Now everyone is wondering when the drop will end, and not everyone loves GILD anymore.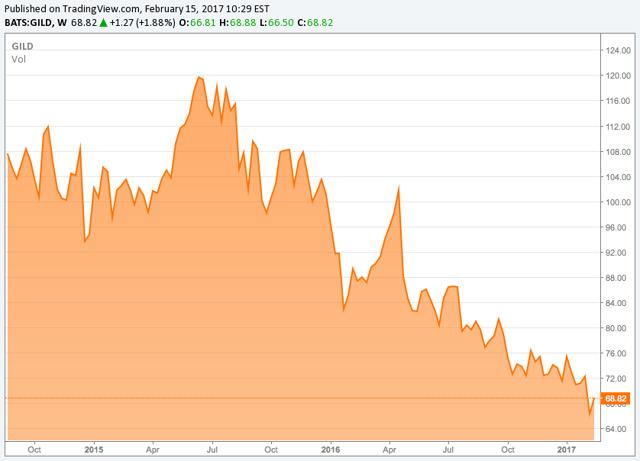 The truth is that Gild is a great company that has cured many patients of HCV and saved numerous patients from requiring liver transplants. Recent momentum investors and those disappointed by the loss of paper profits have decided that GILD is a potential value trap. I think all of the current bad news has been priced in and the pendulum has swung too far to the negative side. In the short term anything can happen, good or bad, but over the long term, the dividend should increase and eventually so should the stock price.
This investment, like many, is not without risks. The earnings outlook has only gotten worse. While the current PE ratio sits at a seemingly cheap 6.4, the forward PE is estimated to be around a slightly less cheap 9. This shows the trend of still falling revenues.
However, when you compare GILD's revenue and PE to the Biotech Industry, Healthcare Industry and the S&P 500 it becomes clear that perhaps GILD is undervalued and should not be as cheap as it currently is.
Market Comparison

P/E (NYSE:TTM)

P/E (Forward

12 Months)

PEG

1 Year EPS

Growth Rate

5 Year EPS

Growth Rate

GILD

Gilead Sciences Inc

6.8

9.0

--

-16.49%

41.15%

Biotechnology & Medical Research

Industry

39.4

25.6

2.6

26.76%

21.05%

Healthcare

Sector

39.7

14.0

8.5

-38.04%

5.73%

S&P 500

23.8

18.1

2.9

-12.63%

15.29%
I especially find the healthcare and S&P 500 comparisons appropriate due to their falling revenues. Notice how they still trade at premium PE ratios while GILD lags behind. Although this could possibly be a harbinger of potential market toppiness, I prefer to stick with the micro perspective and say that GILD is undervalued.
When everyone believes something is risky, his or her unwillingness to buy usually reduces the price to the point where it's not risky. The current pessimism has caused the stock to drop and provided an opportunity for dividend growth investors.
In my mostly DGI long-term portfolio I recently bought shares of GILD over stalwarts like Johnson & Johnson (NYSE:JNJ) or Abbott Laboratories (NYSE:ABT) because I believe GILD is a better value. Many people disagree with my sentiment, but that is okay because as Howard Marks says, "Large amounts of money aren't made by buying what everybody likes. They're made by buying what everybody underestimates."
Thank you for reading and good luck investing.
Disclosure: I am/we are long GILD.
I wrote this article myself, and it expresses my own opinions. I am not receiving compensation for it (other than from Seeking Alpha). I have no business relationship with any company whose stock is mentioned in this article.