Will reflation or stagflation be the ultimate economic outcome? For bond markets it doesn't really matter. Either way, yields are poised to go up again, sooner or later.
Bond yields react to changes in three main factors. These factors are expectations about growth rate, inflation, and creditworthiness of the US government. Should the reflationary growth prevail, all of these forces will drive bond yields significantly higher. If the economy ends up in stagflation, i.e. high inflation with sub-par growth, yields will be driven higher again despite the lack of the growth element. While it's true that the US and global economy are at a crossroads, in regards to the ultimate outcome of the planned economic stimuli, bond markets (NYSEARCA:TLT) have reasons only to worry. Unless a global deflationary shock hits the world, inflation is headed upwards both domestically and internationally. Bond investors should brace themselves for a new big up-leg in long-term bond yields with the 10-year US yield (NYSEARCA:IEF) testing the 3% critical resistance.
Reflation Or Stagflation? Who Cares?
The difference between signals of reflation and stagflation has to do with the way the yield curve shifts and not with the direction of yields. When a reflationary signal comes in, the yield curve shifts upwards and steepens, i.e. long-term yields increase faster than short-term ones (NASDAQ:STPP). When, on the other hand, more inflation is expected due to disruptive policy interventions like import tariffs, which derail growth, the yield curve shifts upwards and flattens i.e. long-term yields rise slower than short-term ones (NASDAQ:FLAT).
In this light, recent moves in base commodities (NYSEARCA:DBC) increase the chances for a bear steepening move of the US yield curve. Copper (NYSEARCA:JJC), a typical pro-growth commodity, broke to the upside its latest consolidation area, extending a bull market that started back in the autumn of last year. In a similar fashion, aluminum accelerated its uptrend this year, by recording new multi-month highs. Other base commodities which are used as inputs in industrial production, such as Zink and Iron Ore, also exhibit positive breakout moves.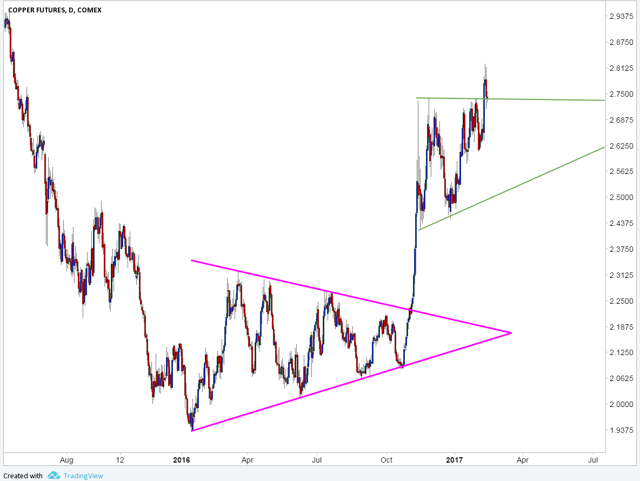 Source: tradingview.com
These commodity patterns reflect both a strengthening demand from China (NYSEARCA:FXI) and increasing prices pressures at the factory level. It should come as no surprise that producer price indices in China are now increasing at an almost 7% rate YoY. Apart from input price inflation, though, consumer price inflation also continues to surprise to the upside. Chinese inflation rate runs at the highest level in the last three years.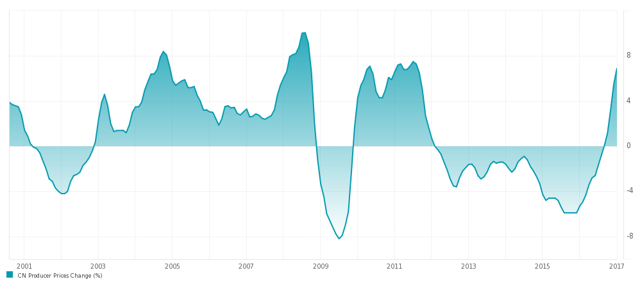 Source: ieconomics.com
China's economic revival can be seen from yet another perspective. Australia's trade surplus, the difference between what the country receives from exports and what it pays for imports, skyrocketed to multi-decade highs in December. While this could reverse to more normal levels in the months to come, it is an emerging signal of a big change. The Asian-Pacific business cycle, with China at its epicenter, accelerates. The upswing of the Aussie dollar (NYSEARCA:FXA), as a reaction to increased trade inflows, verifies this trend, since it is a pro-cyclical currency tied to the regional growth patterns.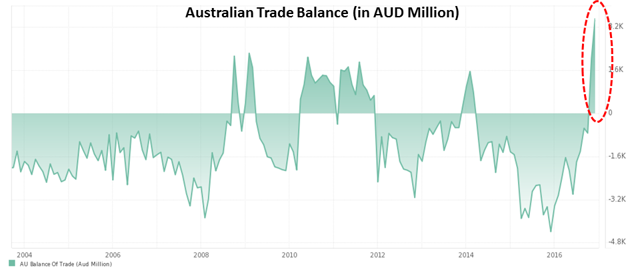 Source: ieconomics.com
The Asia-Pacific economic resurgence can also be seen in the behavior of the local bond markets. Despite the plateauing of US Treasury yields since mid-December, the 10-year Chinese yield broke to the upside its previous 2016 highs. Indian 10-year yields are also rebounding strongly to new highs for the year, after their bear market in last year. This positive divergence of sovereign bond yields of the two largest economies of Asia-Pacific with respect to their US counterparts, confirm that the global reflationary trend is here. More importantly, they show that the acceleration of the Asian business cycle does not wait for Donald Trump policies. Rather, it is empowered by its own endogenous forces.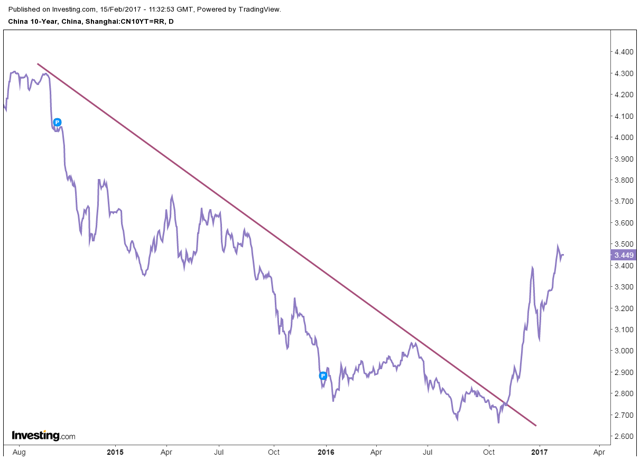 Source: investing.com
All these signals increase the chances of a global reflationary scenario as Chinese price pressures gradually pass-through to their most important trading partners. And this is only half of the story. A globally coordinated fiscal expansionary era could, if implemented properly, add to the upward macroeconomic momentum. This means that the probabilities of a global reflationary cycle increase steeply, especially if the new Chinese infrastructure spending program unfolds in concert with the US and the UK plans. The scenario of a surprisingly strong global business cycle ahead gains merit due to a rare confluence of a pre-existing endogenous growth and policy-induced stimuli.
On the other hand, though, the scenario of a US as well as global stagflation also becomes more probable, since any meaningful protectionist action by the Trump administration could drive retaliatory moves abroad. In essence, bond markets face a bi-polar world out there; either reflationary growth above expectations, or increasing prices with the economies standing still. In either case, yields would have to go up, in a significant amount. In fact, this upward potential is evident in the technical dynamics of the 10-year yields.
Technical Dynamics of US Yields
Should 10-year US yields break to the upside their recent triangle consolidation area, it will pave the way for a test of the 3% long-term resistance level. The reflation trade will also make the yield curve to steepen further from here as well. The 10-to-2-year yield gap has been moving sideways around the 1.25% level since the fading out of the Trumpflation trade in mid-December. If the reflation trade reigns in again, this gap has the potential to climb towards the 1.50% which corresponds to the 38.2% Fibonacci retracement level of the 2014-2016 major flattening trend. Such an upward move in the 10-to-2-year yield gap will come as the natural extension of the uptrend which began back in the summer of 2016. The repositioning of the yield curve, though, will not only impact government bonds. The dichotomy between reflation and stagflation will have different consequences on corporate bonds as well.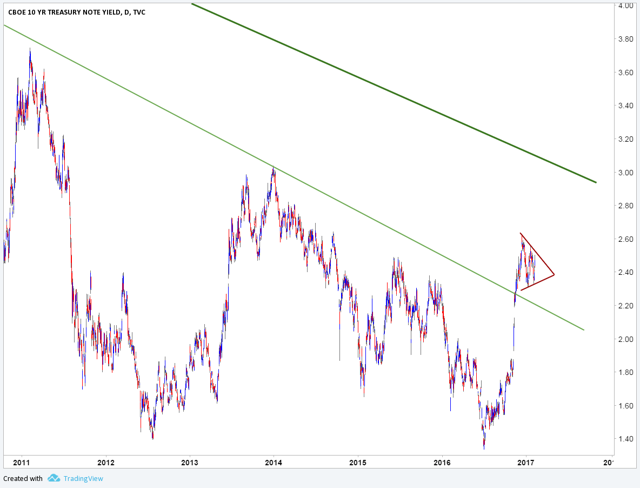 Source: tradingview.com
Implications for Corporate Bonds
While the difference between reflation and stagflation is limited to the shape of the yield curve in the case of US Treasuries, there is a more nuanced impact on corporate bonds (NYSEARCA:LQD). In the reflationary scenario, corporate spreads could still tighten further over their US Treasury counterparts before eventually blowing off, while in the stagflation's case spreads would skyrocket right away. Stagflation would practically mean reduced cash flows for businesses and potentially lower profits with respect to a surprisingly strong global economy. Default rates would spike much faster in the stagflation case, forcing investors to dump their holdings (especially the high-yielding ones). First and foremost, though, the expected increase in benchmark bond yields will inflate the cost of borrowing for US corporates, leaving them exposed either way.
In a strongly bi-polar world, where probabilities accumulate around reflation and stagflation, leaving no room for a more moderate outcome, the US Treasuries seem quite vulnerable. The new bond bear market (NYSEARCA:TBT) has come to stay, at least for the foreseeable future. Unless, an "accident" which could reverse inflationary expectations across the globe happens, US yields are set to gradually climb higher.
Short sellers of US treasuries should not care too much about what Donald Trump twits or does right now. This is less significant for the bond markets than it is for stocks or currencies. Some of the biggest players in the world, from China to Japan and even the UK, are doing all they can to support the reflationary trade. Don't underestimate the economy, even under such a policy-dominated market environment. The distribution of global macro outcomes has two peaks, reflation or stagflation, while that of bond yields has just one peak: more bond pain down the line. This is how a bipolar world can give rise to a unitary market outcome, at least for bonds.
Disclosure: I/we have no positions in any stocks mentioned, and no plans to initiate any positions within the next 72 hours.
I wrote this article myself, and it expresses my own opinions. I am not receiving compensation for it (other than from Seeking Alpha). I have no business relationship with any company whose stock is mentioned in this article.
Additional disclosure: The views expressed in this article are solely those of the author, provided for informative purposes only and in no case constitute investment advice.