There has been no respite from the onslaught of negative comps on Buckle (NYSE:BKE) since last year. And yet, I continue to see a lot of long case commentary on this stock. When I last wrote on Buckle in September, I wondered how the stock could be anything but a "BUY". The company runs an extremely tight ship, has operating margins that are higher compared to some of its larger competitors and the stock is extremely attractive from a valuation perspective. The disconnect between its valuation and favorable aspects of its operations however, lies in the failure of the management to chart out a strategy to arrest business declines in the last several months. And since hope is not a strategy, I would stay away from this stock until I hear something sound from the management.
Sector-wide problems
A part of the recent decline in sales figures can be attributed to cyclical issues facing the apparel retail sector. Mall traffic has been slow and the overhang of a stronger dollar has led to lower tourist traffic and spending. However, my bigger concerns relate to the more structural issues that continue to impact the sector. Increased online competition has forced companies to compete on price. Since the set of merchandise available in malls is also available on the internet, and users can browse a wide selection at the click of a button, the drop in mall traffic is now sounding like a structural issue rather than a cyclical one. And for a player like Buckle that has no economic moat an ensuing drop in sales is the only result coming out of this trend.
Website rankings
I looked at the traffic trends on Buckle's website as against the trends of some of the other retailers. As seen in the illustration, Buckle's progress given its rank of 8441 (US), is poor. American Eagle (NYSE:AEO) which has an Alexa rank of 717 (US), seems to have done spectacularly well on this metric in the last couple of months. While Gap's (NYSE:GPS) graph looks unimpressive, its US rank of 278 is far higher compared to other competitors. Readers should note that this methodology is appropriate as a broad indicator of popularity rather than sales.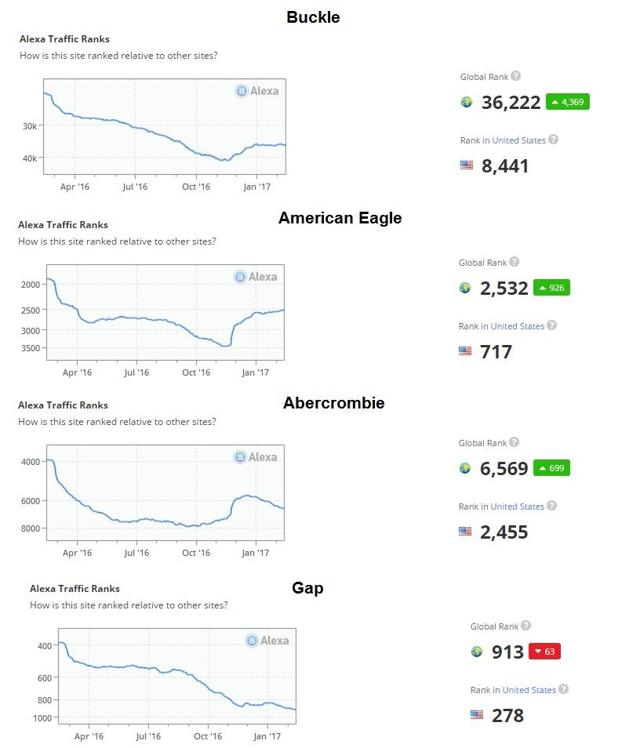 What exactly is Buckle's strategy to mitigate weak comps?
Buckle's management has been asked about its strategy a few times in its earnings calls. However, apart from the solution of how it is working to enrich customer experiences through its workforce, I wonder if the company has any trick left in its arsenal. Specifically I would have loved to see if it is making any investments in predictive analytics and the competency level of its systems. I am not saying the company's big data capabilities need to be as good as Target (NYSE:TGT) where its systems were able to figure out a teenage girl's pregnancy even before her father knew about it (Source: Power of Habits by Charles Duhigg). However, a strategy on how it uses its data to offer inducements or predict new trends would sound more reassuring to investors compared to its old strategy of nudging its managers.
Disclosure: I/we have no positions in any stocks mentioned, and no plans to initiate any positions within the next 72 hours.
I wrote this article myself, and it expresses my own opinions. I am not receiving compensation for it (other than from Seeking Alpha). I have no business relationship with any company whose stock is mentioned in this article.