The sight of an RV or camper trailer may seem reminiscent of the old cross-country family trips that make up corny comedies in pop culture. However, sales of these vehicles have exploded since the end of the recession. Even several A-list celebrities have hoped on the RV-owning trend. After starring in the film "The Accountant" Ben Affleck was reported to have negotiated for the Airstream trailer used in the movie, and Matthew McConaughey, who is reported to own three Airstreams, is perhaps one of the largest fans of the camper trailer. Thor Industries (NYSE:THO), the parent company of Airstream, has been able to fully capitalize on this trend. With 2016 sales near double of what they were in 2011, THO is at an all-time high, which has made investors of the company to quote Airstream fanatic McConaughey, feel "alright, alright, alright." Despite this, THO may still offer opportunities to investors as more baby boomers enter retirement and more Generation Xers and millennials embrace a trend toward health and the outdoors.
Introduction To Thor and the RV Industry
Thor Industries is comprised of independent subsidiaries, with Airstream being its original flagship.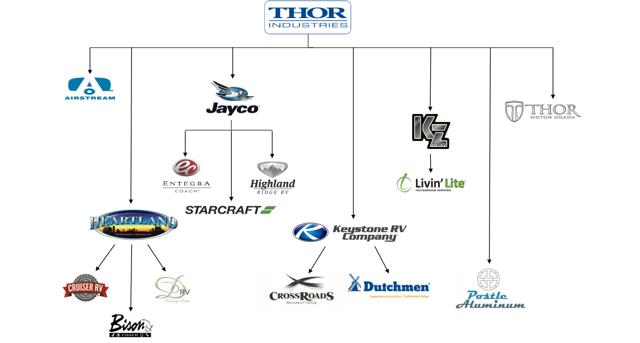 Each subsidiary specializes in several types of RVs from small travel trailers to fully equipped bus-sized motor homes to specialized horse trailers. Thor intentionally has a much decentralized structure to encourage new models and innovation. These subsidiaries wholesale to RV dealers around the US and Canada.
The RV industry has been under major consolidation over the past 10 years, with Thor making a number acquisitions. Last year, Thor completed one of its largest acquisitions by adding the company Jayco and reaffirming its position as the dominant leader in both towable and motorized RVs with about 48% and 38% market share, respectively. Within the towable market, the market has become a near duopoly with Thor's largest competitor Forest River (private) comprising 38% market share. Other smaller companies (e.g. Columbia Northwest) have been able to mark out their own niche within sub categories of towable, but generally don't take up more than 15% market share within those sub categories.
Within the motorized market, Thor faces more competition from companies like Winnebago (NYSE:WGO), but that market is also highly consolidated. While Thor is relatively weaker in the motorized category, it only accounts for about 24% of total sales.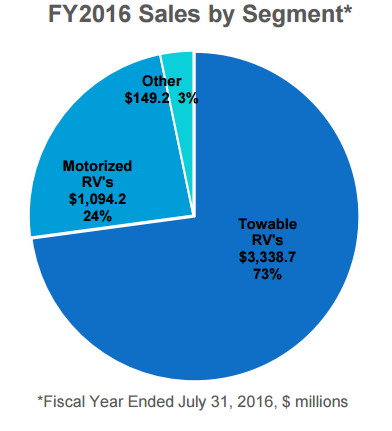 Thor is likely to maintain its dominant position as market leader and capitalize on the industry growth. Thor's subsidiaries have been constantly innovating and been offering new line-ups to offer consumers and follow up with trends within the market. Additionally, during the Q&A of the last investor presentation, Thor hinted that further acquisitions may lie in the near future by stating;
"Although a significant amount of consolidation has already happened within the industry since the last recession, we do believe that opportunities remain for additional consolidation within the industry."
Baby Boomers and Outdoors Enthusiast Will Drive Growth
Since the end of the recession, quarterly shipments from a low of 5,000 to a high of 40,000 units.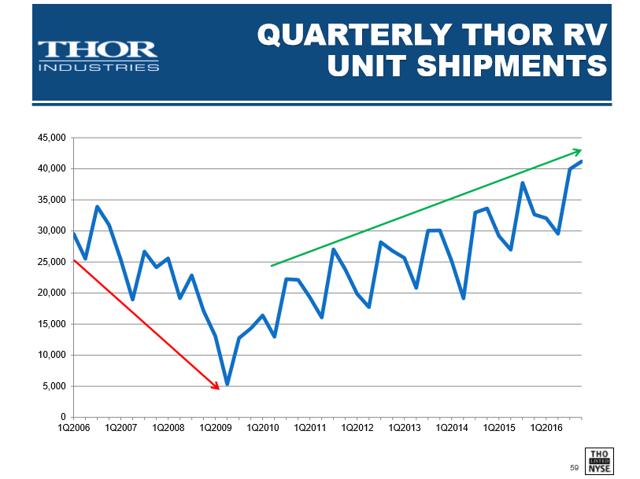 Given such dramatic growth and the cyclical nature of many companies relating to automobiles, it would be easy to assume that Thor would peak sometime soon. However, favorable demographics, societal trends, and backlogs orders suggest otherwise.
The strongest trend in favor of the RV industry is the baby boomer generation. It represents 24% of the entire population and is reaching retirement. Traditionally, the target market of RVs has been the newly retired demographic ages 55-70. This target demographic has ample time on its hands for travel and access to available retirement funds. Compared to alternative forms of retirement leisure, the RV lifestyle is looking more favorable. In places like Egypt and Greece, political and social turmoil has created a perception of danger and chaos in once-prime tourist destinations for the newly retired, making domestic leisure activities more appealing.
The future growth of RVs isn't just dependent on the newly retired dads making impulse decisions during a midlife crisis. Today, the average age of an RV owner is just 48, with the 35-44 year olds being the fastest growing demographic. As many Gen Xers and millennials are becoming more health conscience, they have been embracing the outdoors. Since 2010, the number of people who go camping at least once a year has increased by 5 million or about 12.5%. While only a fraction within this group are RV owners, the camping lifestyle is very complementary toward RV ownership. Thor has been capitalizing on this and has been marketing camper trailers like the Jayco Sport featured below.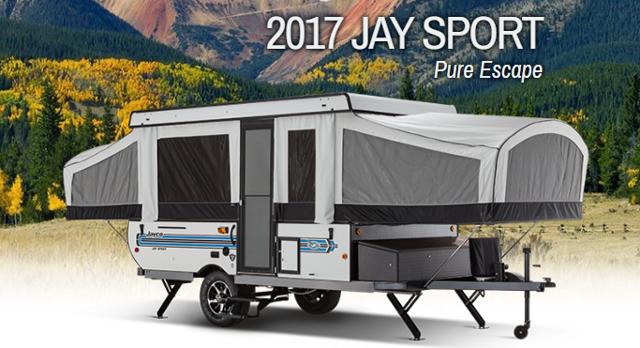 Thor is starting to see the increase in demand. In Thor's 2017 Q1 press release (THO fiscal year starts in August) Thor's backlogs increased dramatically by $480 million to more than $1.5 billion, when excluding the acquisition of Jayco. Including the Jayco acquisition puts the total backlogs at $2.1 billion.
Be Wary of Recession Risk
The largest risk that Thor and the industry face is the possibility of another recession. During times of financial stress, one of the first activities that consumers cut back on is spending on leisure. During every recession of the past 40 years, the RV sales have plummeted. Though the industry has made strides since the trough of the recession, it is still not above pre-recession levels and is not projected to reach pre-recession levels until the next decade. While it does not appear that a recession is likely to happen in the near to medium term, each investor should make his/her own judgment on the likelihood of one occurring before considering THO.
Valuation
At the time of writing this article, THO is trading at $109 per share, and it is trading at 15.5 times forward earning. Unfortunately, only one of Thor's competitors, Winnebago, is publicly traded. So, it is difficult to do a direct valuation across the industry. To supplement this, we can compare THO to companies that specialize in other leisure activities like boating.
| | | | | | |
| --- | --- | --- | --- | --- | --- |
| | Price | Market Cap (MIL) | Trailing P/E | Forward P/E | Price/Book Value |
| THO | 109 | 5,700 | 20.5 | 15.5 | 4.33 |
| WGO | 32.65 | 1,060 | 18.2 | 14 | 3.48 |
| | 21.55 | 562 | 23.68 | 14.18 | 1.68 |
| | 21.41 | 411 | 21.2 | 12.9 | 20.93 |
| | 60.18 | 5,400 | 22.39 | 13.03 | 3.77 |
| S&P | 2,316.1 | | 24.2 | 17.9 | 2.97 |
When compared to WGO and several leading companies within the leisure boating industry, THO seems to be overvalued. It's trading at a higher forward earning P/E ratio and a higher book value. However, management at THO industries has been consistently beating analyst expectations, which has largely fueled the stock to reach its all-time high of $110 last week. In the past four quarters, THO has exceeded analysts' EPS estimates by an average of 21% each quarter. Given THO's success of exceeding expectations, THO deserves to trade at a premium price. If we make the assumption that THO will once again beat earnings expectation this year, it trades at forward valuation much closer to its peers and near its five-year average of 13.9.
| | | |
| --- | --- | --- |
| Earnings Beat | Forward 12-month EPS | Forward P/E Ratio |
| 20% | 9.75 | 11.18 |
| 10% | 8.13 | 13.42 |
| 5% | 7.39 | 14.76 |
| 0% | 7.04 | 15.50 |
| -5% | 6.69 | 16.32 |
| -10% | 6.02 | 18.13 |
While I do not believe that THO will beat earnings at the same rate it did last year, I do believe analysts' expectations are slightly undervalued for the upcoming year. Consumer confidence is near a 10-year high, the economy is expected to perform moderately well, major tax cuts are expected this year, and the overall stock market is at an all-time high. All these factors have a strong tendency to make consumers feel more financially secure and increase spending on leisure activities like camping and RVing. Given these factors, it seems likely that THO may beat earnings expectation this year by 0-10%, which, in turn, would give it a forward multiple of 13.42-15.5.
Conclusion
While it looks like Thor Industries will continue to drive the RV industry forward in the long term, given its recent move toward an all-time high, it may be wise for investors to wait for another pit stop or decline in the stock back toward $100 or below before investing.
Disclosure: I/we have no positions in any stocks mentioned, but may initiate a long position in THO over the next 72 hours.
I wrote this article myself, and it expresses my own opinions. I am not receiving compensation for it (other than from Seeking Alpha). I have no business relationship with any company whose stock is mentioned in this article.
Additional disclosure: All investors must way the risks of of both the micro and macro environment before investing.