Citigroup is cheap.
Citi had quite weak headline earnings in 2016, and even on this measure its PE is on a lower level than most of its peers at 12.7x. JP Morgan (NYSE:JPM) is on 14.5x 2016, as is Wells Fargo (NYSE:WFC). It's not even worth comparing most smaller capitalization bank stocks, but to illustrate, PNC (NYSE:PNC) is on 17.2x and US Bancorp (NYSE:USB) is on 16.8x.
Investing is always about the future. Citi has come through the bulk of its restructuring and the underlying growth posted in 4Q 2016 gives optimism: 6%. This will be supported by a very strong buyback program. So Citi is cheap now but super cheap going forward. As the clouds of years-long restructuring clear, Citi will re-rate.
Citi's pedestrian return on equity (ROE) of 7-8% adds spice. The market has every excuse to pressurize management into improving this (by raising earnings or giving back equity). But it will improve anyway given the mechanics of large share buyback operations below book value and as an investor, you are focused on what you pay for the earnings of a bank. In other words your ROE is not earning/equity but earnings/ price you paid and you should think of these earnings as a stream over the long term.
What's this, you ask. Is FIG suggesting I ignore the Price/Book? Yep. Do look at capital though. Make sure you pay attention to two things: if a bank has "skinny" capital, whether against a hard regulatory threshold or even its own target, then you need to consider dilution risk. "Capital risk" is really EPS risk for the PE driven banks investor. An example of this sort of situation is Deutsche Bank. Analyst conference calls in that name always involve a very nerdy fifteen minutes in which participants pour over the risk weighted asset movements in mind bending detail to make sure they are comfortable with DB's CET1. The other time to think of capital is whether you "trust" the asset quality of the bank. State owned Chinese banks presently are great examples of banks you can buy for very low multiples of earnings, but where you shouldn't even think about it due the fact that they are evidently holding up intercompany financing chains that have now reached a truly galactic scale. A nasty scenario will involve heavy dilution, so the cheapness is entirely misleading. But this is not the case in the over regulated SIFI space: there the banks are like massive blue whales supporting colonies of wake feeders in their relationship with compliance and regulation. Investors can duly focus on earnings and PE.
Citi is a bank with entirely "normal" profitability metrics in terms of its ROA, even if these are about 15-20% lower than we would all like. Here is its pre-tax return on assets in comparison to BAC over the last eight reported quarters. As I said in my recent look at a comparison of these two names, it is hard to justify paying markedly less for Citi's earnings than those of BAC.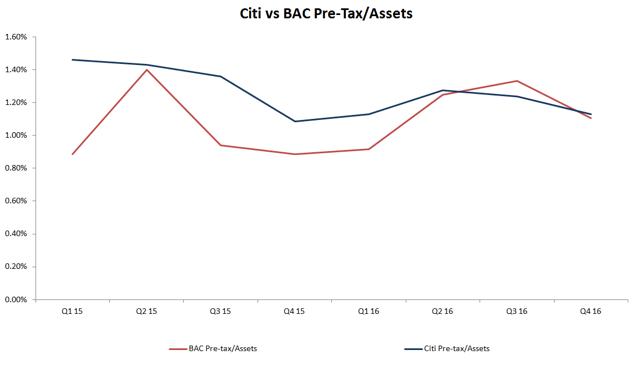 Company data
What model should you carry in your head for Citi?
Start with EPS of 5.4 for 2017. Grow that by underlying business growth of 5% annually. Next, reduce your share count annually by 6% (this is conservative given Citi's buyback capacity). By 2019 you are looking at $6.7 per share and therefore a PE of 8.9x. Add the potential for tax cuts, regulatory easing and a market no longer having to digest wide divergence between headline and underlying numbers, and Citi looks a cheap bet.
Disclosure: I am/we are long C.
I wrote this article myself, and it expresses my own opinions. I am not receiving compensation for it (other than from Seeking Alpha). I have no business relationship with any company whose stock is mentioned in this article.