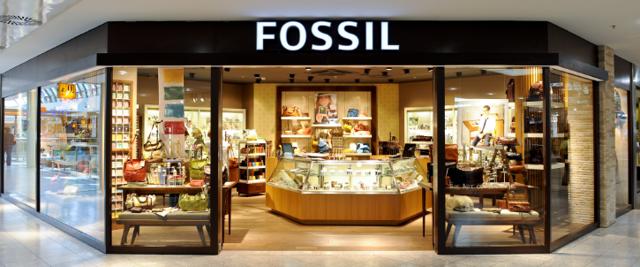 I was once bullish on Fossil (NASDAQ:FOSL) as I thought the company's struggles with its watch category in particular could be handled. But anything but has happened and Fossil - after another disappointing earnings report, finds itself trading for just $19 as I write this. It was only four years ago that this stock traded in excess of $120 but now, Fossil is a mere shell of its former self. With the stock breaking out to the downside and making new lows (again), is there a bottom in sight?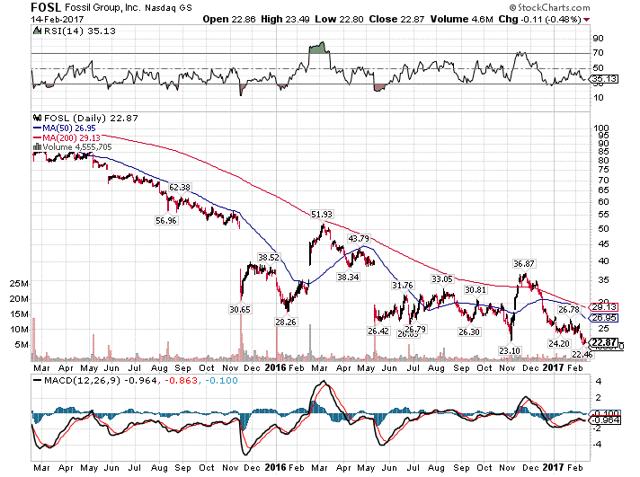 The Fossil saga really begins and ends with revenue because it has struggled so very mightily in the past two or three years just to gain some sort of footing. But that hasn't happened yet, as this table from the press release illustrates.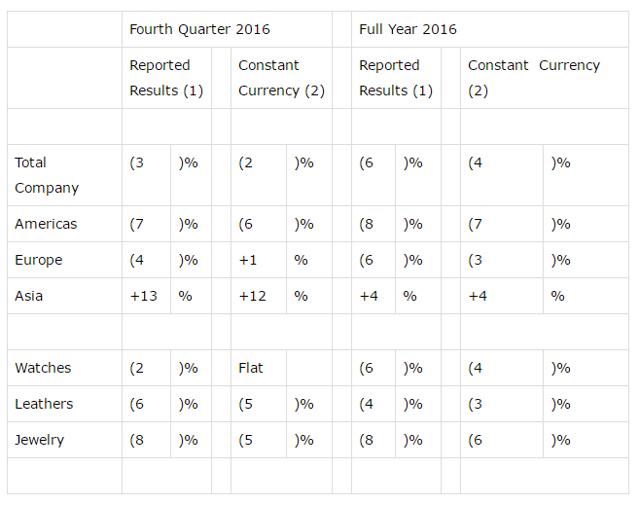 I won't read the table to you but just note that every single region and product category was down yet again in Q4 with the exception of Asia. This has happened over and over and over again in the past few years and it seems like there is no end in sight. I will, however, say that the declines seem to be slowing somewhat and if Fossil can maintain that bit of momentum and at least arrest the perpetual declines in the near future, we could have something here from the long side.
The Q4 report was ugly, including weaker margins, as one would expect from yet another quarter of sizable sales declines. Fossil's struggles are well documented and I've talked about them a bunch here on SA so instead of beating that already-expired horse yet again, let's instead talk about the future.
Fossil is very clearly staking its future on its watches category as it launched its new line of wearables in 2016. Management claims the launch was a success and judging by the sales numbers in the watches category, I'd say they are correct. The watches business is clearly the forerunner here and management spent considerable time with this report talking about the future of the category and how future growth has been staked on it. With the early success, that certainly seems like the right course of action to me and with 300 new SKUs coming as well as improved designs coming on existing SKUs, it seems that 2017 could be the year where the watches category actually produces a positive revenue growth number. That would be huge and if it happens, Fossil will probably be trading much higher than $19. There are a lot of things that need to go right but the framework is certainly in place.
Q4 also saw the start of the New World Fossil initiative, a poorly named but worthy cause that should help drive some operating efficiency to improve profitability while the watches business gets a chance to produce some sales growth. Fossil is certainly going about things the prudent way and I love the focus on costs considering the weakness in sales. It is probably overdue but late is better than never and if the turnaround does succeed, Fossil will be able to produce sizable operating leverage on its sales. That could drive some huge earnings growth in the coming years if it succeeds with its wearables business over the long term. The pieces are in place but there is certainly a long road between here and there, so I don't want to sound unduly bullish.
The other two businesses also seem to have been lost in the fold here as management rightly focuses on the wearables rollout, but the leather and jewelry segments cannot be forgotten. I get the focus is watches right now but later on in 2017, we need to see some progress with the other businesses as well. After the watches rollout has stabilized, some effort with the others would be well placed.
Fossil is currently going for just under 11 times this year's earnings, although I wouldn't be surprised in the least to see those numbers change in the next couple of days. The valuation isn't cheap considering the problems Fossil has had with growth but I will say that progress in 2017 could certainly be in the cards. The wearables category is performing well and is very obviously the crown jewel of the company and with cost rationalization underway, it is totally possible that Fossil will surprise to the upside with respect to 2017 estimates. As I said, the road between here and there is long but the pieces are in place and I'm emboldened by the progress of the wearables launch.
The fact that Fossil is making new lows isn't exactly brilliant but at the same time, if it can find a footing here, it could be the blowout low longs have been looking for. Sentiment is about as bad as it can be so any sort of good news - including the very real possibility that the watches business produces positive revenue growth for Q1 - could send shares higher. I'll admit I'm tempted here because I see a path forward for Fossil; it just has to execute. I'm going to wait and see where the stock settles off of the earnings report but for now - dare I say it - I'm actually leaning bullish again.
Disclosure: I/we have no positions in any stocks mentioned, but may initiate a long position in FOSL over the next 72 hours.
I wrote this article myself, and it expresses my own opinions. I am not receiving compensation for it (other than from Seeking Alpha). I have no business relationship with any company whose stock is mentioned in this article.