When the O&G price down-cycle started in the fall of 2014, the consensus among energy analysts was that the high-cost of oil sands production meant doom for its producers in a low-price environment. By any objective measure, the largest oil sands producer -- Suncor Energy (NYSE:SU) -- proved them all wrong.
Suncor released its Q4 and full-year 2016 EPS report last week. Despite a somewhat muted response in the share price, it was a very impressive report. Q4 oil sands production was up ~150,000 boe/d yoy and total production was up 27% yoy: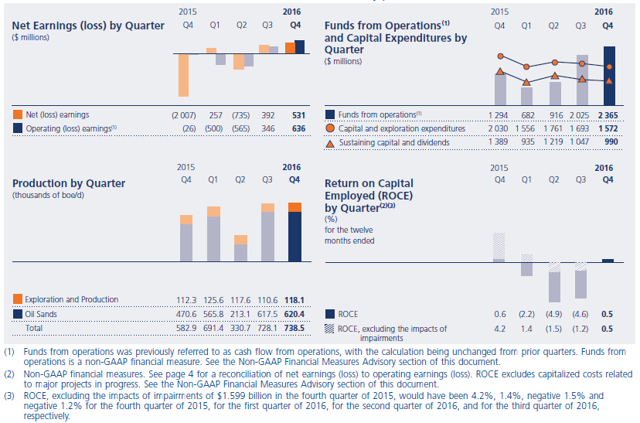 Source: Report to shareholders (available here).
Q4's FFO of $2.4 billion was almost double that of the year earlier period, while capex was lower by almost half-a-billion dollars. But more impressive was the company's ability to deliver $445 million in net income over the course of the year despite a significant disruption in operations due to the wildfires outbreak and the still low average price of oil. The reason for its success: $1.9 billion in net earnings from the downstream Refining & Marketing Segment. Suncor's refineries had a 93% utilization rate for FY16 and processed an average of 428,600 bpd.
2016: Suncor Was on the Move
The Q4 report capped off quite a year for Suncor. Among the company's achievements in 2016:
Acquired Canadian Oil Sands' 36.74% interest in Syncrude.
Acquired Murphy Oil's (NYSE:MUR) 5% interest in Syncrude.
Acquired a 30% interest in the UK North Sea Rosebank project from OMV. Rosebank has a design capacity of 100,000 bpd of crude and 80 MMcf/d of natural gas.
Agreed to sell its Petro-Canada Lubricants business to Holly Frontier Corp. (NYSE:HFC) for $1.125 billion.
Successfully resolved a $1.3 billion tax dispute with the Canadian Revenue Agency.
Continued construction on the Fort Hills project, which is now 76% complete.
As a result of the transactions, Suncor now owns a 53.74% interest in the Syncrude project. Yet those transactions did contribute to a $2.1 billion increase in the company's total debt load:

In addition, the total outstanding share count at year-end was 1.667 billion. That is up 15% as compared to the 1.446 billion shares outstanding at the end of 2015. But the company did end the year with $3 billion in cash. In addition, the Lubricants deal had not closed by year-end. (The deal closed this month for proceeds in excess of $1.1 billion.)
As a result of all the activity and the company's excellent financial performance despite the headwinds of a low oil price environment and the Canadian wildfires, Suncor boosted the quarterly dividend by 10% last week to $0.32/share. That was the first increase in the dividend since July of 2015.
Muted Stock Response
Despite the excellent Q4 and full-year EPS report, and the dividend increase, the market's response was somewhat muted. Shares closed up only a buck or so: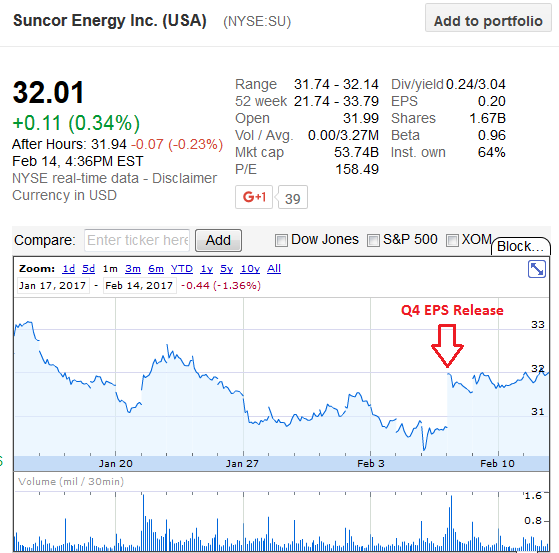 The reason cited for the lack of enthusiasm was an increase in the company's guidance on the expected cost of the Fort Hills project. The total project cost estimate went up about 10%. But at the same time the company also increased the capacity of Fort Hills by 8%, the completion date remained roughly the same, and the capital intensity per bbl was just at the high end of previous guidance. Considering the scope of the project and the wildfires' interruption, project management did a pretty good job compared to how other similar types of mega-projects in the O&G industry have performed in recent years. Regardless, the market viewed the new Fort Hills guidance as a "negative."
Pipelines
In the meantime, President Trump made good on his promise to ease the regulatory burden for new pipeline construction. For Suncor, Presidential approval for TransCanada's (NYSE:TRP) Keystone-XL pipeline is a very positive development. The pipeline has a capacity of 830,000 bpd and would enable oil sands producers to drain production south through Cushing, Okla., and all the way to the U.S. Gulf Coast: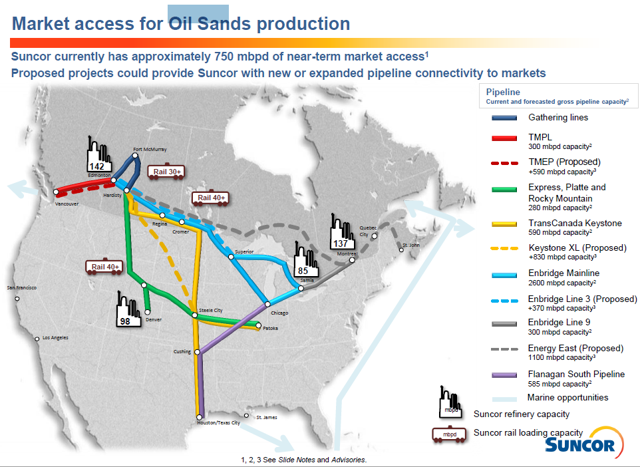 Despite the President's executive order permitting the pipeline to proceed, there are still several hurdles to be navigated. Trump said he wants to renegotiate the terms of the pipeline. Based on earlier comments, Trump apparently wants U.S. made steel pipe used on the project as well as an assurance that some of the oil flowing through Keystone-XL would be consumed in the U.S. rather than simply shipped to the Gulf of Mexico for export. Time will tell how it all turns out, but there is no doubt about it: Keystone -XL would largely mitigate not only the short-term exit capacity issue for Suncor (and all oil sands producers), but also the additional near 100,000 bpd of new production coming from the Fort Hills project. Fort Hills is expected to produce first oil late this year.
As for Trump's border-tax, like so much else -- who knows? Certainly, a border tax on Suncor's U.S. exports would be a negative for the stock. Luckily the company has 364,000 bpd of Canadian refining capacity for its oil sands production.
Summary and Conclusion
Despite all the acquisitions in 2016, Suncor ended the year with $3 billion in cash, net-debt to FFO was only 2.4x, and total debt-to-cap was 28%. Suncor's investment grade credit rating is still intact: S&P = A-, Moody's = Baa1 (Stable). As a result, the company retains excellent access to the debt market. This is evident by its recent $1 billion issuance of Senior Unsecured Notes at very attractive rates:
$700 million of 3.00% notes maturing on Sept. 14, 2026 (10-year)
$300 million of 4.34% notes maturing on Sept. 13, 2046 (30-year)
Suncor expects to grow production by ~13% in 2017 despite a near $1 billion yoy reduction in capex. The company's FFO could reach the $8 billion level in 2017 (assumptions: WTI = $52, NYH 3-2-1 crack spread = $13.50). Capex, dividends, and interest payments are estimated to be only $5.9 billion. That leaves $2.1 billion for dividend increases and stock buybacks. Meantime, the stock yields 3%.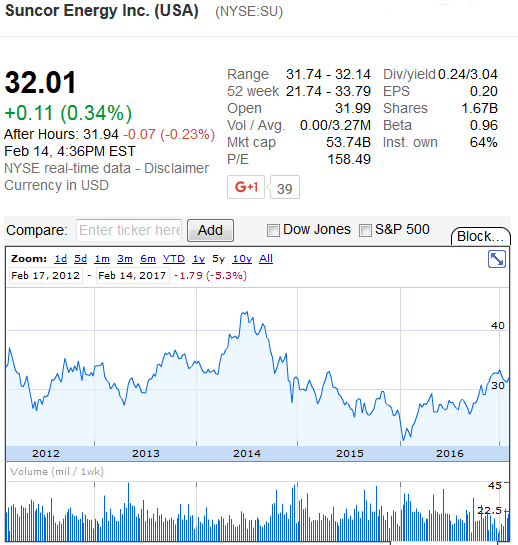 Disclaimer: I am an engineer, not a CFA. The information and data presented in this article were obtained from company documents and/or sources believed to be reliable, but have not been independently verified. Therefore, the author cannot guarantee their accuracy. Please do your own research and contact a qualified investment advisor. I am not responsible for investment decisions you make.
Disclosure: I am/we are long SU.
I wrote this article myself, and it expresses my own opinions. I am not receiving compensation for it (other than from Seeking Alpha). I have no business relationship with any company whose stock is mentioned in this article.