Welcome. In this article we'll use Teva Pharmaceuticals' (NYSE:TEVA) recently reported earnings figure to calculate the company's fair value per share to see if we can buy this company at a discount. We'll start by reviewing the situation so far before progressing to the stock valuation portion.
Overall, I rate TEVA a buy because they're trading at a relatively low valuation multiple relative to their substantial cash flows. TEVA longs have good reason to anticipate long-term capital appreciation and a solid dividend yield. Here's why.
How Much Can The Japanese JV Grow?
There is an elephant in the room when it comes to TEVA.
Their recent expansion into the Japanese market by joint venture with two long-standing drug distributors in the market added $450M revenue during the 4th quarter of 2016. I told my readers about this exciting growth opportunity during 2016 and in a report I issued during the lead-up to the most recent earnings release. TEVA's joint ventures with Takeda and Taisho represent entry into Japan's $115B+ annual sales drug market.
$450M Sales In Japan
Buried in the text of the recent earnings announcement was TEVA's admission they earned over $450M through their joint venture with Takeda during the 4th Quarter of 2016, but strangely, the name "Taisho" does not appear in the report. Is Taisho missing because the company just rolled the results into the comment about Takeda? Or is the Taisho opportunity yet to be "activated" and another sales bump is in the pipeline? Investors will likely have to take a wait-and-see approach.
The Japanese revenue may or may not grow from here. In my 2016 article, I theorized the company may be able to expand its Japanese sales by integrating the best parts of TEVA's substantial portfolio of pharmaceuticals. If TEVA does bring in new products to Japan, this profitable sales avenue may expand its contribution to earnings going forward.
Whether or not TEVA's JV revenues grow from here is up in the air. Growth in this area may contribute to unanticipated earnings beats by the company in future reporting periods.
Stock Valuation Based On Projected Cash Flows
Total revenues for the 4th Quarter came in at $6.5B and the company collected $1.4B gross cash profits on sales. We will use the $1.4B gross cash profits, net of TEVA's $700M regular research and develop expenses, and find our projection of the company's quarterly free cash flows of $700M per quarter. This $700M free cash flow is the money which TEVA uses to pay the dividend, pay down debt, and perform buybacks, among other things.
The company is on schedule to pay a $370M quarterly dividend which is adequately covered by cash flows.
$700M quarterly free cash flow runrate adds up to $2.8B annually. Based on TEVA's operating results, I instructed the proprietary Faloh Investment Discounted Cash Flows Model to calculate TEVA's fair value per share based on $2.8B annual free cash flow going forward.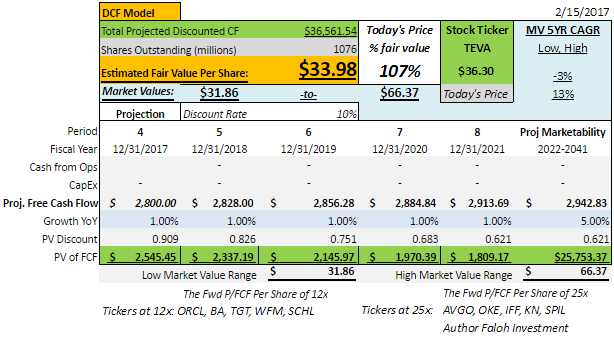 Source: Faloh Investment, YCharts (ycharts affiliate link)
TEVA's fair value in a zero-growth scenario for the next five years if $33.98 per share, and at $36.30 the company trades at a modest premium of 7% to the fair value of its projected cash flows. This is an encouraging result for buyers at today's price because in my opinion TEVA has plenty of opportunity to increase sales going forward.
The Japanese market may contribute to greater profits in future periods. Such profit growth will improve the firm's fair value and impress Wall Street with earnings "beats" -- always a good thing for longs. Further development of the company's integration with the major Actavis Generics acquisition also may contribute to sales growth or cost reductions, boosting the bottom line.
Takeaway
TEVA is heavily debt-laden, but servicing it doesn't seem to be a very big problem considering the firm's large income. As the debt is paid down free cash flows will grow and that's why I input a 5% growth rate for the company in the stock valuation. I believe the stock trades at a low multiple to cash flows because growth expectations for the company are modest. But Wall Street may be overlooking the further potential of the Japanese JV and a good integration of the Actavis Generics business.
I rate TEVA a buy with a 5-year price target at the top of its market value range of $31.86 - $66.37, for potential compounded annual returns of 13% and a dividend yield of 4%.
Investors may want to take steps into a TEVA position because 100M shares issued in connection with the Actavis Generics acquisitions will exit lock-up during the month of August. Selling pressure as Allergan cashes out this portion of the deal's proceeds may contribute to a temporary drop in the stock price during the 4th quarter, so it isn't a terrible idea to keep dry powder to further build one's position in the 4th quarter.
Teva 4th Quarter Earnings Report (8-K)
Disclosure: I am/we are long TEVA, TEVA CALLS.
I wrote this article myself, and it expresses my own opinions. I am not receiving compensation for it (other than from Seeking Alpha). I have no business relationship with any company whose stock is mentioned in this article.