According to technical analysis, the price behavior of stocks can offer significant "buy" and "sell" signals. Technical analysis can thus help investors avoid appreciable upcoming losses or profit from trends that are in the making. However, there are numerous patterns in technical analysis. Consequently, investors who try to monitor all these patterns are most likely to get lost in translation. In this article, I will try to guide investors on what technical pattern they should focus on.
Fibonacci
One of the most popular patterns in technical analysis is the Fibonacci retracement. In simple terms, every correction should stop at 38.2%, 50%, 61.2% or 100% of the previous bull run. However, having witnessed numerous corrections, I have concluded that these numbers do not have much significance. Some corrections may indeed end at the above levels of the previous advance while some other corrections may end at levels that are close to them. However, there are many corrections which end far from these levels.
Moreover, there is no reason why a correction should end at these levels. While the geometrical significance of these numbers is undoubted, stock prices do not have any reason to behave according to these figures. This is one of the most important lessons that investors should take about technical analysis; as there are numerous technical patterns, investors should only focus on those that have a reasonable and tangible explanation for their significance.
Overbought and oversold signals
Technical signals such as Bollinger Bands inform traders when a stock is highly overbought or oversold in the short or medium term. For instance, when a stock trades more than 2 standard deviations above its moving average, it is considered overbought. If this stock behavior has no significant underlying cause to justify it, then the stock is likely to correct shortly. In a similar fashion, when a stock trades more than 2 standard deviations below its moving average, it is considered oversold and hence it is due for a bounce.
These technical signals work well in a range-bound market. As a stock approaches the upper limit of its recent range, the technical pattern generates a "sell" signal so traders profit from the subsequent correction. Unfortunately for traders, while these signals generate nice small profits in range-bound markets, they result in excessive losses during strong trends. For instance, when a stock rallies for a considerable period, it can remain extremely overbought for the whole period without any pullback. Even worse, experience has shown that markets spend most of their time in trends, not in narrow ranges. Moreover, markets do not send a signal when they shift from a range-bound mode to a strong trend. All in all, while overbought and oversold signals are likely to provide small profits in flat markets, they are likely to result in major losses during a strong trend. Therefore, I advise investors to refrain from using these signals to open and close their positions.
Breakout from consolidation
When a stock trades within a limited range and it suddenly breaks out of that range, it generates a significant signal. For instance, when it breaks above the range, it generates a positive (buy) signal. In simple words, this price behavior indicates a positive shift in the stock's fundamentals, which justify higher levels for the stock. Investors should note that it is only reasonable to rely on this technical signal. A stock does not have any reason to break out of its recent range if there is no fundamental explanation. A key observation is that the shift in fundamentals usually becomes known long after the breakout from consolidation. Therefore, this technical signal enables investors to profit from a strong trend from its early stages, not when everyone is fully aware of the trend.
As an example, S&P (NYSEARCA:SPY) traded within the well-defined range 700-1,550 during the 16-year period 1997-2013, and in 2013, it broke above 1,550. That was a very significant technical signal. It indicated that the conditions had improved so much that they justified a new, higher range for S&P. Investors who relied on that signal have greatly benefited since then. To be sure, S&P has rallied 50% during the last four years and has never looked back. The longer the price remains above its previous range, the more reliable the signal. As S&P has remained above its old range for four years, the technical pattern can be considered as reliable as it can get. Therefore, I strongly disagree with bearish investors who expect S&P to return to its recession-low levels below 1,000 at some point in the future. A bear market will inevitably show up at some point, but it is not likely to lead the benchmark below the high of its old range.
Investors should also note that S&P traded within a very narrow range, 1,800-2,135, during the 2.5-year period from the spring of 2014 to the fall of 2016. However, it impressively broke to the upside of that range after the recent elections. As it has remained above its old range during the last three months, the positive signal should not be underestimated by investors. The longer S&P remains above its old high of 2,135, the more significant the positive signal.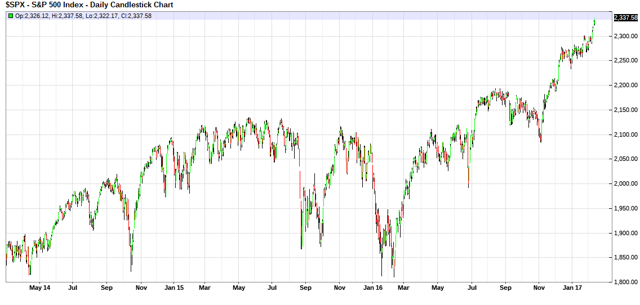 Some investors may hesitate to accept the positive signal due to the lack of positive data that justifies the rally to new all-time highs. However, they should always remember that the reason behind a rally sometimes becomes known only after a major portion of the rally has materialized. All in all, they should trust the ongoing rally until S&P falls back to its old range.
The bottom line
Investors should not exhaust themselves by spending hours on following extremely complicated technical patterns. The more complicated the technical indicators, the more unreliable they are, as they have probably been generated by back-testing of old data. Therefore, investors should keep it as simple as possible. The most reliable technical signal is the breakout from consolidation, which indicates that a shift in the stock's fundamentals justifies its prices to shift to a new range. The breakout from consolidation of S&P a few months ago is a great example for the investors who want to become familiar with this technical pattern.
Disclosure: I/we have no positions in any stocks mentioned, and no plans to initiate any positions within the next 72 hours.
I wrote this article myself, and it expresses my own opinions. I am not receiving compensation for it (other than from Seeking Alpha). I have no business relationship with any company whose stock is mentioned in this article.