I like General Electric (NYSE:GE) as a long-term investment due to the rising infrastructure investments and the company's focus on its core business. Valuing GE through the conventional dividend discount or free cash flow models presents a lot of challenges. While these methods are good for companies with long-term history and stable business models, we should not forget that a reasonable level of restructuring is going on at the company. This means that we need to consider General Electric as a business with a number of unknown variables. It is still unclear what sort of results these changes will bring in the next few years, but one thing is for certain that General Electric will be a changed entity over the next few quarters.
For example, oil and gas assets spin-off with Baker Hughes (BHI) will create a new entity. Since GE will hold 65% of the shares, it will work as a subsidiary. Accounting treatment for subsidiary with controlling share will result in full integration of the subsidiary's results. This will lead to an overestimation of earnings as well as revenues from the oil and gas business. Although there are ways to separate this from the real earnings, I am merely pointing out the challenges this transaction alone will present if we start to value it through free cash flows model. We still have not touched on the prospect of scenario analysis for an extremely volatile oil and gas sector. In a nutshell, we will need a reasonably large set of assumptions and scenarios which will bring an element of guess-work in the analysis. GE has eight business segments and one needs to look at the business prospects, challenges, scenarios and the macro and micro economic factors before projecting the cash flows. A simple dividend discount model will give hugely misleading results.
The financial segment has now become a much smaller arm for GE. It was a clear shift in strategy after the financial crisis. We also need to take into account the further impact from the financial business. There is also a possibility of GE selling its water business. This segment generates around $2 billion in annual revenues. Although these revenue figures are not huge, it still poses another question of going into the details of each business segment. Adjusting for the revenue and earnings loss from this segment, no matter how small, impacts the final valuation of the business. And finally, the software business. This is an area where General Electric management sees a lot of opportunity in the future. They are not alone in thinking this as we have seen some other technology companies focus on this area as well. Again, there is potential in this area but it is not easy to quantify this potential.
Eight business segments with different macro and micro economic factors. One segment might benefit from certain economic conditions while the other might suffer from the same. On top of that, a lot of small businesses are then grouped under one big business segment. All in all, it is not easy to value General Electric though these models. If we start to do this then it will be a lengthy and tedious process. And with the amount of changing and chopping going on at the moment, I am fairly certain the results will not be satisfactory.
Instead, we should be looking at GE as an entity going through certain restructuring steps. In order to gauge the effectiveness of these steps, we can define our own milestones. If the management is able to gradually achieve these milestones, then we know that the business is going in the right direction and the long-term investment theses is correct. I am going to add an updated table from my previous GE article where I compared the segment profitability. This table will help us identify the key growth areas.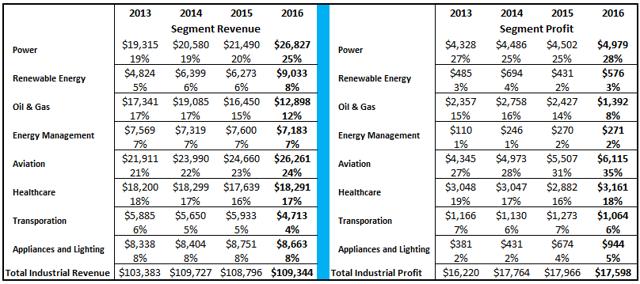 Calculations by the author. Data sourced from Press releases and SEC filings.
In the article linked above, I highlighted Aviation as one of the key growth areas for the company going forward. At the end of 2015, Aviation's total contribution to industrial segment profit was 31%, which has now jumped to 35%. This is the biggest year-on-year jump for the aviation segment in the last four years. Power is the second largest contributor with 28% share in the segment profit. Oil and gas's share has fallen drastically and this vacuum has been filled mainly by the aviation, power and healthcare.
Aviation is going to continue its impressive growth as the order book for this segment has been growing at a steady rate. Airlines are plowing more cash into their fleet renewals and orders like these show that the aviation segment will continue to run at a good pace at least in the short-medium term. GE's aviation backlog was at $28 billion worth of commercial engines at the end of the year. GEnx and LEAP engines are going to further boost the order book as both these are getting good acceptance levels. GE's focus on fuel efficient engines is pushing its aviation segment higher.
Renewable energy segment is also growing at a rapid pace. However, the profitability still remains low. $576 million in segment profit on $9,033 million revenues is quite low and the net margin comes out to be just 6.4%. It has remained around this level in the last two years. Renewable energy area will likely take some time to become a major contributor towards the segment profit.
GE's dividend growth has been poor in the last three years. As a result, using dividend growth only in this period for analysis will likely yield misleading results. I believe the trend in dividend will continue at least in the short-term. Investors should not expect any fireworks. This is also true for the stock price. It has been sluggish in the last two years and I am not expecting a major break-out anytime soon. The reason behind this is that GE has massive operations. It is not working on any era-defining technology which can give it robust growth and multiply its earnings and cash flows. The growth will be slow but steady. There is a chance that better than expected performance from the oil and gas business, solid aviation profit and increasing profits from the power and healthcare segments might push it higher.
For those investors who have a low-cost base of less than $20, the risk is extremely low. I believe the upward movement will be slow and the market will like to see how the company restructures itself into a true industrial giant. The downside is limited due to the successful execution of strategy, rising infrastructure investments, increasing investment in wind turbine and natural gas turbines for power generation. GE investors should take a holistic approach while valuing the stock and should not just look at one model. I am recommending holding the stock as there is a reasonable chance of an upward movement and limited downside. In the meantime, collecting dividend will not hurt.
Disclosure: I/we have no positions in any stocks mentioned, and no plans to initiate any positions within the next 72 hours.
I wrote this article myself, and it expresses my own opinions. I am not receiving compensation for it (other than from Seeking Alpha). I have no business relationship with any company whose stock is mentioned in this article.