Goal: To become independently wealthy.
Timeline: Hopefully sooner rather than later.
Strategy: My investments generally fall into two categories. My dividend growth machine (primarily DGI stocks, often in tax advantageous accounts) and also stocks that should go up, tech stocks/undervalued stocks. I do have a high preference to income producing assets where I can redeploy that money into other good ideas.
Below is my updated portfolio. One of the main complaints can be that you have "too much cash". I have a concentrated portfolio. I don't believe in a "random walk" or modern portfolio theory. Before you say that I'm crazy or that I should be fully vested, Buffett holds more cash than many of the other famous investors - always ready for a good buy.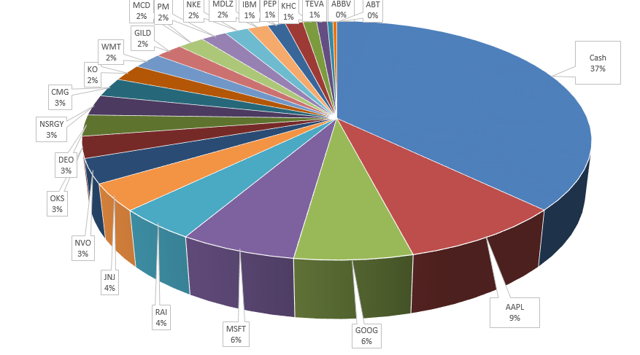 Below is a snapshot of the equity only. 14% Apple (Appl), 10% Alphabet (NASDAQ:GOOG) and 10% Microsoft (NASDAQ:MSFT) have been very good to me. Many of the other names are solid dividend producing stocks.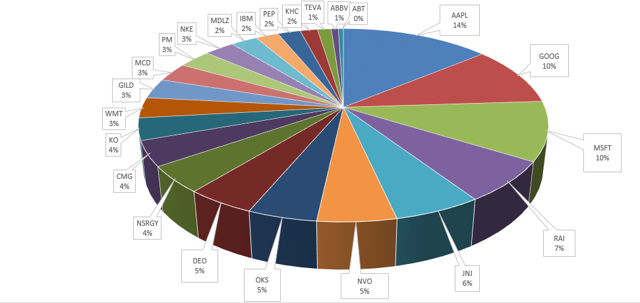 At the time of my last portfolio update (end of Aug), I closed my Euro short (made money) and then added to my positions in Novo Nordisk (NYSE:NVO) and Gilead Sciences (NASDAQ:GILD). So far they haven't worked out, falling 15% and 27% vs a 6% up market.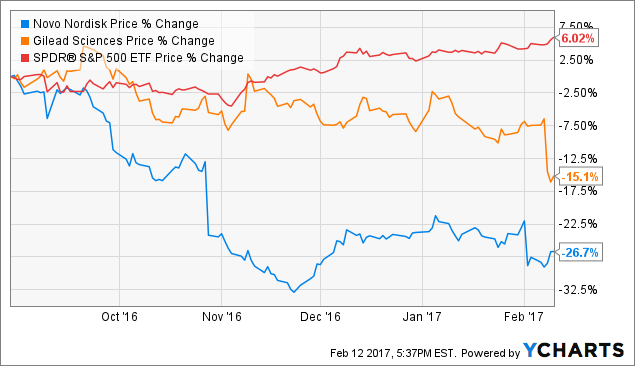 In November I added to my position in Diageo (NYSE:DEO) after a pull back and that has worked out thus far, up 12% vs a + 5% market.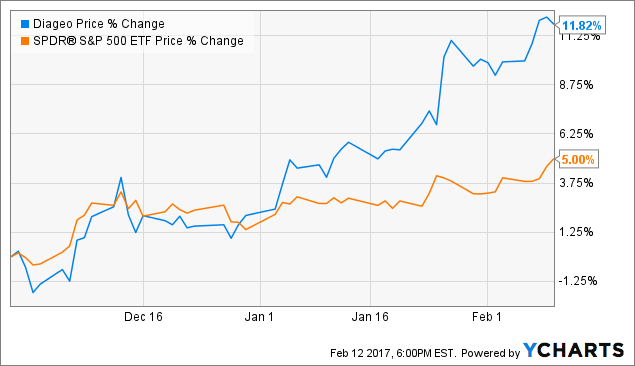 At the end of my last portfolio review (really the one before) I was talking about a stock of great interest to me, Under Armour (NYSE:UA) and how it was valued compared to some of the banks, (WFC, C, BAC). I pointing out the metrics on UA vs the Banks, and that something was way off... UA overvalued or Banks undervalued or both. Look at what has happened since then.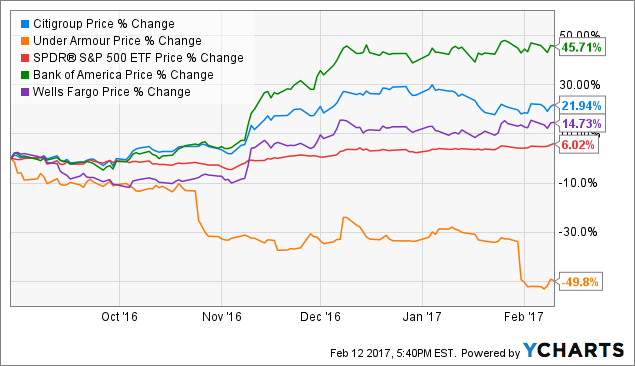 Under Armour is down 50%, the market is up 6%, Wells Fargo up 15%, Citi up 22%, and Bank of America up 46%! Anybody can play shoulda woulda coulda, I'm just glad that my analysis was on. PS I'm still not buying Under Armour.
What ideas interest me now?
A lot of investors (and small business owners) are happy that a businessman replaced a "community organizer" in the White House but the market is at highs and there is a lot of uncertainty out there...Brexit, NAFTA, TPP, Fed Rate increases. The repatriation of cash and a trillion dollar "rebuild our infrastructure" package are in the talks, I remember all those "shovel ready jobs" last time. Sorry the New New Deal didn't work. It's tough to find value out there in this stock market after nearly 9 years since the bottom. Remember, buy low and sell high.
I'm not ready to call the bond bull market over yet. The same people that are ready to stick a tombstone on the bond market are the same people that have been saying, "rates have to increase sometime" for nearly a decade. Obviously they've never heard of Japan or deflation. A research idea is TLT or the long bond.
In the mid-90's during the raging bull market I saw a documentary on TV about Starbucks (NASDAQ:SBUX). One of the guys working at Starbucks that the documentary interviewed said that he was "making more money trading the stock than sweeping the floors". I definitely wish I bought this stock 20 years ago, 10 years ago, 5 year ago and I don't think the growth story is over (although recent growth hiccups). One of the big areas for growth could be China, and it doesn't have to be coffee in China, it could be tea. Is this stock going to do as well as it has the last 10 or 20 years? Probably not but it could be like investing in McDonald's (NYSE:MCD) or Coca-Cola (NYSE:KO) decades ago after "it was done growing. Starbucks could be a future dividend aristocrat.
Not to get political, but there is a lot of talk about Russia and Mexico, I could ultimately see our focus shift to CHYYNA and in a big way. The conspiracy theorist in me thinks a lot of us getting closer to Russia is so that Russia won't get closer to China...so that we could put more pressure on China. I do believe China will pop (with or without pressure), and if it does there will be massive "ripples" around the world.
I'd still love to buy some WBA, CVS, MKC, CL or maybe finally add some financials.
My natural gas pipeline MLP Oneok (OKS) and their high yield are getting bought out, I'd love to find another solid yielder, maybe another MLP.
I've also flagged Facebook (NASDAQ:FB) for future research. Their growth/price makes them worth a look.
If I had to add to an already existing position I think Nike (NYSE:NKE) will have good risk adjusted returns going forward.
What am I looking for? Undervalued stocks, bonds, currencies, commodities to add to my portfolio to help me reach my financial goals. I'm not scared to be unconventional, in fact I'd prefer it. I'm also not scared to go short and/or hold large quantities of cash. All of my decisions, right or wrong are to be well thought out. I am in no pressure to buy or sell anything and I like it that way.
As usual, the comments section is open to Q&A.
Disclosure: I am/we are long AAPL, GOOG, MSFT, DEO, KO, MCD, OKS, GILD, NKE.
I wrote this article myself, and it expresses my own opinions. I am not receiving compensation for it (other than from Seeking Alpha). I have no business relationship with any company whose stock is mentioned in this article.