Abbvie Inc. (NYSE:ABBV) is an excellent investment at these levels for a few reasons. First, shares are very inexpensive. Second, the margins are consistently high. Finally, the dividend yield is both sustainable and excellent. Below, I model implied future price based on some strict dividend growth assumptions and come to a very bullish conclusion. I recommend buying shares of Abbvie Inc. at these levels.
About the Pipeline
Before getting into the specifics of why I like this name, I should speak about the pipeline. I think Abbvie's pipeline is excellent, particularly Imbruvica, Venclexta (oncology), Risankizumab (psoriasis and chrones), and of course Rova-T (oncology). This strong pipeline isn't my chief reason for investing here, though.
I'm more concerned about the health of this business, and the fact that it's a well run company, led by a management team that is shareholder friendly. As a well run company, I can assume that management will be focused on the pipeline, and I can spend less attention to it. It seems that my point of view is shared by at least one highly successful investor. If the business is sound, and you acquire the shares at a reasonable price, the pipeline is an operational detail that we investors have little insight into anyway. Much more important to me is the fact that management demonstrates that they are shareholder friendly by returning capital to them, that this company has great margins, and the stock has a very compelling dividend.
The Financials: Great Margin, but Some Points of Concern
A quick review of the past seven years indicates that Abbvie has managed to maintain fairly decent net income margins in the low 20s. This is a company that manages to turn a dollar of sales into 23 cents of net income, which is very compelling for me. Not everything is perfect, though. One of the things that troubles me is the fact that there is a large amount of debt here, much of it short term (32% of debt is due between 1 and 3 years from now); 49% of the debt is due after five years. Also, the company doesn't always grow net income at an equal or higher rate than they grow revenue. This is largely a function of their development cost structure, but it is something that I will need to monitor in future. The one thing that is truly compelling is the dividend.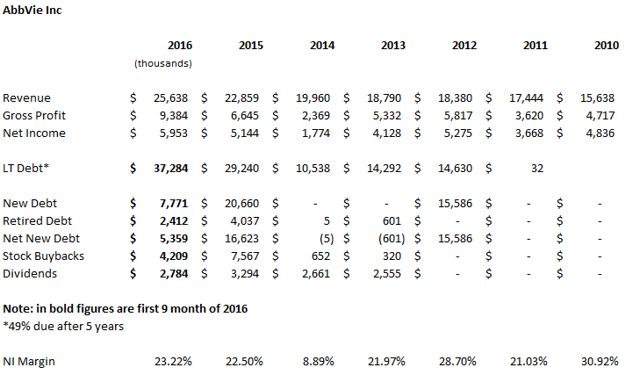 Modeling The Dividend & Deriving Forward Price
The yield on this company is currently about 4.2%, which is very compelling in my view. The dividend is sustainable, with a payout ratio around the 60% mark. I've modeled some dividend growth assumptions and derived the implied prices those imply, holding the current dividend yield constant. Even under the most severely negative assumptions about dividend growth (where the dividend growth rate is cut by about 2/3), the shares still trade about 13% higher in 2020 than they do today. On the other end of the spectrum, if we holding everything constant, including the dividend growth rate we've seen since 2013, the shares should be priced in the $100 range by 2020. These scenarios give me a very high level of comfort about owning the shares.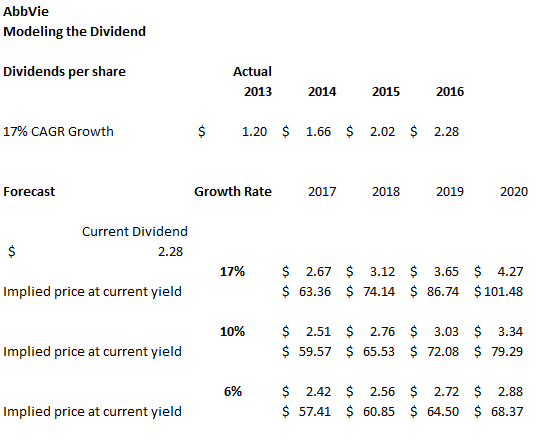 Technical Snapshot
As per our ChartMasterPro Daily Model the trend for ABBV turned bullish on February 15 when the share price broke above the daily downtrend line which began on January 13. From here we see the shares rising to the $64.00 level over the next three months.
Today we bought the ABBV 19MAY17 60 Call Options which will provide us with approximately 14x leverage on our LONG trade. Our initial stop-loss exit signal will be a daily close below $60.00.
For investors in the shares we recommend you hold for three months or $64.00, whichever comes first. For longer term investors (years not months) we believe that ABBV is an excellent dividend growth addition to any portfolio.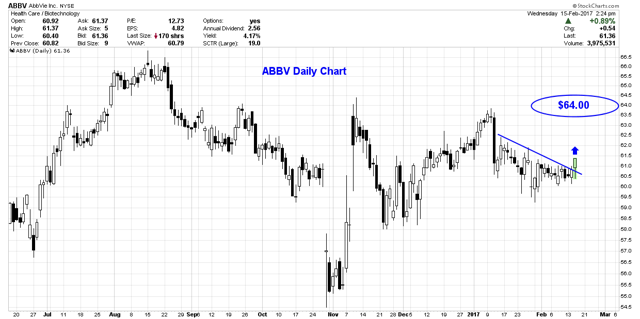 Conclusion
As I've said in most if not all of my articles about individual companies, probably the single biggest factor in determining future investment returns is the price that you buy the stock at. In this case, the shares are very inexpensive, trading at a PE of ~16.75, which is a 35% discount to the overall market. In addition, Abbvie is also trading at a significant discount to its historical PE. Finally, with an EV/EBIT ratio of 11.09, there is a 9% earnings yield on the company at the moment. This all adds up to the fact that shares are very reasonably priced relative to the overall market and to the company's own history. Now is the time to buy.
Disclosure: I am/we are long ABBV.
I wrote this article myself, and it expresses my own opinions. I am not receiving compensation for it (other than from Seeking Alpha). I have no business relationship with any company whose stock is mentioned in this article.