In 2017 I see many opportunities for gold to appreciate. In the wake of the 2008 collapse, central banks such as the Federal Reserve, the European Central Bank, and the Bank of Japan have used unprecedented and unconventional monetary policies to stimulate the world economy. These policies may appear to have stopped the bleeding, but the lack of prescience and experience using these unorthodox tools have only made matters worse. We are all witnessing a radical change in our economic and political environment that will be a boon for gold. Gold will continue to perform well as it has since the early 2000's. Again, I think 2017 is a great time to designate a portion of one's wealth (roughly 10% of one's liquid assets) into physical gold to preserve and increase their wealth.
Uncertainty In Europe
The British withdrawal from the European Union on June 2016 following a referendum sparked a movement that has gained enormous traction influencing other European Union member countries to reconsider their membership in the EU. Upcoming elections in Europe can have a major impact on the economic landscape of the world. In France, election frontrunner Marine Le Pen of the right-wing populist National Front vows to hold an in/out referendum, a "Frexit," if she can win the election. Many see France and Germany as the foundation of the European Union, so a potential "Frexit" can have dire consequences for the EU's existence. France's election will take place this spring. In the fall, Germany will hold their Federal Elections. Angela Merkel is believed to be in a position to win the election, but as problems with immigration and the economy mount she can very well be defeated. Finance Minster Wolfgang Schauble has favorable odds to replace Merkel if she were to lose her ground. A Schauble victory would do little to bolster the EU. In the spring, the Netherlands will hold their general election. Right-wing leader, Geert Wilders, gained support with his hard stance on ending immigration from Muslim countries. If elected Prime Minister, Geert Wilders has vowed to hold a referendum, which would put the Dutch's membership in the EU at stake. As this far right movement continues to muster up support the survival of the EU will face difficult challenges. The potential threat of destruction, restructuring, or renegotiation of the EU and the single market makes gold an attractive asset that investors will seek out to provide safety in this time of uncertainty.
Global Dollar Shortage
The Federal Reserve will unlikely raise rates three times in 2017 as they intend to do because of the worsening global dollar shortage. From 2008-2015 the Federal Reserve increased the money supply by roughly $3.5 trillion leaving one to ask the question, how can there possibly be a dollar shortage?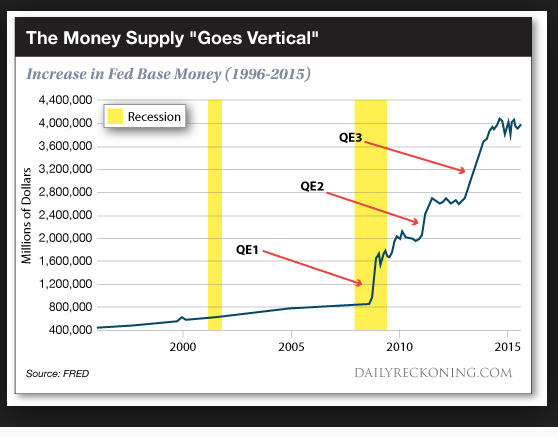 Concurrently, during this period roughly $60 trillion of new debt was created denominated in dollars. According to the Bank of International Settlements, approximately $3 trillion of that debt has been issued by emerging markets (see below). Investors turned to emerging markets following the crisis of 2008 for the higher returns these markets had to offer. The Federal Reserve will be cautious when it comes time to raise rates because an increase will likely strengthen the dollar making the debt more expensive for these emerging markets to pay back. In addition, a strengthening dollar will make dollar-priced commodities, essential for some companies operations, more expensive. Furthermore, an increase in rates will entice investors to reallocate their capital from emerging markets back into developed markets that have proven track records of stability and safety. A stronger dollar coupled with capital flight would add tremendous strain on these leveraged emerging markets that can stall or collapse the global economy if they are unable to pay back their debt. The Bank of International Settlements states that in 2018, an estimated $340 billion of debt will be due.

Source: Bank For International Settlements
Trump Administration
The Trump Administration is riddled with uncertainties surrounding the future of the dollar and the Federal Reserve. Trump has labeled countries such as Japan and China as currency manipulators and has frequently advocated for a weaker dollar. Throwing fuel onto an already ongoing currency war will not calm markets. However, contrary to his advocacy for a weaker dollar, Trump has also proposed plans for tax cuts and large spending such as a $1 trillion infrastructure project. This will ultimately be inflationary, thus putting pressure of the Federal Reserve to raise rates and strengthen the dollar. Moreover, the Federal Reserve is in a state of uncertainty. First, Janet Yellen's term is set to expire next year. Second, two key positions on the Federal Reserve's board are vacant due to a refusal by Republicans to bring Obama's nominees to a vote. Third, Daniel Tarullo, a top Federal Reserve official, has resigned. These key vacant positions joined with Trump's unclear plans for revamping the Federal Reserve will leave many to wonder what is in store for the future.
In this time of uncertainty, I believe gold will continue to appreciate handsomely. Gold increases in price during times of uncertainty because investors look for safe havens to protect their wealth against the unexpected. Additionally, I believe gold will continue to thrive regardless of whether the dollar remains weak or strengthens. If the dollar remains weak and the US continues to print money and keep interest rates low, nations and investors will continue to lose confidence in the dollar. Many will turn to gold as a hedge against these unprecedented monetary policies. However, as stated earlier if the dollar were to strengthen complications may arise in emerging markets that will lead to an appreciation of gold. To add on, a strengthening dollar would also put pressure on the United States, a debtor nation, to pay back its own debt. Furthermore, the right-wing movement in Europe can change the political and economical landscape drastically and investors will seek out gold until uncertainties in Europe become more clear. The demand for gold has been on a steady rise as well in recent years increasing the price of gold too. I prefer physical gold rather than other "hard assets" and commodities for simplistic reasons. Gold is relatively cheap, easy to store, retains its value, and requires no maintenance.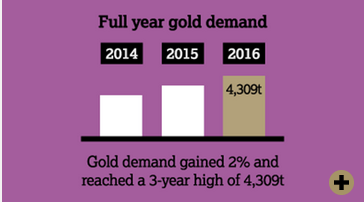 (Source: World Gold Council)
Disclosure: I am/we are long PHYSICAL GOLD.
I wrote this article myself, and it expresses my own opinions. I am not receiving compensation for it (other than from Seeking Alpha). I have no business relationship with any company whose stock is mentioned in this article.