Welcome to another edition of Natural Gas Daily! If you are new, please read this primer.
After a very bearish weekend weather model update for the week of February 24, the latest outlook is even grimmer. GWHDD is expected to be 37.5% below the 10-year average now and reducing storage draw estimates to a fraction of where it was a week ago. The February 24 week alone has knocked off over 100+ Bcf in estimated storage draws.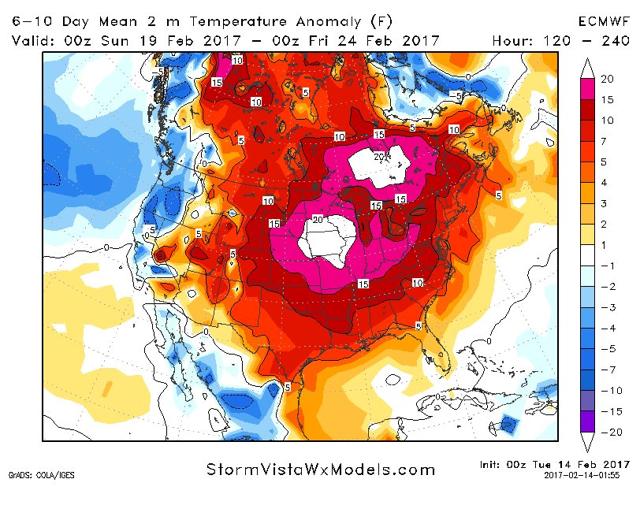 Source: Genscape
On a cumulative GWHDD basis, February 2017 will be ranked (as of today) one of the warmest Februaries of all time. Putting everything into context, January 2017 was already ranked one of the top 5 warmest Januaries of all time, and coupling it with the outlook for February, we have a situation where natural gas storage started 2017 forecasting EOS to be 1.41 Tcf to end at 1.95 Tcf today.
The 540 Bcf build since the start of January is entirely caused by heating demand destruction due to extremely bearish weather. When we wrote back in November about the odds for the natural gas (NYSEARCA:UNG) outlook, we said that, unless weather turns extremely bearish, the bears would not win this Winter with the structural imbalance backdrop. Looking back, the weather did turn out to be extremely bearish, and storage as a result will be in surplus in April as of today's forecast.
Including the week of February 10, total storage draws for 2/10, 2/17 and 2/24 will only be -253 Bcf. This is just 10 Bcf higher than the January 13 week storage draw we observed this year.
As we move forward, the focus will shift to paying attention to the daily natural gas fundamentals. Observed structural imbalance remains in place despite higher Canadian gas net imports offsetting some of it. Offshore natural gas production was hit by the Phillips 66 (NYSE:PSX) fire yesterday, and should gradually recover. We will be posting updates daily for our premium service if you like to join.
Overall, our positioning in natural gas producers has not changed, and we look to take advantage of any bearish backdrop to add to our positions. For those curious what the HFI Research premium service entails, we recently published a commonly asked question post where you can find the answers you need.
8-14 Day Outlook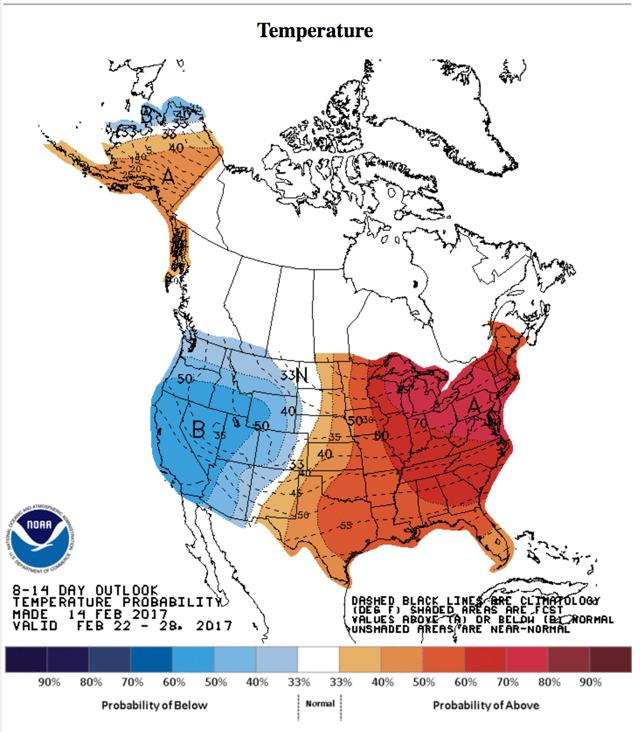 Disclosure: I/we have no positions in any stocks mentioned, and no plans to initiate any positions within the next 72 hours.
I wrote this article myself, and it expresses my own opinions. I am not receiving compensation for it (other than from Seeking Alpha). I have no business relationship with any company whose stock is mentioned in this article.