It's that time again.
Time for me to remind you that it's not just credit markets that are absurdly rich on every conceivable metric.
Time for me to remind you that you don't have to buy into the whole "markets aren't properly pricing political risk" narrative to understand that stocks are stretched to the breaking point.
Time for me to show you a bunch of charts that will be extremely inconvenient for anyone still long US equities (NYSEARCA:SPY).
Time for me to make the bulls exceptionally uncomfortable and perhaps even a bit queasy.
I'll admit it, these are "gimmie" posts. They're a breeze to write, they fit well with my general outlook for markets in 2017 and yes, they do support the "mispriced risk" story even if you don't have to buy that story to understand that what you own is grossly overpriced.
On Tuesday, I ran the following chart over at the Heisenberg Report: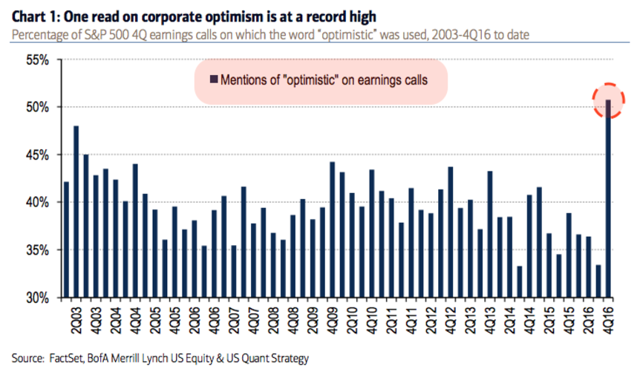 (Chart: BofAML)
Behold! Animal spirits are running wild in earnings calls. Keynes lives.
For those interested in a more granular breakdown of exactly what it is corporate management teams are so "optimistic" about, I encourage you to check out "Here's What Corporate America Is Most Concerned About," in which I cite Goldman on the way to documenting how the companies you (may) own feel about the Trump reflation meme.
So that's the setup. Now without further ado, let's look at some updated visuals that demonstrate the extent to which the market unquestionably shares corporate America's giddiness.
First are P/Es, the simplest of the simple:

(Charts: Goldman)
As you can see, the US equity market is the most overvalued market on the planet in forward P/E terms, and Shiller P/Es are for all intents and purposes (i.e. stripping out the tech bubble) at all-time highs.
Note what's especially disturbing about the second chart there. Bond yields are at 140-year lows and stock valuations are at all-time highs. If ever there were a setup for stock/bond return correlation to flip positive, surely that's it. I'll come back to that point post-haste.
The next chart shows the universe of sentiment indicators and the extent to which they're (almost) universally bullish:

(Charts: Goldman)
Similarly, the VIX and the put/call ratio betray complacency and a generalized lack of demand for downside protection:

(Charts: Goldman)
And for those who think massive selloffs (i.e. a drawdown of 20% or more) are so infrequent that you needn't humor the chicken littles (like me), consider this: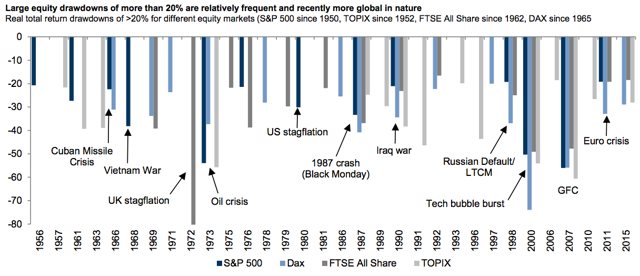 (Chart: Goldman)
See anything disconcerting there? Note how these supposed "tail events" are happening with increasing frequency and also note the extent to which they're becoming more global in nature (that is, it's hard to find diversification in foreign equities).
Actually, it's hard to find diversification anywhere in the kind of drawdown shown above. Take a look at this: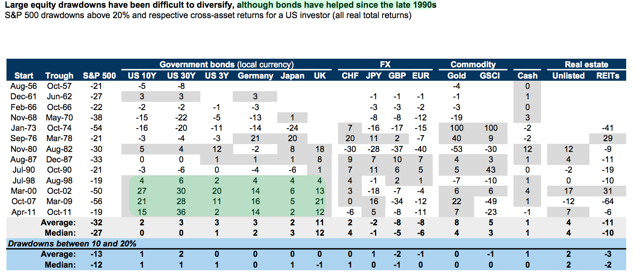 (Table: Goldman)
So basically, that's returns for all asset classes during equity drawdowns of 20% of more dating all the way back to 1950. Do me (and you) a favor and note the green highlights.
Notice anything unnerving about that given current market dynamics? I'll explain.
Since the late 1990s, equity selloffs have been cushioned by bonds. That is, bond yields have fallen (i.e. bonds have rallied) when equities sold off. That should ring a bell. That's the negative equity/bond return correlation I'm always harping on. See now why it's so important? If that correlation had been positive, that green box would show negative numbers (i.e. no diversification and no cushion)!
Here's a look at said correlations: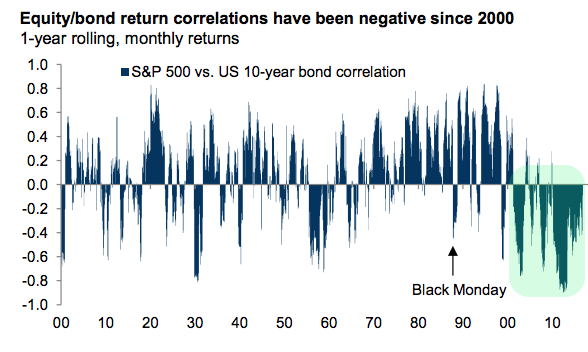 (Chart: Goldman)
Again, that negative correlation is what saves you when stocks plunge.
Now, go back up and look at the first set of Goldman charts above. Note again how bond yields are at a 140-year low. Light bulb coming on now? There's nowhere to go but up for yields and that means there's nowhere to go but down for bonds. So how do you plan to diversify in an equity drawdown?
That last question is rhetorical.
On that note, let me come full circle and close with a visual that echoes how corporate management feels about things. In a word: "optimistic".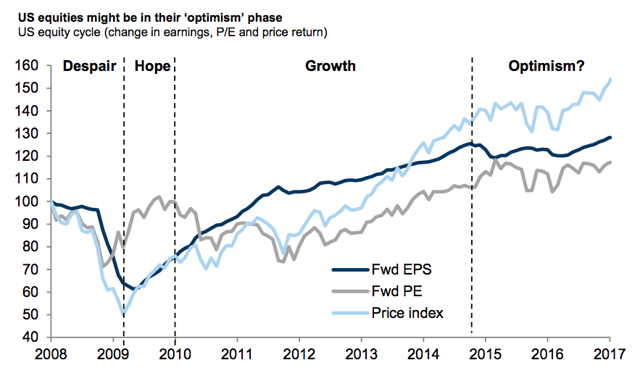 (Chart: Goldman)
Disclosure: I/we have no positions in any stocks mentioned, and no plans to initiate any positions within the next 72 hours.
I wrote this article myself, and it expresses my own opinions. I am not receiving compensation for it (other than from Seeking Alpha). I have no business relationship with any company whose stock is mentioned in this article.