It's been a wild year thus far for the Gold Juniors Index (NYSEARCA:GDXJ) which is now up nearly 40% from its December lows. The index broke out of a falling wedge pattern early this year and has not looked back since. While the majority of the juniors are now very extended from their bases and difficult to chase here, there are some that have just broken out over the past couple weeks. I've combed through the fundamentals on some of these breakouts, and believe I've found some of the best. The three stocks I'll be highlighting in this article are Coral Gold (OTCQX:CLHRF), Nighthawk Gold (OTCQX:MIMZF), and Pure Gold Mining (OTCPK:LRTNF).
Before digging into the breakouts in the junior space, I thought I'd update readers on the current GDXJ chart. As we can see from the below chart, the Gold Juniors Index reclaimed its 200-day moving average last week and has been basing above it since. This is an extremely bullish development for the index as it is significantly leading the commodity. All pullbacks over the past week have found support at the 200-day moving average, which is my line in the sand for bull and bear markets.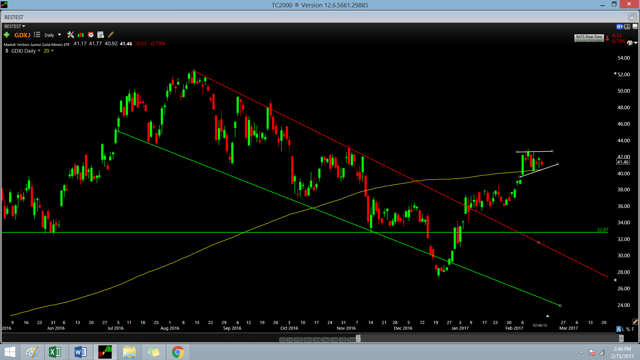 (Source: TC2000.com)
It looks like the GDXJ wants higher price and the base its building above its 200-day moving average is quite bullish. If we are to correct, there are several levels of support below the index. The 50-day moving average is now rising and is getting ready to meet up with the 38.2% retracement of this rally at $37.00. I expect any pullbacks to find strong support here, and would be very surprised to see the 50-day moving average violated on its first test. In terms of shallow pullbacks, the $39.00 level is also strong support as it represents the gap-fill from last week's breakout and the 23.6% Fibonacci retracement.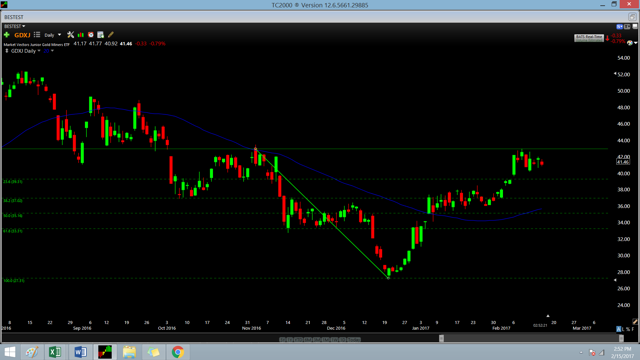 (Source: TC2000.com)
This does not mean I am expecting a correction, I am simply showing the support levels below if we correct before moving higher. This is great news for the bulls as the bears are at severe risk here. Even if this breakout above the 200-day moving average does fail, the GDXJ has strong support below to keep the bulls in control.
Nighthawk Gold
While combing through my index of gold stocks last month, I stumbled upon Nighthawk Gold, a gold explorer with 222,000 acres of land in the Northwest Territories. The company's land package makes up 90% of the Indin Lake Gold Camp, and the company has already begun to delineate 7 highly prospective target areas. Kinross Gold (NYSE:KGC) has put its stamp of approval on the company as of this fall by taking a 9% position at $0.50 per share (CAD). Since that time Nighthawk has released more favorable drill results that continue to expand on the company's flagship Colomac and Goldcrest deposits. The deposits already host a combined historical resource of 2.1 million ounces of gold at an average grade of 1.64 grams per tonne.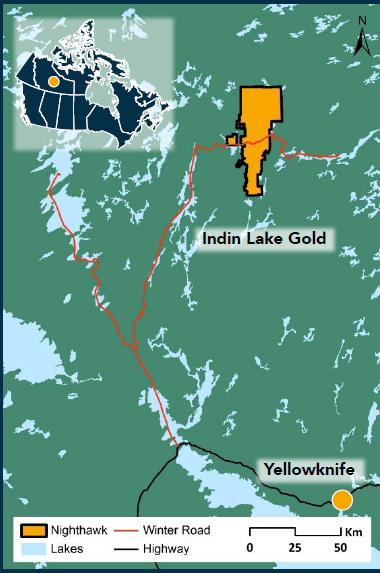 (Source: Company Presentation)
Zooming into the company's Indin Lake Gold Project, we can get a better look at the 7 highly prospective target areas. Thus far results are extremely favorable from nearly all of these target areas, and it's looking like Indin Lake is littered with gold. The most exciting of these targets areas is Colomac which had some extremely impressive intercepts last year.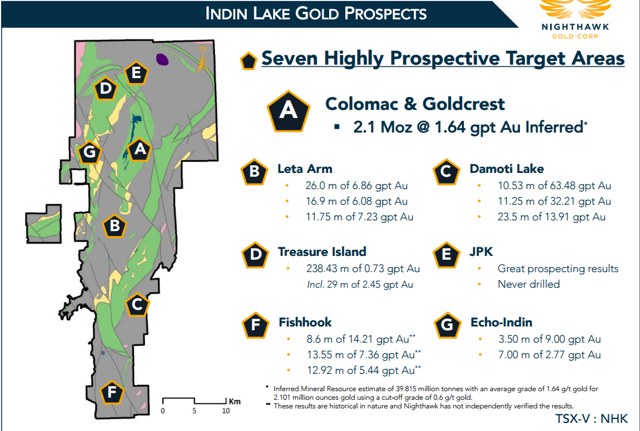 (Source: Company Presentation)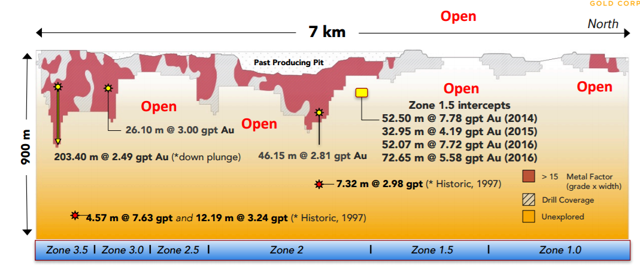 (Source: Company Presentation)
Hole C16-03 intersected 52 meters of 7.72 grams per tonne gold, while C16-03B hit 72 meters of 5.58 grams per tonne gold. These are well above the average grades of the Colomac resource and support the potential for a higher grade starter pit at the deposit should it ever go into production. In terms of valuation is in the midst of a $20 million financing, and will have 186 million shares after the deal closes. This gives Nighthawk Gold a valuation of $128 million (CAD) at its current share price of $0.69. After subtracting for the company's $35 million in cash this leaves them with a market capitalization of $93 million. I believe this to be very fair given the company's current deposits, and it leaves lots of upside if Nighthawk makes a new discovery. The $35 million cash balance will fund more than a year of exploration and we can now expect regular results out of Indin Lake.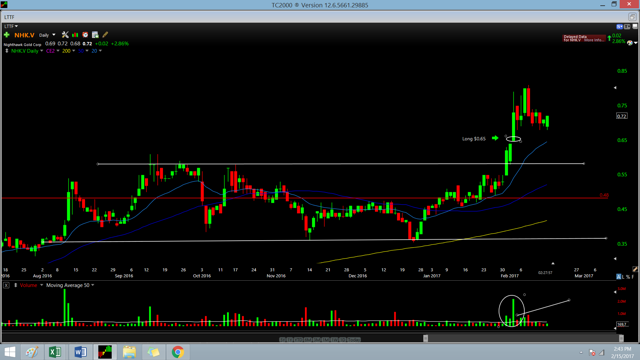 (Source: TC2000.com)
Ok, time to look at the breakout. Nighthawk Gold was trading in a big base between August and January and broke out of this base in early February. My newsletter subscribers were alerted to this immediately and made aware of my new long position at $0.65 (CAD). As we can see from the above chart, the stock is showing strong commitment to this base breakout. Nighthawk has been basing above this breakout for over a week now while all of its moving averages play catch up. There was a significant increase of volume on the breakout which is also a very good sign. As long as Nighthawk can remain above $0.48 CAD or $0.36 US on a closing basis, I will be staying long.
Coral Gold
As many of my followers likely know, Nevada is my favorite mining jurisdiction to find juniors in. My search for Nevada juniors led me to Gold Standard Ventures (NYSEMKT:GSV) last year, and readers are up nearly 100% since I highlighted it. Somehow over the past year I've managed to completely miss Coral Gold, which has set up shop right next to Barrick's (NYSE:ABX) Nevada mines. The company is a very speculative opportunity, but has property on trend with Barrick's Cortez and Pipeline gold mines.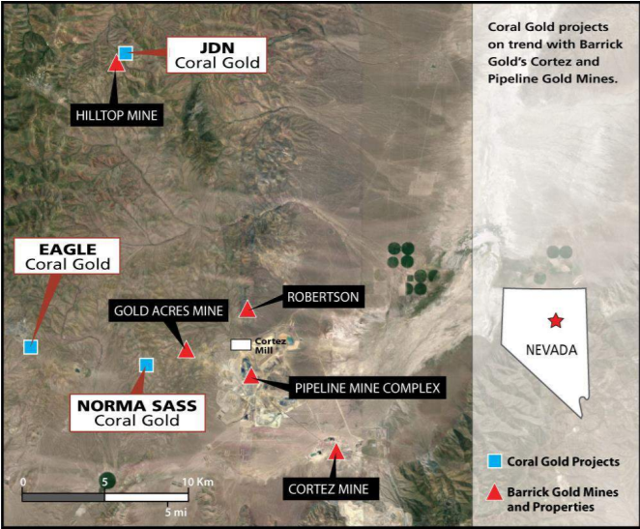 (Source: Company Presentation)
The most exciting part about the Coral investment thesis to me is the valuation. Coral managed to delineate a resource of 2.7 million ounces at its Robertson deposit, and has agreed to sell this to Barrick for $15.75 million plus a 1% plus net smelter royalty. Based on the current market capitalization of Coral Gold with its 44 million shares outstanding, this is more than the company's current value at $0.32 cents CAD. Therefore investors are getting all of Coral Gold's other projects for free. If these were completely useless projects in a poor jurisdiction this could be justified, but this couldn't be further from the truth.
Coral Gold's Norma Sass project is located footsteps away from Barrick's Cortez Mine, and any discoveries made here would be of significant interest to Barrick. Barrick has already expressed interest in doing business with Coral Gold from the Robertson sale, so I see no reason that a discovery at Norma Sass would unfold any differently. The upside for Coral Gold lies in their massive treasury upon closing of this transaction. Coral will be able to fund a massive exploration program across its properties, and the only way the shares aren't a deal here is if they burn through the whole treasury without finding anything. Based on previous success and favorable geology, I would argue this is unlikely.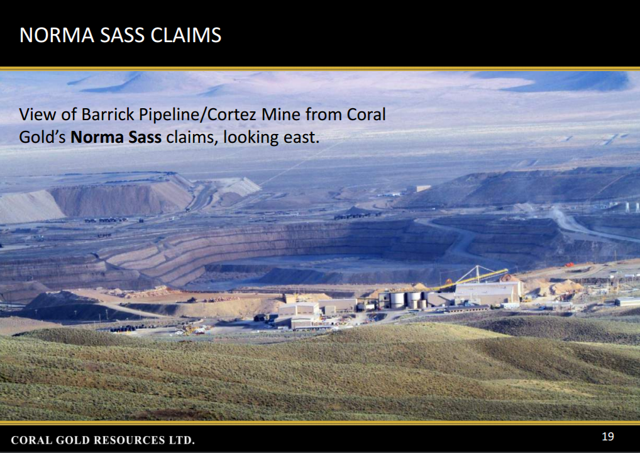 (Source: Company Presentation)
Taking a look at a breakout, it's rare I find a chart this nice. The stock nearly doubled in mid 2016 and has spent the past 6 months in a falling wedge pattern. We've finally broken out of this pattern now, and the 200-day moving average came up to catch price. This offers a very low-risk entry into the stock, with a stop below the $0.27 level (CAD). Not only do we now have a downtrend breakout on Coral Gold, we also have a new 3-month high breakout. I plan to add more shares in my account at $0.325 CAD if given the opportunity, and a new position in my US account at $0.245. My newsletter subscribers were alerted to this position last Friday and CLHRF is up roughly 10% since. Despite this gain in share price, the company is still trading below its projected cash value if the Barrick deal closes. It's very rare you're able to buy a company for under cash levels, and barring the deal being scrapped I see very little downside.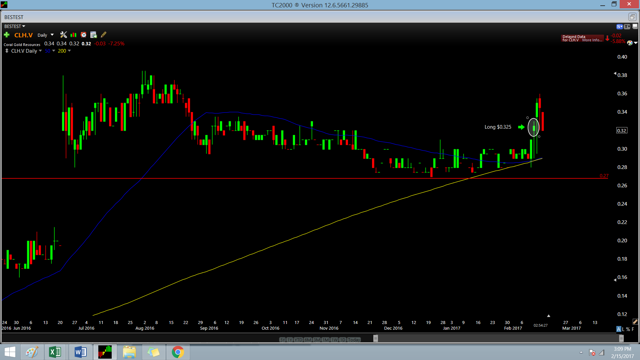 (Source: TC2000.com)
Risks associated with my thesis:
There is always risk when investing in junior gold companies, especially those with market capitalizations under $100 million. I typically do not highlight companies with market capitalizations this low, as they are more risky. Dilution is always a problem as there's always the possibility that a company continues to finance at lower prices and never makes a discovery. In terms of Nighthawk Gold and Coral Gold, I believe these are calculated risks. Both companies are well cashed up for the next 18 months and have no reason to do any dilution. Their current projects have strong upside potential, and any discoveries should be met with favorable boosts in their share prices.
Another risk to gold juniors is obviously the price of gold (NYSEARCA:GLD), but I believe investors are in good hands here also. There's a strong possibility that gold is entering into a new bull market, and the metal has strong support below between $1,190/oz to $1,200/oz. If gold enters into a new bull market, I expect these juniors to be some of the best performers going forward. They have strong projects, large cash balances, and very little room for downside based on their current valuations. As always if I am wrong on these investments, I have stops below to protect myself that are mentioned above. My stops are always used on a closing basis, and I do not worry about intra-day fluctuations.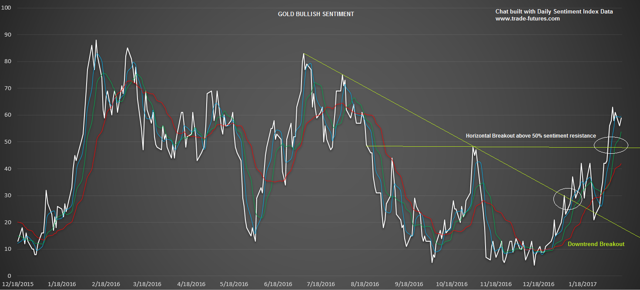 (Source: Daily Sentiment Index, Author's Chart)
In summary I believe Coral Gold and Nighthawk Gold to be very interesting opportunities. While many of my 'best in breed' gold juniors are very extended from their bases, these two companies are just emerging from them. Any favorable drill results or news from their properties should put a fire under their share prices and help their new up-trends to continue.
Bullish sentiment on gold is still well below exuberant levels, and is trending higher which is very bullish. We have broken out above the resistance at 50% bullish sentiment, and gold continues to ride its sentiment moving averages higher. This is similar to late January 2016 which we can see from the left side of the above chart. I remain long gold from $1,176/oz for a half position, with a stop below $1,158/oz on a close. This bull market is nowhere near over in my opinion, and I continue to add miners each week for this reason. I am now at an allocation of 62% miners across my accounts after my most recent purchases.
Disclosure: I am/we are long GLD, MIMZF, CLHRF, GSV.
I wrote this article myself, and it expresses my own opinions. I am not receiving compensation for it (other than from Seeking Alpha). I have no business relationship with any company whose stock is mentioned in this article.
Additional disclosure: If you liked this article and found it useful, please feel free to follow me by clicking on my name next to my avatar at the top of this article. I also invite you to follow me at www.Taylordart.ca where I showcase my top 10 takeover targets in the gold space, as well as my top 10 gold producers to play this bull market with.
Editor's Note: This article covers one or more stocks trading at less than $1 per share and/or with less than a $100 million market cap. Please be aware of the risks associated with these stocks.