Notes for the readers
Sampo Group (OTCPK:SAXPF) is primarily traded on the Nasdaq Helsinki Stock exchange under the ticker SAMPO:FH. I will be referring to the Finnish symbol for the article. Note: Amounts are in euro (€) unless mentioned otherwise. EUR-USD 1.0637. Price of 1 euro in USD as of February 10, 2016. Furthermore, most of the figures are based on the financial reports of Sampo and of its main competitors.
Good Results For Sampo Group, Which Remains Overvalued
As mentioned in a previous article, Sampo Group is a Finnish insurer focused on the Nordic markets. Its presence extends across Nordic and Baltic countries, through various lines of business such as life and savings and property/casualty (hereafter called "P&C"). Life products are sold through its Finland-based subsidiary, Mandatum Life, while P&C products are sold through its Sweden-based subsidiary If P&C, which also operates in Finland and in Estonia.
Sampo is also indirectly present in the Danish insurance market through its strategic participation in Topdanmark (OTCPK:TPDKY), a Danish P&C insurer, which is only focused on its domestic market. The Finnish insurer has started buying shares of the Danish insurance company in 2011 and held more than 40% Topdanmark's stake in end of 2016, after having made a mandatory public cash offer to the other shareholders of Topdanmark to acquire all outstanding Topdanmark shares in September 2016. (Following the mandatory offer, Sampo has received acceptances of 7,374,306 shares in total, representing 7.76% of the total share capital.)
On 8th of February 2017, Sampo released its Q4 results. Annual profit before taxes was almost unchanged at €1,871 million (€1,888 in 2015), but the management decided to increase the paid dividend by 7% to 2.30 per share, following its dividend policy (i.e. increasing gradually the paid dividend and returning more cash to the shareholders year after year). In spite of good results in both P&C and Life segments, Sampo has been impacted by the low interest rate environment, impacting its financial results. Regarding the FY 2016 results, the Finnish stock is overvalued by 5% or 10%. However, a lazy dividend seeker could invest in Sampo Group for at least three reasons:
Sampo has always been generous with its shareholders
Sampo's management intends to propose discontinuation of Topdanmark's share buy-back program, at the AGM of Danish insurer and a switch to earnings distribution by means of payment of dividend. The dividend paid by Topdanmark should impact positively Sampo's shareholders in the future.
The low interest rate environment should not be permanent, and we could assume an increase of the interest rates which should impact positively both financial and operating results of the Finnish insurer and of its associated companies.
A Decrease of Premiums in both P&C and Life Activities
In P&C segment, the premiums decreased by 2% to €4,292 million, mainly driven by currency effects. By excluding the currency effects, the GWP were stable (-0.1%), mainly driven by a good development in Sweden and Denmark (a more than 3% increase in both countries), offset by the decline of both Finnish traditional market (-3.9%) and Norwegian market which usually represent more than 50% of the written premiums.

Source: Q4 2016 Sampo's Supplementary material
As mentioned by Kari Stadigh, Sampo's CEO, during the conference call "there is no particular price level changes in Finland, in Denmark or in Sweden. There is, however, some price erosion in the Norwegian market"
At segment level, the gross written premiums decreased by respectively 5.3%, 0.5% and 1.8% on Commercial, Industrial and Baltic segments while Private segment (more than 55% of the gross written premium) increased by 1.4%.

Source: Q4 2016 Sampo's Supplementary material
The life activity has followed the same negative trend as P&C segment with a 2% decrease (€1,116 million of written premium), mainly driven by the decrease of gross written premiums from the with-profit policies (a €32 million decrease compared to 2015). The reason behind is the low interest-rate environment. As it is more and more difficult to guarantee any rate, it's more profitable and also less capital-consuming for the insurance company to focus its commercial development on the unit-linked policies. The second main information is the change in terms of distribution channel operated in 2016. In the past, Mandatum Life's products were sold through two main channels: an internal network and Danske Bank A/S' (OTCPK:DNSKF) branch network. Mandatum Life decided on 20 October 2016 not to prolong the agency agreement with Danske Bank as of 31 December 2016. Furthermore, the life insurer had the right to sell the insurance portfolio sold through to Danske Bank's branch network in Finland to Danske Bank. Mandatum decided to use this option. The portfolio should be transferred during Q4 2017 at the earliest.
Is it a good move from Sampo Group? As the sold portfolio contains almost exclusively loan insurance and unit-linked products, we could assume it was not a good one. But we should keep in mind the following: Sampo were not obliged to sell its portfolio. It was only an option. Hence, if the management has decided to sell this insurance portfolio, it should have at least one good reason for doing so. And regarding the past actions of the management, Sampo's CEO and his team did not do any crazy moves. However, we could expect a possible decrease of the life insurance profit in 2017 (offset by the sale of portfolio to Danske Bank - but it is a one-shot effect) if the gross written premiums distributed through the internal network do not increase.
The Best Ever Combined Ratio In 2016
The track record of earnings in P&C is very strong. From 2005 the combined ratio was never higher than 93% while the long-term target is 95%.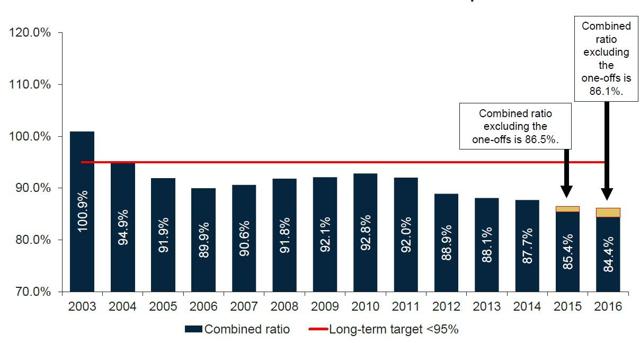 Source: Q4 2016 Sampo's Supplementary material
2016 operating results were not very strong. They were awesome. The combined ratio reached 84.4%, the lowest value recorded since 2007. The improvement of the combined ratio was driven by a better claims situation and the release from the Swedish MTPL reserves occurred in Q1 2016 partially offset by an increase of the expense ratio (from 13% in 2015 to 16.6% in 2016).
At a country level, all the countries delivered a better combined than in 2015, except for Denmark (+4.6 percentage points) mainly impacted by a claims deterioration in Q4 (98.5% in Q4 2016 vs 91.4% in Q4 2015 or a 7.1 percentage point increase)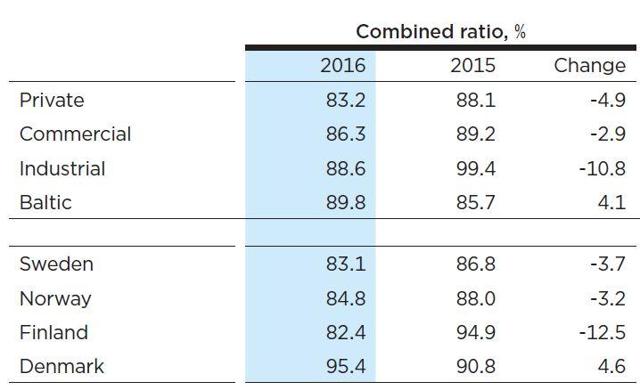 Source: Q4 2016 Sampo's Financial Statement Release
At a segment level, all the segments delivered a better combined than in 2015, except for Baltic (+4.1 percentage points), which remains a difficult market for any insurer.
However the improvement of the operating performance did not offset the decrease of the investment income (-43% to €173 million), explaining why P&C profit was lower in 2016 than in 2015.
A Good Performance in 2016 for Life Insurance
Even if the written premiums decreased by 2% from 2015 to 2016, the profit before taxes increased by 16% to €210 million. The rise was mainly driven by the decrease of the incurred claims (a 5% decrease). The RoE increased by 3.2 points to 15.9%. However, the expense ratio worsened by 0.5 point to 100.5%. The termination of the agreement with Danske Bank should impact positively the expense ratio, as Mandatum will not pay anymore commissions and fees to the Danish Bank to distribute its products.
What's up for the Associated Companies?
Nordea (OTCPK:NRDEF) is among the ten largest universal banks in Europe in terms of market capitalization. It is also an associated company of the Finnish insurer which held 21.2% of Nordea's stake. In 2016, the diluted earnings per share increased by to €0.93 but the RoE worsened by 0.8 percentage point to 11.5%. Furthermore, Sampo could buy more Nordea shares, in case of the Dodd-Frank Act would come down (as reminder, Sampo could be treated as a U.S. bank holding company if the insurer would increase its shareholding in Nordea). However, the management remains extremely prudent on what will happen with the Dodd-Frank Act.
On Topdanmark side, the results coming from the Danish P&C insurer increased by 54% to €65 million, driven by strong results in Q4 (€24 million vs €5 million in Q4 2015). Furthermore, at Topdanmark's AGM on 4 April 2017, Sampo will propose that the authority of the Board of Directors to buy-back own shares be revoked and a switch to earnings distribution by means of payment of dividend. We could expect Sampo's proposal to be adopted.
A paid dividend of 2.30 per share or a 7% increase!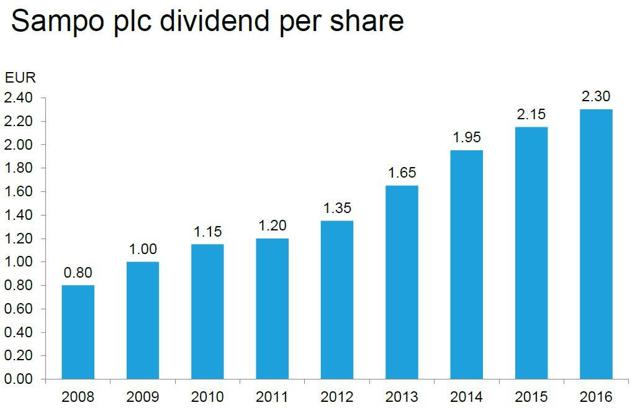 Source: Q4 2016 Sampo's Supplementary material
The Board will propose to the AGM a dividend of €2.30 per share or a 7% increase compared to last year. Sampo follows its dividend policy by increasing year after year the paid dividend. However, Sampo's CEO has mentioned that the future yearly increases could be less significant than in the past. In our view, it is a good thing that Sampo's management remains prudent by announcing that the increase will be gradual without deteriorating financial situation (i.e. not a payout ratio above 100%).
Stock Valuation: Still Slightly Overvalued
Even if Sampo delivered FY 2016 strong results, the company remains slightly overvalued (between 5% and 10% depending on the assumptions used for the DCF). Regarding the estimations done by the different analysts, the consensus is that Sampo is overvalued or fair-valued.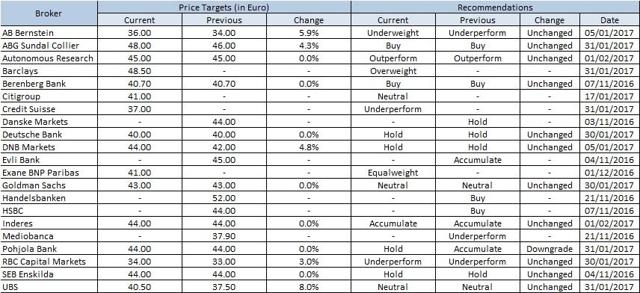 Source: Consensus Estimates
Conclusion
Slightly overvalued at the moment, Sampo remains very well-positioned in the different markets in which it operates, with a strong record of earning in P&C. However, the Finnish insurer is still impacted by the low interest rate environment. An increase of the interest rates in 2017 could boost its financial results and the results of its associated companies. If you are a lazy dividend seeker who is not interested in variation of the stock price but rather in the sustainability of the dividend, Sampo is a good investment.
Notes for the readers: Interested in other analyses mainly focused on both insurance sector and service sector (mainly the industry "Home Furnishing Stores")? Please do not hesitate to follow me. Thank you for your support.
Disclosure: I/we have no positions in any stocks mentioned, and no plans to initiate any positions within the next 72 hours.
I wrote this article myself, and it expresses my own opinions. I am not receiving compensation for it (other than from Seeking Alpha). I have no business relationship with any company whose stock is mentioned in this article.
Editor's Note: This article discusses one or more securities that do not trade on a major U.S. exchange. Please be aware of the risks associated with these stocks.