U.K. unemployment arrived this morning with no real change. The number, 4.8%, is at an 11-year low. Beyond that, it is low by all standards. The last time unemployment was this low was going into the dot-com era. Looking at the chart, you can get a sense of how the economy is: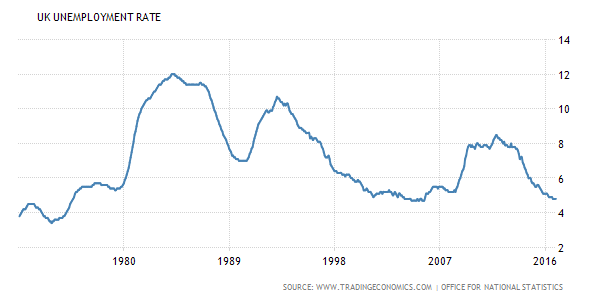 There is a general lag of 6-9 months for any economic activity to work its way into an economic indicator. Brexit happened late June of last year, 8 months ago. If there was going to be any kind of effect, positive or negative, you would see moves in the unemployment numbers already. It is safe to say that there has been no real effect on unemployment at this point.
At the same time, other economic data has shown some positive signs, most notably in manufacturing: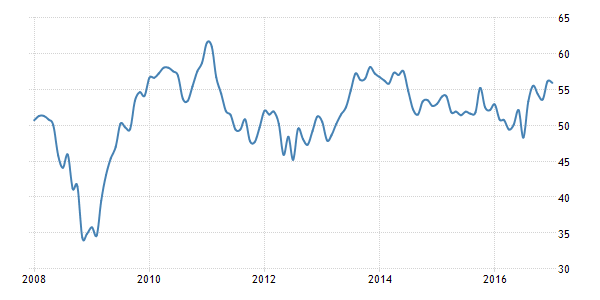 PMI manufacturing activity has been positive since the initial Brexit impact. This may well be a factor of a very inexpensive currency that dropped from 1.5100 to 1.2000 vs. USD; everything in the entire country is 20% off. And, according the Her Majesty's Customs page, the comparatively inexpensive currency has brought imports down while simultaneously increased exports:
In December 2016 the value of exports (EU and Non-EU) increased to £31.4 billion, while imports (EU and Non-EU) decreased to £37.9 billion, compared with last month. Consequently the U.K. is a net importer this month, with imports exceeding exports by £6.6 billion.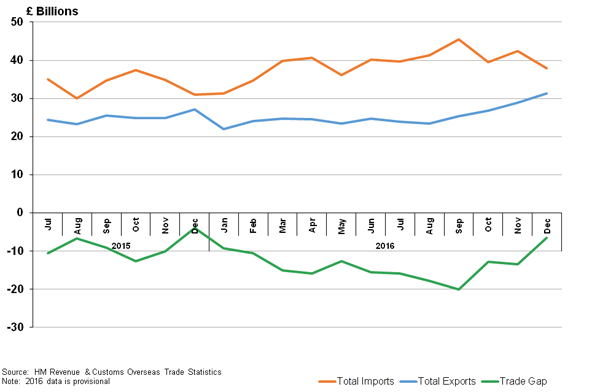 This is the initial effect of the currency moves. But, it may be a moment before we see secondary effects of the Brexit vote. After all, Britain is still in the EU. All of this trade data is based upon the status quo with a relatively cheaper currency.
It should be noted that Britain's economy is far from just a manufacturing society; it is in the signal digits as a percent of the entire economy. The U.K. economy is more services based and so any real look at their economy should include analysis of services, consumer confidence and retail sales. Here are those charts, respectively: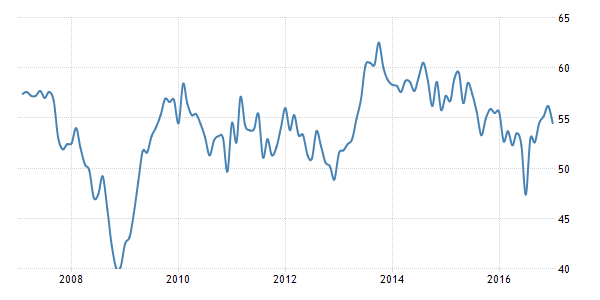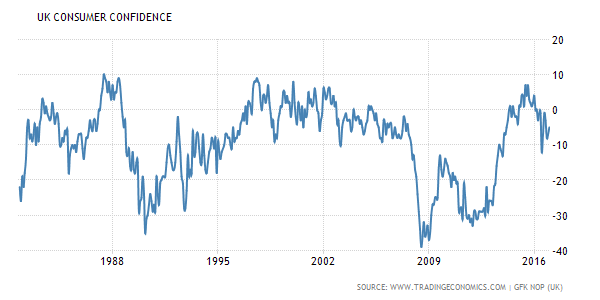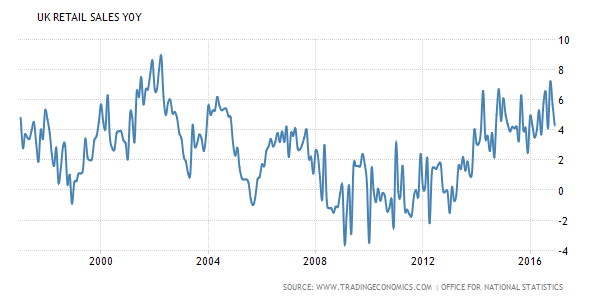 My general sense is that the indicators are on the higher end. The Services PMI is just above the long-term average. Confidence is at about the average for an expanding economy, albeit an economy expanding below full potential. Finally, retail sales are elevated.
I see these trends moving higher, though. The economy in the United States is expanding, and the pace of which that is happening is increasing. America is still the engine of growth for the world. Therefore, as America, so to the world.
I fully expect the economies of Great Britain and the leading economies of Europe to turn over the course of the next 11 months into the end of this year. With that, and as inflation continues to increase in the U.K., interest rates are going to head higher.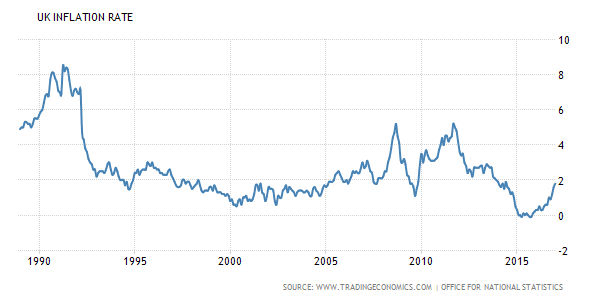 That will draw in more money to chasing the yield. It is also my belief that while the U.K. and Europe will begin to expand in economic activity, on a relative basis, the U.K. will outpace the EU.
There is a feedback-looping mechanism there.
As interest rates in the U.K. outpace the in-kind rates of Europe, money will flow from Europe to Great Britain chasing the higher yield. That money goes into banks, which then gets loaned out to British businesses.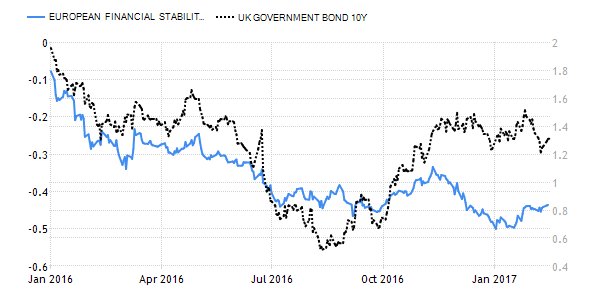 Simply, if it were a competition, the EU would lose.
That calls in to question the moves in EURGBP to the upside since Brexit in June. There is already a differential between the two economic zones, albeit not much to mention. Still, that differential favors GBP over EUR. That differential will widen more and more at an up-sloping rate. This will be a significant carry trade over the coming few years: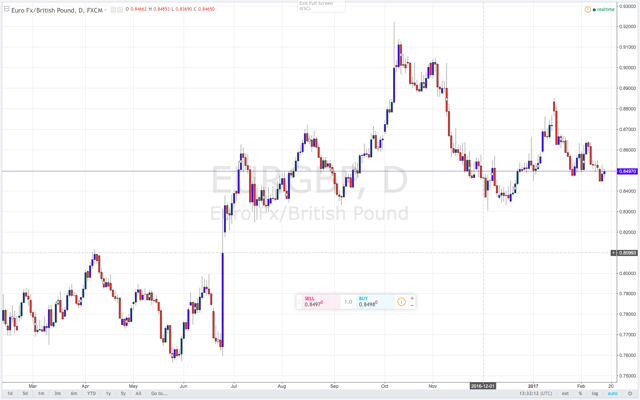 I am expecting EURGBP to be below the pre-Brexit levels of .7700 before the end of 2017. I am not expecting this to be a straight line. In fact, I welcome a little play out of this. I wanna have some fun.
I am continually shorting the cross and taking profits on 0.50% intervals. When the market moves upward on any 0.25%-0.50% amounts, I short. Then, when there is a move downward of 0.50%-1.00%, I take profits.
I have been systematically putting sell orders in with these calculations on a daily basis. I get filled fairly regularly. And, I put in my buy orders/take profits after I get the sells filled. I have not had to sit on any trades for any long period of time. I do not have any kind of mechanical stops in. As long as these fundamentals are in place, I see no reason to do so. But, if the fundamentals change, I will change my strategy. Further, I evaluate this every single day. I do not trade this blindly.
Simultaneously, I trade options on a much longer scale. I have been short EURGBP from about .8750 with a risk/reversal. I sold calls and bought puts, 90 days out with a 30 & 25 delta, respectively. Those options are very profitable. I am looking to take profits on that trade and add in another trade with a little more juice in the options.
Disclosure: I am/we are short EURGBP.
I wrote this article myself, and it expresses my own opinions. I am not receiving compensation for it (other than from Seeking Alpha). I have no business relationship with any company whose stock is mentioned in this article.