2016 was an active year for Brookfield Infrastructure Partners L.P. (NYSE:BIP) (TSX: BIP.UN). The company delivered on all its key priorities. It executed on over $2 billion of investments, including its first acquisitions in India and Peru. It grew and diversified its rail and ports investments in acquiring, together with its institutional partners, Asciano Limited in an all-cash deal. Asciano is a world-class Australian container terminal business, with an enterprise value of approximately A$12 billion, and the country's only operator of both rail freight and ports.
BIP also deployed $850 million in organic projects, expanding the size of its utilities rate base, road and rail networks, and energy systems. It also replenished its backlog by adding $1.4 billion of new projects. The level of organic growth potential in the business is at its highest ever level, providing excellent growth visibility. Brookfield Infrastructure's business today is better positioned than ever to grow and prosper.
Brookfield Infrastructure Partners is the flagship infrastructure company of Brookfield Asset Management (NYSE:BAM), a leading global alternative asset manager with approximately $250 billion of assets under management. The Bermuda-based limited partnership owns and operates high-quality infrastructure assets, including utilities, toll roads, railroads, ports, pipelines, and transmission and communications towers across North and South America, Asia Pacific and Europe. BIP continues to expand and diversify its portfolio of critical, long-life infrastructure assets. BIP units began trading on the New York Stock Exchange in 2008 and on the Toronto Stock Exchange in 2009.
Investment Thesis
The investment thesis for the company is simple, solid and straightforward: Infrastructure is a massive and growing sector globally. In both developed markets and emerging economies, there has been a significant underinvestment in infrastructure over many decades. As a result, globally, there is an enormous infrastructure deficit, and existing infrastructure is increasingly obsolete. For this reason, it is a key policy for governments to facilitate and cooperate in infrastructure investment to upgrade existing and build new infrastructure, with the added benefit of stimulating and supporting economic activity.
User demand for infrastructure assets tend to be relatively inelastic because of the essential nature of many of the services. As a result, they exhibit a lower correlation to economic cycles compared to other sectors. Assets such as electricity and gas distribution networks, in which BIP itself is engaged, are usually regulated, which results in increased predictability of returns.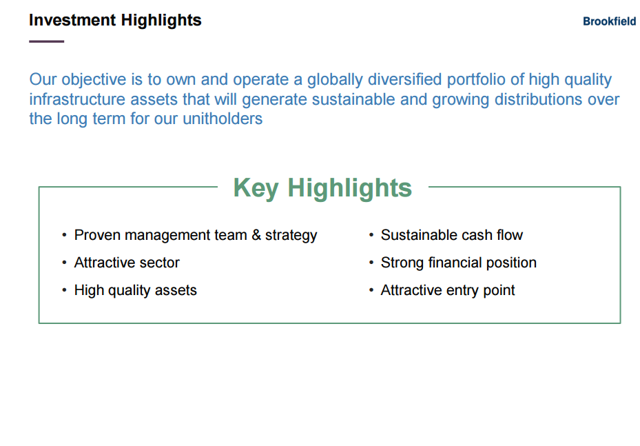 Source: BIP website
Constraints on government fiscal budgets have resulted in a significant need for private capital to fill the funding gap. Globally, demand for private infrastructure capital continues to grow because of these government budget constraints.
Infrastructure as an asset class offers numerous attractive benefits to investors, including:
The ownership of real assets, together with these assets' critical underpinning for the provision of essential services, often to a diversified end-user base;
typically high barriers to entry;
high degree of regulation for certain infrastructure asset classes;
performance characteristics that are more resilient to varying economic cycles; and
proven potential to deliver stable, low-volatility, long-term cash flows, often with some form of inflation protection - all contributing to providing attractive, inflation-hedged total returns.
Infrastructure requires high initial capital investment and is often associated with regulated assets. Both act as impediments to potential competitors entering the market. Such assets often enjoy monopolistic or near-monopolistic market positions, as it is often economically unsound, or legally not possible, to build competing infrastructure.
Infrastructure investment offers diversification for investors because of its lower correlation with other major asset classes. Investment in quality infrastructure has historically delivered attractive risk-adjusted returns because of its relatively low volatility and strong returns, particularly over the medium to long term.
Brookfield Infrastructure is an attractive investment for conservative investors looking for reliable income - 90% of BIP's assets are regulated or contracted, providing long-term cash flow stability. In addition, about 70% of BIP's revenue is indexed to inflation.
I have owned BIP since it first went public in 2008. Since then, it has grown to become the largest single position in my portfolio. From a portfolio risk-management perspective, I periodically consider monetizing some of the capital gains by trimming my position. Then I ask myself what investment opportunity would I replace BIP units with that would offer a better combination of safety, growth and stable income?
Since its inception and across different multi-year periods, Brookfield Infrastructure has outperformed both its sectoral peers and the overall market. For example, the company's five-year annualized total return was 24%. In the same period, the S&P 500's annualized total return was 14% while the S&P Utilities Index was 11%.
Diverse Business Segments
Brookfield Infrastructure's business segments include Utilities, Transport, Energy, Communications Infrastructure and Other. Its utilities segment consists of regulated terminals, electricity transmission, which consists of approximately 7,500 miles of transmission lines in North and South America, and regulated distribution, which consists of more than 2.6 million electricity and natural gas connections. Its Transport segment provides transportation for freight, bulk commodities and passengers. Its Energy segment provides energy transmission, distribution and storage services. Its Communications Infrastructure segment provides services and infrastructure to the media broadcasting and telecommunications sectors.
Within these segments, BIP's diversified mix of assets include rail tracks, toll roads, container ports, energy transmission and distribution, pipelines, coal terminals and communications towers.
BIP focuses on assets that generate stable cash flows and require minimal maintenance capital expenditures. Its strategy is to take a long-term perspective on the regions in which it establishes businesses and to invest during periods of market weakness. The company is diligent in deploying capital in countries with a long-standing reputation for the rule of law, respect for capital, good potential for growth and development, and strong underlying fundamentals.
For example, BIP takes a long-term view on Brazil, where the Brookfield family has been engaged for decades. In 2016 BIP's focus was on executing transactions while Brazil was in a severe recession and had lost its investment-grade status. In this environment, there was an increase in supply of high-quality assets coming to market, which would not have become available under normal market conditions.
A similar situation may be developing in Mexico where protectionist rhetoric from U.S. President Donald Trump and the resulting anxiety related to Mexico's economic outlook have caused the peso to tumble to its lowest level since 1994. The country's forward direct investment is likely to decelerate as capital sits on the sidelines.
The timing may prove fortuitous for BIP, which opened an office in Mexico several years ago to pursue prospects arising from the liberalization of the country's energy sector. Should concerns over Mexico overshoot, as was the case in Brazil, BIP's business development efforts in the country position it to capitalize on deep-value opportunities as they arise.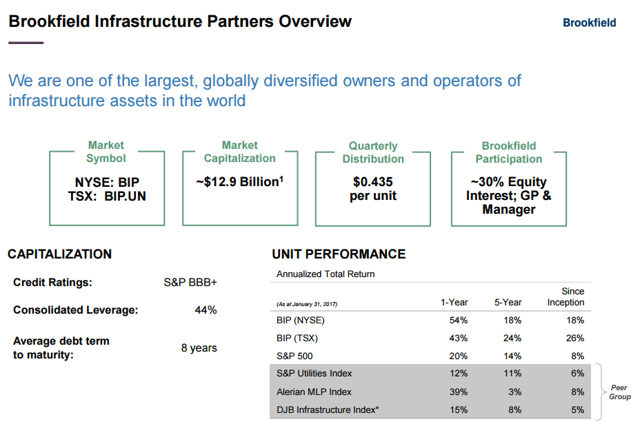 Source: BIP website
Again in 2016, BIP delivered solid operational and financial results in utility-like fashion. The company reported another strong year of organic growth, complemented by contributions from new investments, as it added high-quality assets to each of its operating segments. At the same time, it maintained a high level of liquidity and financial flexibility.
Net income for the year was $474 million or $1.13 per unit - increases of 59% and 64%, respectively, compared to $298 million or $0.69 per unit in 2015. The large increases result from higher funds from operations (FFO) generated across virtually all its operations, plus gains of $190 million, which were partially offset by higher depreciation.
Brookfield generated fourth-quarter FFO/unit of $0.69, an increase of 17% from $0.59 in the prior year and ahead of analysts' consensus expectation of $0.66. The increase was driven by greater contributions from Energy, Transmission, Distribution & Storage and Toll Roads, partially offset by higher-than-expected corporate costs.
For the full-year 2016, BIP delivered FFO of $944 million or $2.72 on a per unit basis, compared with $808 million or $2.39 per unit in 2015 - increases of 17% and 14%, respectively. The strong growth in FFO/unit was achieved despite the foreign exchange headwinds of a strong U.S. dollar versus the currencies of the various countries in which the company operates. Foreign exchange affected results by $43 million.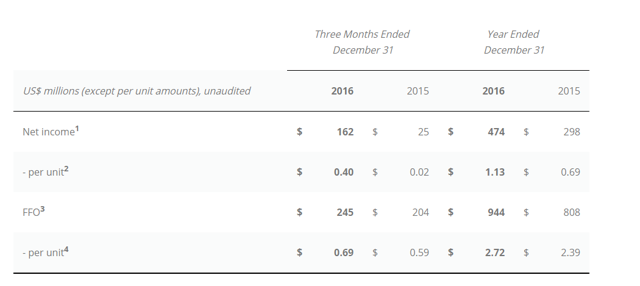 Source: BIP website
1. Includes net income attributable to non-controlling interests. Redeemable Partnership Units held by Brookfield, general partner and limited partners.
2. Average number of limited partnership units outstanding on a time weighted average basis for the three and 12 months ended December 31, 2016, were 249 million and 245 million, respectively (2015 - 243 million and 239 million).
3. FFO is defined as net income excluding the impact of depreciation and amortization, deferred income taxes, breakage and transaction costs, and non-cash valuation gains.
4. Average number of units outstanding on a fully-diluted time-weighted average basis, assuming the exchange of redeemable partnership units held by Brookfield for limited partnership units, for the three and 12 months ended December 31, 2016, were 353 million and 347 million, respectively (2015 - 345 million and 337 million).
In delivering record FFO, BIP benefited from solid organic growth across the business, increased ownership and higher-than-expected tariff and volume growth within its toll-road business, another strong quarter in its North American natural gas transmission business, as well as contributions from several acquisitions during the year.
In commenting on the results, Brookfield Infrastructure CEO Sam Pollock stated:
In 2016 we expanded our business and generated FFO growth of 17%. We deployed over $800 million in organic growth projects in our utilities, transport and energy businesses and executed on $2 billion of investments, increasing our presence in several sectors globally ... Our current pipeline for new investments is robust and includes a number of large potential corporate carve-outs of telecom and energy businesses. With corporate liquidity of over $3 billion, we are in a strong position to invest in our businesses to generate future growth.
I expect BIP to generate organic cash flow growth at high returns from a number of contributing factors: regulatory frameworks and contractual structures that provide for annual inflationary growth, assets with fee-based revenues that are GDP sensitive, modest capital deployment into existing businesses and larger capital projects levering off the existing businesses.
Strong Segment Performance
BIP's Utilities segment generated FFO of $399 million in 2016, an 8% increase over the prior year, excluding the impact of foreign currency. Results for this segment benefited from inflation indexation and investments in growth capital projects, which more than offset the drag of foreign exchange and a step-down in revenue from the sale of two North American transmission businesses.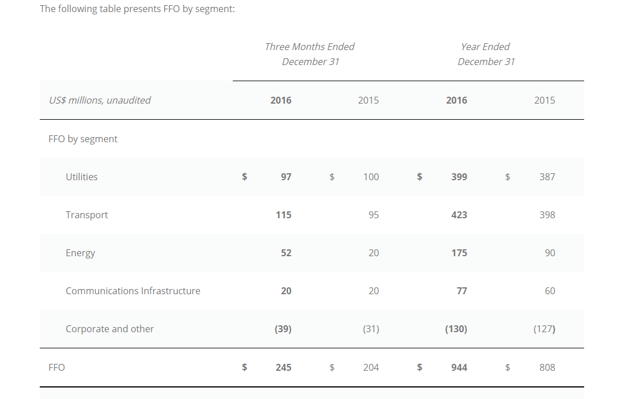 Source: BIP website
BIP's Transport Segment delivered FFO of $423 million in 2016 - 12% ahead of the prior year, or 6% including the impact of foreign exchange. Growth in this segment was driven by higher tariffs and volumes across its operations, plus the contribution from BIP's incremental interest in its Brazilian toll road business, which it added during the year, and partial contributions from its recently acquired Australian ports business, as well as new toll road assets in India and Peru. BIP is actively pursuing a number of additional growth projects and cost-cutting initiatives relating to its Australian ports business.
The company's Energy segment produced FFO of $175 million in 2016 compared to $90 million in 2015. This significant gain reflects the contribution from BIP's increased ownership in its North American natural gas transmission business, contributions from its newly acquired gas storage business in North America, plus strong organic growth of 16% across the segment's operations.
BIP recently completed its natural gas expansion project for the Chicago market ahead of schedule and below budget. The project will contribute $10 million annually to BIP's FFO. The next scheduled expansion to BIP's LNG system will be in service by the fourth quarter of 2018. It is supported by a 20-year take-or-pay contract that will increase the EBITDA by over $20 million per year. These are the first of several expansions scheduled over the next five-year time frame.
Brookfield's Communications Infrastructure Segment - formed in March 2015 through the acquisition TDF, the largest independent communication tower infrastructure business in France - generated FFO of $77 million in 2016 compared to $60 million in the prior year.
Accretive Acquisitions to Drive Long-Term Growth in FFO
BIP can be nimble, given the strong liquidity position. It has more than $750 million in cash, $2.5 billion of undrawn corporate credit facilities, the exceptionally strong backing of Brookfield Asset Management, and co-investment opportunities with BAM's managed private infrastructure funds. With BIP's plan to profitably divest up to $2 billion of assets over the next few years, I expect meaningful asset sales this year, coupled with excellent growth potential in its portfolio of assets to drive strong FFO growth over the long term.
While BIP's management continues to work at identifying public-company targets for public-to-private transaction opportunities, because of the mismatch between public and private valuations, its main focus is on corporate "carve-outs" for future investment opportunities, particularly in the North American energy sector and Indian telecom sector. BIP has a successful history with carve-outs in fueling growth. This strategy is underpinned by the Brookfield corporate family's outreach program established decades ago.
A number of accretive transactions are expected to close in the coming months. First, in what I see as a first step by BIP to bigger and better things in India, the company is investing about $200 million to acquire a portfolio of 40,000 telecommunication towers from Reliance Telecom - India's largest telecom operator - representing approximately 10% of the country's towers. This is a high-quality business in a huge and rapidly growing market that is similar to the Partnership's existing tower business in France, except that the market is more than an order of magnitude larger.
The telecom tower business generates secure and sustainable cash flows that will benefit from substantial growth in the industry in India. The acquisition gives BIP the opportunity to quickly establish a leading tower business in the country. The Partnership is also evaluating several other tower opportunities that could add meaningful scale to its global telecommunications tower portfolio in the coming year.
The Indian government is working at making the operating and legal environment in the country more investor-friendly. The expected GDP growth rate of India for the foreseeable future is far in excess of most developed countries. BIP sees India as an attractive market to invest in for the long term.
I expect the telecom sector in India to create further carve-out opportunities, as all the large mobile network operators are looking to increase liquidity in order to invest in the deployment of the next-generation networks.
Second, in gas transmission in Brazil, BIP's $1.3 billion investment in Nova Transportadora do Sudeste S.A. (NTS) was on track to close soon. NTS owns the backbone natural gas transmission system that serves the core economic regions in the highly populated states of São Paulo, Rio de Janeiro and Minas Gerais in South Central Brazil. On November 30, 2016, the Petrobras (NYSE:PBR) extraordinary general meeting approved the sale of 90% of NTS to BIP.
However, on February 13, BIP issued a press release referring to an injunction by a Brazilian regional federal court to suspend the sale of NTS. BIP stated in its press release that it "intends to take all necessary measures to protect its interests and enable the NTS transaction to proceed." The company expects that appeals against the injunction will be heard in the first half of March 2017, if not earlier. Stay tuned.
Third, in BIP's water utility business, the company expects to close on the acquisition of a water irrigation system in Peru, following receipt of customary regulatory approvals, adding another leg to a budding water franchise that also includes a desalination project in California. While modest in size, the Peruvian water utility is a high-quality business that BIP is acquiring for good value and it will add another leg to the Partnership's growing water business.
I can see water becoming a big business going forward. While I expect BIP to focus more on smaller, district water utility assets in the short run, it has demonstrated that it is equally capable of adding scale when an opportunity to buy for value presents itself.
Analysts are forecasting 20% FFO/unit growth for BIP in 2017. With more than $750 million in cash, $2.5 billion in undrawn credit facilities and the company's actionable plan to profitably monetize up to $2 billion in assets to redeploy into new, higher-return investments over the next few years, its units - with their safe, above-average yield and the company's strong prospects for both embedded and new growth - are nicely positioned for future appreciation.
Strengthening the Balance Sheet
In the past four months, BIP has made substantial progress in putting in place the funding plan for its top strategic initiatives. In November, it issued almost 24 million units at a price of $32 per unit, raising approximately $750 million. In January, it issued preferred units for approximately $300 million, capitalizing on its investment-grade credit rating and strong market demand. These initiatives have contributed to increasing corporate liquidity to approximately $3.2 billion.
From a risk management perspective, 75% of the company's foreign-denominated FFO has been converted to U.S. dollars. Interest rates on approximately 90% of its long-term debt are fixed for 10 years; there are no significant upcoming maturities during the next 24 months, and its debt maturity profile is very well laddered.
BIP's management focuses on capital efficiency. I expect the company to continue to fund its growth capex from a number of sources including asset sales at healthy valuations. I have owned BIP units since they first went public, and my experience is that, when the company was a seller of mature assets, management has consistently sold at robust valuations and redeployed the proceeds in assets at lower valuations with more attractive growth profiles.
Importantly, when asset values have been high, the company has slowed down the pace of acquisitions, and when the share price has been weak, it has bought back shares.
Safe, Growing Distribution
BIP's balance sheet is strong, liquidity is robust, and its operations continue to perform well. In addition to outstanding unit-price appreciation since its inception, BIP offers a solid, safe cash distribution, which, at its current share price, is yielding 4.8%.
The distribution policy targets a distribution level that is sustainable on a long-term basis while retaining sufficient liquidity for capital expenditures within its current operations and general purposes.
Despite the healthy yield, the distribution appears safe; the payout ratio for the most recent quarter was 67% of FFO, slightly above the midpoint of management's target range of 60% to 70% of FFO, which maintains the safety of the distribution.
BIP has grown its dividend at a compound annual growth rate of 12% since its inception. Its stated goal is to increase its distribution by 5% to 9% annually, and given the company's projected growth, I expect it will meet or exceed this goal. Importantly, it accomplishes this with a share price that is considerably less volatile than the overall market and has considerable room for growth.
On February 1, BIP announced that its board of directors had approved an increase of 11% in its quarterly distribution to $0.435 per unit. This marks the eighth consecutive year since its inception in 2008 that BIP has raised its distribution and the seventh consecutive year that it has achieved double-digit distribution growth.
BIP maintains a S&P investment-grade credit rating of BBB+.
Investment Summary
I expect BIP's units to outperform its peers and the overall market for a number of reasons, including its superior combination of distribution yield and growth in combination with business growth exceeding management's 5% to 9% long-term target.
The company owns and operates a global portfolio of premier, long-life assets with attractive attributes, as they:
Are diversified both by geography and by industry;
are typically regulated or contracted on a long-term basis;
generate stable cash flows;
require relatively minimal maintenance capital expenditures; and
by virtue of high barriers to entry and steady, predictable returns, have continued to appreciate in value over time.
Almost 50% of EBITDA is from low-risk regulated operations while another 42% is governed by long-term contracts, providing stability and predictability.
The diverse, contractual nature of the business positions Brookfield Infrastructure to deliver solid results irrespective of political and economic uncertainties. The company generates steady, reliable organic growth owing to inflation embedded in its contracts, volume growth on its networks and the continuous commissioning of growth projects from its capital backlog.
Increasing Analysts' Estimates and Price Target
Following BIP's strong fourth-quarter results and reflecting the read-through into 2017, as well as the growth contribution from new acquisitions, in particular, the Indian tower acquisition, analysts have raised FFO/unit estimates and price target for the company. The new 2017 and 2018 FFO/unit estimates are $3.30 and $3.65, up from $3.20 and $3.50, respectively. The new consensus price target is $40.50.
Of the 11 analysts surveyed by Reuters Estimates who cover Brookfield Infrastructure Partners L.P., the consensus rating is a buy.
Potential Risks
There is no such thing as a risk-free stock. In fact, there is no such thing as a risk-free return. While stuffing the money under the mattress will avoid stock market risk, it simply exposes that money to other risks, such as purchasing power risk, or inflation risk. In other words, the "risk of avoiding risk."
I describe Brookfield Infrastructure Partners as a "widows and orphans stock." BIP has an extremely low-risk model, with a higher yield and competitive dividend growth rate. The company invests in a diversified portfolio of infrastructure or "real assets," including ports, railroads, utilities, toll roads, pipelines and telecom towers. Not only are they essential assets, they also offer high barriers to entry and long-term, stable cash flows that are regulated or underpinned by take-or-pay contracts.
While I see this as a positive environment for Brookfield Infrastructure, as I stated above, no investment, including infrastructure, is risk free. It requires strategic asset allocation decisions, a detailed understanding of jurisdictions and regulation and unique asset management skills to mitigate risks and support investment returns.
Brazil is a near-term risk or headwind for the company while also having the potential to be a strong tailwind in the future. While the focus has generally been on its depreciating currency and the weak economy, there are bright spots in the existing business. The greatest potential long-term upside is BIP's ability to acquire attractive, high-quality assets in Brazil at attractive valuations. While investment in Brazil is not without risk, the Brookfield stable has operated in the country for more than 100 years.
In addition to BIP's exposure to the Brazilian economy and currency, other headwinds or risks the company is currently facing include acquisitions that do not add value or fail to gain the confidence of investors, negative regulatory or legal issues, an increase in interest rates or equity-risk premiums, potential tax issues in its multi-jurisdictional environment, foreign exchange rate risk impacting the value of non-US-dollar-generating investments and closing of pending transactions on terms and conditions consistent with market assumptions.
I recognize that Brookfield Infrastructure Partners may not be for every investor, as each individual investor has their own unique investment and cash flow objectives. To understand why I recommend and continue to own Brookfield Infrastructure, and why I consider the shares a long-term hold - a "Forever Stock" - it is helpful to have some knowledge of my investment approach, which can be summarized in four compound words: long-term, large-cap, value-oriented, dividend-growth. For additional details, please refer to my interview with The Globe and Mail newspaper, entitled "A Long-Term Outlook Helps This Investor Weather Market Volatility."
I focus on companies that fit this four-phrase description. Brookfield Infrastructure Partners fits this mold, and I will continue to hold my full position in the company ideally forever.
The focus of my articles for Seeking Alpha is on attractively valued, large-cap dividend growth stocks with sound business models, strong management teams, and wide economic moats - "Forever Stocks." I strive to provide an in-depth analysis of the companies I research. I wrote this article from the perspective of a long-term investor who follows a straightforward, four-part strategy:
Identify a company with strong competitive advantages.
Satisfy myself its competitive advantages are enduring.
Invest in this company when it is trading at a fair price.
Hold the stock forever unless there is a significant change to the fundamental investment thesis associated with the company.
If you found this article helpful, please "Follow" me on Seeking Alpha to receive notification whenever I publish a new article.
You may also be interested in a recent blog I wrote for LinkedIn entitled Tune Out The Noise - Invest For The Long Run and my other Seeking Alpha articles, which focus on stocks aligned with my investment strategy.
Disclosure: I am/we are long BIP.
I wrote this article myself, and it expresses my own opinions. I am not receiving compensation for it (other than from Seeking Alpha). I have no business relationship with any company whose stock is mentioned in this article.