In a recent article, Achilles Research asked readers to admit that VEREIT, Inc. (NYSE: VER) is a really good deal. To support that assertion, Achilles Research points to the low AFFO payout ratio and suggests there might be "significant dividend growth" in the future.
I will admit that VEREIT is a compelling turn around story by the headlines, but it is hardly a good deal. When you look beyond today's headlines, there are a few reasons to remain wary of VEREIT.
AFFO - Fool Me Once
It is rather ironic to point to AFFO as a reason to buy stock in a company that imploded a few years ago due to misrepresenting AFFO. Investors who put faith in that number in 2014 were badly burned. I am confident that the current regime is doing a much better job at accurately reporting AFFO, but I think the number needs to be looked at in context.
Right now, VEREIT's AFFO is in a state of flux. It has been actively restructuring its portfolio, which causes significant variation in its quarter to quarter AFFO. The only thing that has been consistent is the decline in revenue.

(Source: VEREIT third quarter 2016 financial supplement)
Specifically, for 2016, VEREIT as of the third quarter was at $0.205 AFFO/share, suggesting a payout ratio of 67%. Before getting too excited, investors need to take note that the third quarter number includes a $10.9 million tax benefit due to the closing of CCIT II. That was a one-time benefit that will not be included in future quarters.
Additionally, VEREIT sold $394.9 million in assets during the fourth quarter. Those dispositions will have a real and immediate impact on revenue and AFFO.
In the third quarter conference call, Michael Bartolotta reaffirmed 2016 guidance of $0.75-$0.78 AFFO per share, which puts the fourth quarter lower than the preceding quarters. The payout ratio for 2016 will be between 70.5% and 73%, with the run rate based on fourth quarter numbers even higher.
Looking forward to 2017, VEREIT still has some dispositions on their agenda, including more Red Lobsters and Office space. I do not anticipate dispositions to be as aggressive as they were in 2016, but they will likely be equal to or higher than acquisitions.
In terms of AFFO, I think flat guidance is about the best that investors can hope for, and I would not be entirely surprised if low end guidance is slightly below 2016 results.
The Albatross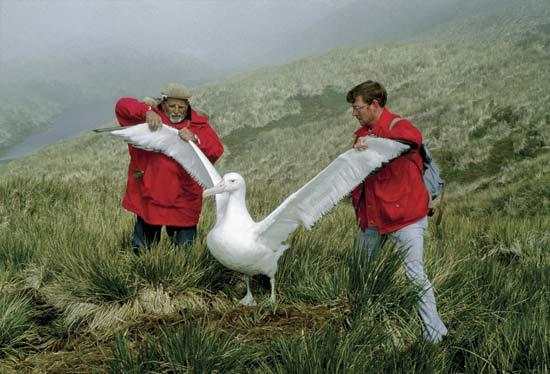 (The mighty albatross, image courtesy of Britannica.com)
Despite declining AFFO, the payout ratio will still be in the low to mid 70's for 2017. Yet I can state with near certainty that a dividend increase will not occur in 2017. While VEREIT has arguably done an excellent job cleaning up the ARCP balance sheet, it is far from leaving ARCP behind.
The pending legal case Vanguard vs. VEREIT is going to be an ongoing issue for 2017 and likely 2018. Filed in October 2015, this case has been hanging in the background. For those who are not familiar with the case, the cliff notes version is that in October 2014 it was revealed that ARCP's AFFO numbers were fraudulent. The result was a substantial decline in ARCP's stock price, several members of management stepping down, criminal investigations and a litany of civil suits.
Vanguard vs. VEREIT is one of the most significant civil suits, both in terms of the amount of damages Vanguard is pursuing and in terms of Vanguard's ability to fund an on-going legal battle. Vanguard is alleging that the fraud was intentional and pervasive going all the way back to IPO.
I am not a lawyer and have no legal training, so I cannot predict what a likely settlement would look like or the potential damages in a trial. What I can do is recognize the impact that costs are going to have on cash flow.
In 2016 alone, VEREIT expects to spend $35 million in litigation fees, the bulk of which will be in the fourth quarter. This is due in large part because the case has entered the Discovery phase of the litigation. Anyone who has been involved in contested litigation can attest to how expensive lawyers throwing paperwork at each other can get.
With a trial likely to be scheduled in 2018, one of two things is going to happen in 2017: Either VEREIT is going to increase litigation spending to prepare for trial, or VEREIT is going to pay a settlement. Either way, VEREIT is going to need to allocate a good chunk of cash above and beyond what their insurance may cover, towards litigation. After guidance we should have a better idea, but it is safe to say it will be more than the $35 million in 2016.
The bottom line is that a payout ratio in the 70s that might suggest a potential dividend increase for most REITs does not suggest room for growth for VEREIT. VEREIT will need to maintain liquidity and will be putting tens of millions towards litigation. It would be reckless for VEREIT to raise the dividend until the largest litigation is put to rest.
Conclusion
VEREIT has done an excellent job of turning their balance sheet around, and with the end of their restructuring in sight, it is reasonable to predict that VEREIT's time of declining AFFO is nearing an end and it will enter a growth period. In a typical turnaround story, this would be a good time to buy.
However, litigation expenses are going to become increasingly significant in 2017 and likely 2018. Additionally, there is good reason to believe that there will be some general headwinds for REITs, particularly NNN REITs like VEREIT.
The Fortune Teller has written a thought-provoking series of articles looking at REIT performance in rising interest rate environments. While I am not as bearish on eREITs as he is, I believe it is a time to be particularly picky when choosing REITs and minimize speculation.
VEREIT is a speculative bet and 6.4% yield is not enough for me to make that bet. At the very minimum, investors can expect an increase in news as developments happen regarding the Vanguard lawsuit. A lot of that news is not going to be encouraging and could be potentially devastating to the stock price.
Even those who are confident that the lawsuit will end with little real impact on VEREIT will likely have opportunities at better entry points later in the year as the lawsuit generates more headlines.
Sources: SEC Filings, VEREIT Investor Supplementals, law360.com
Supporting Documents
Disclosure: I/we have no positions in any stocks mentioned, and no plans to initiate any positions within the next 72 hours.
I wrote this article myself, and it expresses my own opinions. I am not receiving compensation for it (other than from Seeking Alpha). I have no business relationship with any company whose stock is mentioned in this article.