General Electric's (NYSE: GE) stock offers an excellent opportunity for dividend growth and income investors today for several reasons. Furthermore, the stock appears to offer an excellent total return opportunity. Even so, many share a highly negative outlook on the stock. This recent negative piece, "Get Rid Of GE Before It Fails You Again," articulates the negative case very well.
Nonetheless, I see shares climbing higher throughout 2017 as the synergies of the company's recent transactions and new initiatives take hold. What's more, I believe in the company's longevity. General Electric creates opportunities where others see obstacles. This ability to "invent" opportunities will allow the company to survive in the lean times when others may not. In the following sections I will lay out my case for dividend growth and income investors.
Focused on return of capital to shareholders
Firstly, General Electric remains committed to returning cash to its shareholders. General Electric has paid a dividend every quarter for the last 100 years. The company returned a whopping $30 billion in the form of dividends and buybacks in 2016 and over $130 billion in dividends since 2000 to its shareholders. The company estimates it will return $20 billion to investors in 2017 as well. What's more, the company has increased the dividend 140% since 2009.
General Electric dividend growth

Source: dividend.com
Secondly, the stock is currently undervalued on a relative basis. This may provide dividend and income investors the opportunity for capital gains on top of the dividend yield which makes it an excellent total return opportunity. Furthermore, the company has a solid long-term growth story.
Current Chart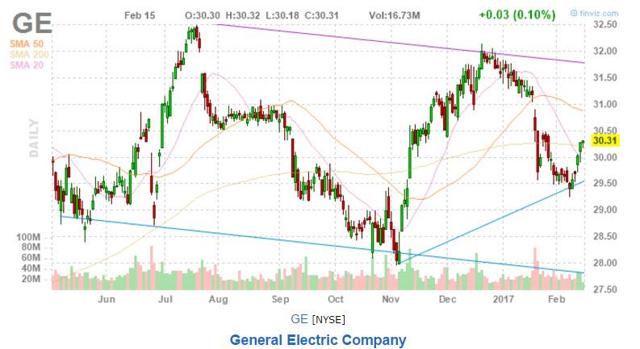 Source: finviz.com
Solid long-term growth story
General Electric expects emerging markets to be a huge engine of growth due to demand for the company's infrastructure products. General Electric's shift toward industrial operations has opened up a plethora of opportunities for the company across the globe. This should underpin the company's results for some time to come if the company can bring new projects in under budget and on time. I have no reservation General Electric will be around to pay dividends for a long time to come.
For example, GE Aviation has about 44,600 employees worldwide at 85 sites (47 in U.S.), including more than 25,000 U.S. employees (16,500 in the U.S. supply chain). The division has an industrial backlog of more than $150 billion, while its joint venture CFM International collectively has a backlog of more than 15,000 jet engines. This helps me sleep very well at night. Furthermore, the company continues to improve fundamentally.
Stock is fundamentally sound
The key fundamental metrics for General Electric are trending higher on a long-term basis. Revenues, profits, EPS and cash flow are all solid. Moreover, General Electric has several key initiatives in the works at this time to keep revenues flowing for years to come. Not to mention the positives related to Trump's proposed tax reform and regulatory relief.
Currently, earnings per share growth is strong at 7.8% quarter-over-quarter. The earnings per share of a company is conceivably the most important statistic to understand before investing in a company's stock. Whatever is not paid out in the form of dividends is placed into the retained earnings, which then become a source of capital that can be used to help support the growth of a company.
Relatively low forward P/E ratio
General Electric has the lowest forward P/E ratios of the five largest industrial conglomerates at 15.85.

Source: finviz.com
The low P/E ratio is telling. The company is currently unloved by many market participants. This is due to the fact the jury is still out as to whether Immelt can pull off the transformation and deliver the 3-5% growth he promised in 2017. General Electric needs to execute well to achieve the lofty goals set by Immelt.
A supplementary effect could be an expansion of the current multiple if the company is able to shift into a higher gear regarding its industrial sector opportunities.
Solid free cash flow
General Electric has done a tremendous job of managing its finances and has a substantial cash hoard. This money can be used to facilitate organic growth, pay dividends, buy back shares and perform merger and acquisition activities.
Growing project backlog
Driven by strong customer demand, General Electric's backlog is massive at over 300 billion and continues to grow. The backlog is significantly higher on a year-over-year basis and has increased exponentially over the last few years. Now let's take look at the potential downside risks.
Downside Risks
- Geopolitical risks
Geopolitical uncertainty remains a concern as Trump seems to be shooting from the hip regarding foreign policy decisions. I have never felt more uncertain of the outcome regarding geopolitical risks than I do right now. It seems as though our adversaries across the globe are pushing the envelope in order to test Trump's resolve. Not a good situation if you ask me.
- Macroeconomic risks
General Electric's future growth plans are highly leveraged to China. The company has made several major investments in the land of the red dragon in recent years. The problem is China looks like it's on the cusp of a major slowdown. If something goes awry with US/China relations or the country sees a significant pullback in growth, this will not be good news for General Electric.
- The market is price to perfection
The market is currently sitting at all-time highs. The market is priced for perfection. Any further geopolitical uncertainty or other negative macroeconomic events could bring the markets tumbling down and General Electric shares along with it.
Conclusion
General Electric's forward PE ratio of 15.85 is well below those of its peers and indicates investors are not willing to pay a premium for this stock. There are many non-believers regarding General Electric's future prospects and negative sentiment against current management still exists.
Nevertheless, I believe General Electric is about to hit its stride and set an entirely new standard regarding operational efficiency and effectiveness. General Electric has an excellent track record for returning capital to shareholders. The company's plan for returning capital to shareholders coupled with a strong balance sheet and backlog offers an attractive buying opportunity for dividend investors at today's price, if you ask me.
General Electric is a blue chip industry leader with an experienced management team. With the stock trading at a discount to the industry and its peers, I see this as a definitive buying opportunity for income investors looking for a total return opportunity. As always, I would layer into a full position to reduce risk.
Final Thought
Those are my thoughts on the subject. I look forward to reading yours. Do you think General Electric offers a solid opportunity for dividend and income investors at today's price? Does the current high yield and blue-chip status make up for the potential risks outlined recently? If you found this article interesting, please click on the follow button below. It would be greatly appreciated. Please use this information as a starting point for your own due diligence.
Disclosure: I am/we are long GE.
I wrote this article myself, and it expresses my own opinions. I am not receiving compensation for it (other than from Seeking Alpha). I have no business relationship with any company whose stock is mentioned in this article.