Bloomberg reported that Saudi Aramco (ARMCO) could invest up to $5 billion in renewable energy firms. No specifics were mentioned, though banks including HSBC Holdings Plc (NYSE:HSBC), JPMorgan Chase & Co. (NYSE:JPM), and Credit Suisse Group AG (NYSE:CS) were invited to propose potential acquisition targets as well as advise on deals. $5 billion might be small change for the world's largest oil company, which has been touted by Saudi Arabia's Deputy Crown Prince Mohammed bin Salman to be worth more than $2 trillion. Nevertheless, that sum is sufficient for Saudi Aramco to purchase First Solar (NASDAQ:FSLR), SunPower Corporation (NASDAQ:SPWR), Yingli Green Energy (NYSE:YGE), and SunEdison Inc. (OTCPK:SUNEQ) in full with around $400 million left.
According to a ranking published by Investopedia in January 2017, the top five alternative energy Exchange Traded Funds (ETFs) are:
The combined net assets of the above amount to just $386 million in total, which goes to show that the $5 billion targeted investment power is not to be scoffed at. While the banks are not expected to be recommending Saudi Aramco to buy ETFs, the holdings in the above-listed ETFs would be a good place to start for looking at what renewable energy firms could be the beneficiaries of Saudi Aramco's war chest. All five ETFs mentioned are trading off their 3-year highs, even after signs of recovery which apparently coincided with U.S. President Donald Trump winning the presidential election in November. The largest of the five ETFs with net assets of $186 million, the Guggenheim Solar ETF, is trading at 64.6% off its 3-year high, making it the worst performing of the five on a 3-year basis. Renewable energy firms had fared poorly in the past year. Executives of solar companies had attributed the weak showing to pricing competition made more acutely due to a drop in demand, particularly from China, which had exacerbated the global oversupply of panels. The management could choose to chase pricing to the bottom, or sacrifice volume in the hope of maintaining margins. Either way, the revenue would be hit.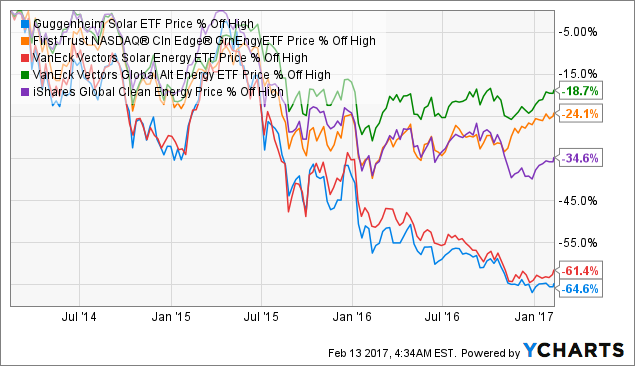 Selection of Candidates for Further Review
Guggenheim Solar ETF, the largest ETF among the five mentioned above, has Xinyi Solar Holdings (HKG:968), First Solar, and GCL-Poly Energy Holdings (OTCPK:GCPEF) (OTC:GCPEY) (HKG:3800) as its top three holdings. The Guggenheim Solar ETF has overlap with the iShares Global Clean Energy ETF in the following companies: Trina Solar (NYSE:TSL), TerraForm Power (NASDAQ:TERP), Canadian Solar (NASDAQ:CSIQ), SunPower Corp., Sunrun Inc. (NASDAQ:RUN), China Singyes Solar Technologies (HKG:750), and SMA Solar Technology (OTCPK:SMTGF)(OTC:SMTGY)(DAX:S92). JinkoSolar Holding (NYSE:JKS) is a company found in the other four ETF, except for iShares Global Clean Energy.
Holdings of Guggenheim Solar ETF
| Ticker | Name | Shares / Par Value | Market Value | Weighting |
| --- | --- | --- | --- | --- |
| 968 | XINYI SOLAR HOLDINGS LTD | 30,338,964 | $11,065,052 | 5.97% |
| FSLR | FIRST SOLAR INC | 331,401 | $10,886,523 | 5.87% |
| 3800 | GCL-POLY ENERGY HOLDINGS LTD | 78,649,464 | $10,541,329 | 5.69% |
| ABY | ATLANTICA YIELD PLC | 488,598 | $10,255,672 | 5.53% |
| TSL | TRINA SOLAR LTD-SPON ADR | 950,331 | $9,626,853 | 5.19% |
| REC | REC SILICON ASA | 56,793,827 | $8,903,658 | 4.80% |
| RUN | SUNRUN INC | 1,432,814 | $8,582,556 | 4.63% |
| CSIQ | CANADIAN SOLAR INC | 684,452 | $8,535,116 | 4.60% |
| CAFD | 8POINT3 ENERGY PARTNERS LP | 611,704 | $8,410,930 | 4.54% |
| HASI | HANNON ARMSTRONG SUSTAINABLE | 424,747 | $8,061,698 | 4.35% |
| SEDG | SOLAREDGE TECHNOLOGIES INC | 582,839 | $7,868,327 | 4.25% |
| DQ | DAQO NEW ENERGY CORP-ADR | 327,191 | $7,688,989 | 4.15% |
| SPWR | SUNPOWER CORP | 1,057,146 | $7,569,165 | 4.08% |
| JKS | JINKOSOLAR HOLDING CO-ADR | 498,897 | $7,493,433 | 4.04% |
| GLBL | TERRAFORM GLOBAL INC - CL A | 1,604,610 | $7,381,206 | 3.98% |
| TERP | TERRAFORM POWER INC - A | 642,407 | $7,368,408 | 3.98% |
| MBTN | MEYER BURGER TECHNOLOGY AG | 9,491,567 | $7,272,870 | 3.92% |
| S92 | SMA SOLAR TECHNOLOGY AG | 297,443 | $7,267,740 | 3.92% |
| 750 | CHINA SINGYES SOLAR TECH | 14,006,672 | $7,166,246 | 3.87% |
| JASO | JA SOLAR HOLDINGS CO LTD-ADR | 1,332,443 | $6,262,482 | 3.38% |
| VSLR | VIVINT SOLAR INC | 2,029,288 | $6,189,328 | 3.34% |
| 1165 | SHUNFENG INTERNATIONAL CLEAN | 86,802,342 | $5,928,892 | 3.20% |
| HQCL | HANWHA Q CELLS CO LTD - ADR | 638,591 | $5,019,325 | 2.71% |
(Source: Guggenheim Investments)
In order to generate a list of companies for comparison, I picked companies which are present in at least four of the five ETFs. Incidentally, the combined market valuation of the six companies was $8.8 billion. Perhaps for diversification, Saudi Aramco could go for a 55% stake in each of the six companies, given its $5 billion war chest. Of course, we would not be expecting it to do so, as not all the companies are equally investible or generating returns as well as the others. As such, I have run through numerous metrics for comparison and highlight three of them below which I believe would be the most critical in helping the decision-making of Saudi Aramco.

(Source: ALT Perspective)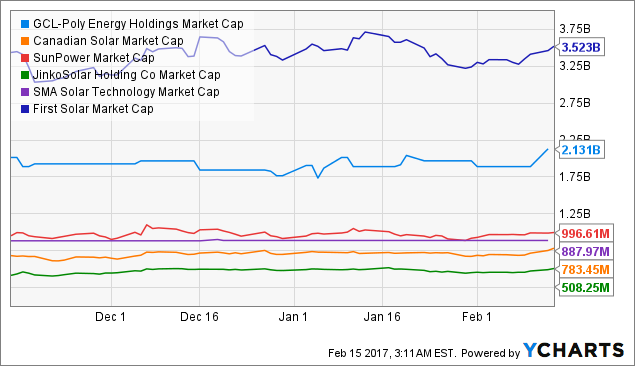 GCPEF Market Cap data by YCharts
Three Metrics that will Aid the Investment Decision of Saudi Aramco
Renewable energy investments are known to be highly capital intensive. As such, achieving a high Return of Capital Employed (ROCE) would be itself an accolade for the companies. Looking at the past five years, SunPower clearly seems to be the worst performer from the perspective of ROCE. This could explain why the company hadn't done well overall last year, with the possibility of bankruptcy hanging over its head like the sword of Damocles. SMA Solar Technology didn't do that well among the six but had improved considerably in the past year. Canadian Solar, JinkoSolar, and GCL-Poly Energy could be considered the winners in this category. First Solar is the steady performer, though it has also been consistently under the radar with its middling returns.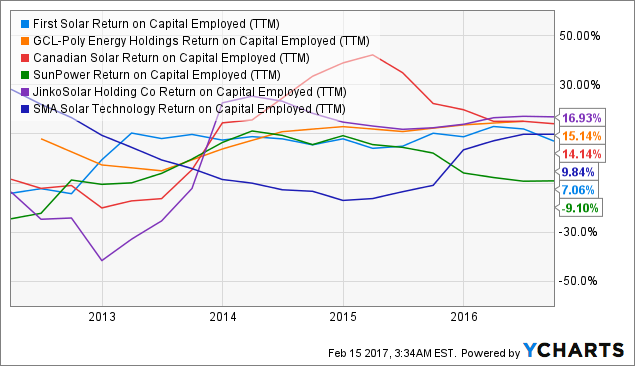 FSLR Return on Capital Employed (TTM) data by YCharts
Given that Saudi Aramco has a limited appetite for renewable energy investments with the up-to-$5 billion cap, I believe it would not be pleased to come up with additional capital if the eventual holdings come hat in hand subsequently due to debt woes. As such, I compared the companies on financial leverage. It would be better to look at the free cash flow generation as well, to see how fast the companies could pare down their debt. Unfortunately, the information isn't complete and so a proper linkage could not be done. Nevertheless, the ratio for each company has been rather consistent within a band over the five years, indicating that the trend for the respective companies isn't likely to deviate much. This indicates that analysis based on the financial leverage alone would be sufficient indication of the need for the companies to seek additional funds. First Solar and SMA Solar Technology are the obvious winners here. JinkoSolar and Canadian Solar are the two in the undesirable end. SunPower looks to be joining in the league soon, while GCL-Poly Energy seems to be improving in this category.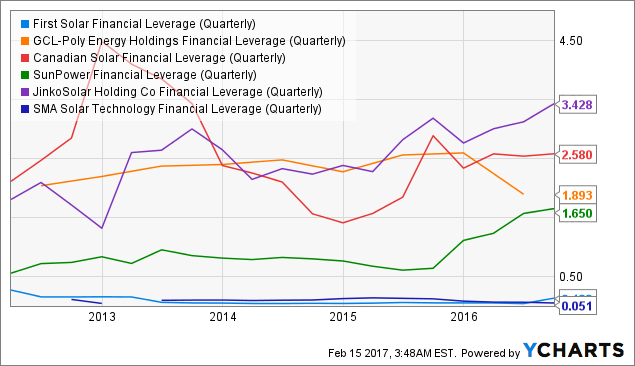 FSLR Financial Leverage (Quarterly) data by YCharts
Finally, for Saudi Aramco to garner sufficient shares for a reasonable holding, it would likely have to acquire the shares from institutional investors. As such, the higher the institutional investor ownership percentage, the more favorable the candidate would be in this respect. First Solar alone wins hands down in this category. Canadian Solar could possibly qualify, while SMA Solar Technology and JinkoSolar probably would be a tough call.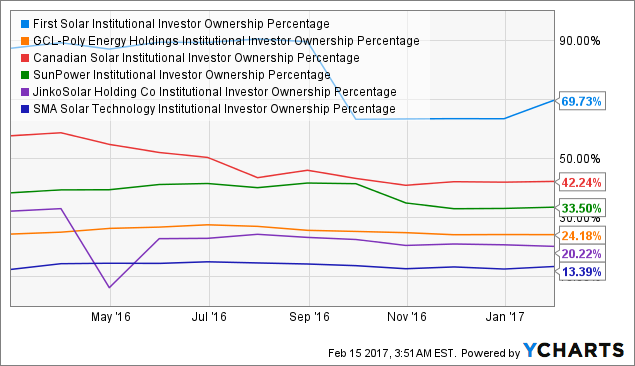 FSLR Institutional Investor Ownership Percentage data by YCharts
Conclusion
First Solar is the winner when the three metrics are considered altogether, with Canadian Solar the runner-up. Perhaps, if the two are good for Saudi Aramco, it might be good for us too. Nevertheless, not all of us have the holding power as Saudi Aramco or the management heft to remedy the situation should the companies falter. For instance, Warren Buffett stepped in to right the ship at Salomon in 1991 when the company he had invested in had failed. As such, further research is required to see if the companies mentioned here are suitable for you, even if they are for Saudi Aramco.
Note from author: Thank you for reading. My articles revolve around a subject or angle that I feel might have been overlooked. If you would like more of such articles, please click on the "Follow" button below the title near the top of this page. If you have additional insights on the topic or contrasting views, please kindly share them in the comments section.
Disclosure: I/we have no positions in any stocks mentioned, and no plans to initiate any positions within the next 72 hours.
I wrote this article myself, and it expresses my own opinions. I am not receiving compensation for it (other than from Seeking Alpha). I have no business relationship with any company whose stock is mentioned in this article.
Editor's Note: This article discusses one or more securities that do not trade on a major U.S. exchange. Please be aware of the risks associated with these stocks.