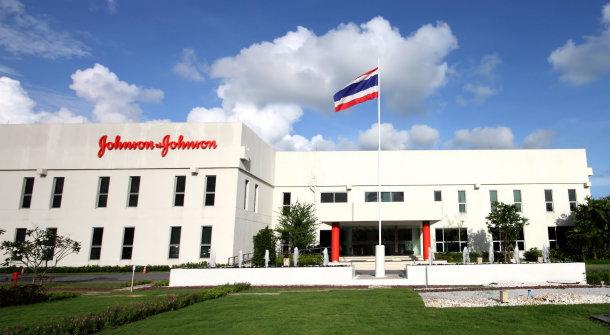 Johnson & Johnson (NYSE:JNJ) has been one of the most consistent and successful companies on earth. It is a company that is truly global in scale, and it is so profitable and diverse that it controls its own destiny. As global populations continue to grow and age, Johnson & Johnson will thrive for decades more. The stock has historically never been truly cheap, and it likely never will be as investors recognize the value in top-tier companies and price them accordingly. Going forward, Johnson & Johnson is very likely to continue to generate huge cash flows and will most certainly allocate these cash flows into higher dividends, more R&D, and more earnings accretive acquisitions such as the pending purchase of Switzerland's Actelion (OTCPK:ALIOY). Conservative investors would be wise to accumulate shares during this current period of consolidation knowing that history tells us it won't last much longer.
Johnson & Johnson, a staple of the Dow 30 and a long-time holding of mine, is a company that almost never disappoints. The stock has been in a downtrend for over six months, after reaching an all-time high last July at $126. The decline since last summer only amounts to about 12%, but investors need to remember that high-quality companies such as Johnson & Johnson rarely ever trade at dirt-cheap levels. Investors who look a little closer will find a company that is approaching levels that are about as cheap as they get.
When looking at valuation, we can see that the average annual P/E ratio for Johnson & Johnson over the past 15 years has fluctuated from a low of 12.5 in 2009 to a high of 27 back in 2002. More recently, the P/E has been in the 17 to 18 range. With this recent price decline and continued growth in earnings, we have a compressing P/E, which has created a nice opportunity to buy or add to our portfolios. Investors generally begin pricing in forward-year earnings around the second quarter of the year. Buying today allows you to jump ahead of other investors who are still looking at 2017. In fact, the P/E based on consensus earnings estimates for 2018 of $7.39 per share is only 15.5, which is below average for the past few years. It is also important to remember that there is upside to the earnings projections as Johnson & Johnson completes its acquisition of Actelion by mid-year 2017. Going forward, I expect upward revisions to earnings forecasts as the Actelion purchase is expected to be immediately accretive to earnings.
Another thing that has to be mentioned is that Johnson & Johnson has increased its dividend every year like clockwork. Digging deeper, we can find that it has increased its dividend every year for 54 years, which is one of the best track records out there. The board meets every April to decide on the dividend, so one would have to assume that this April, we will see a 55th consecutive increase in the dividend.
Another attractive quality of Johnson & Johnson is its balance sheet. It has a net cash position of $15 billion, or almost 5% of the market value of the company. JNJ is about to put to a huge amount of cash to work with the acquisition of Actelion. This is a perfect example of why companies like Johnson & Johnson never get cheap. They are so massive and so diversified and they generate so much cash that they essentially control their own destiny. Johnson & Johnson is using surplus overseas cash to fund the acquisition. It will get access to a new portfolio of drugs that will immediately grow its earnings, and it will gain access to Actelion's research and development team in Switzerland.
This Actelion deal is nothing new. Johnson & Johnson's long-term strategy is one of constantly reinventing, researching, and growing through acquisition, with significant profits returned to shareholders. Once it completes this acquisition, it just begins the process again. Cash will pile up, research will bring about new products, and dividends and share repurchases continue. This is done so perfectly that Johnson & Johnson has become the textbook definition of a blue chip stock.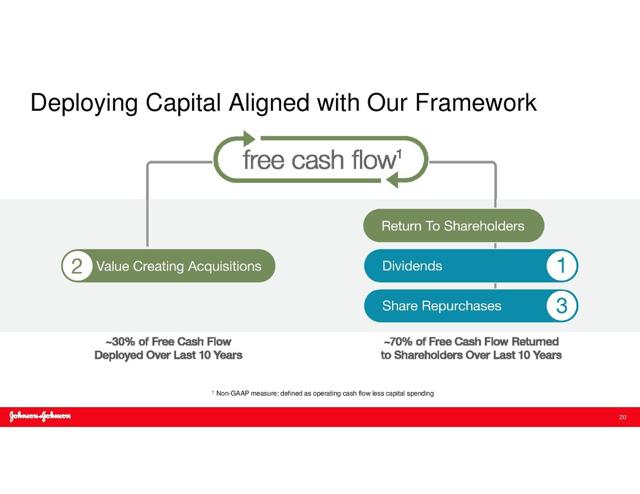 Source: Johnson & Johnson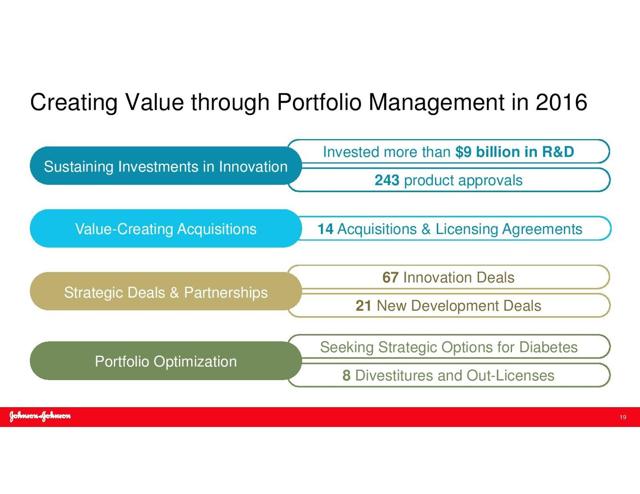 Source: Johnson & Johnson
One more point I'd make is that Johnson & Johnson can serve investors from a defensive standpoint as well. Recall from the Value Line report that Johnson & Johnson grew earnings per share through the 2001 recession and the 2009 global financial crisis. JNJ continues to have an AAA credit rating, one of only two companies on earth that are blessed with this rating. Defensive investors should consider shifting into Johnson & Johnson knowing that we are approaching a point where most bull markets and economic expansions are on borrowed time. In any period of reduced economic activity, investors tend to rotate out of cyclical stocks and into defense companies such as Johnson & Johnson. Looking at the following slide, we see that the company has produced a double-digit annual return for the past 20 years and has beaten the return on the S&P 500 in every time period on the chart. This is precisely the time when an investor can begin rotating out of economically sensitive stocks and into conservative, defensive companies like Johnson & Johnson. They may feel like they are leaving the party early, but they will be happy they did during the next recession.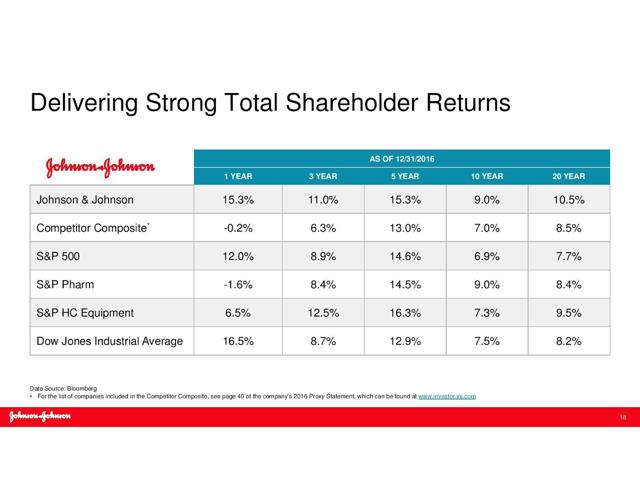 Source: Johnson & Johnson
Going forward, as global populations continue to both grow and age, Johnson & Johnson will continue to be a wonderful company to own for decades to come. This extremely shareholder-friendly company has never really been exceptionally cheap, but investors need to look beyond surface valuations and look into adding JNJ to their portfolios as a true blue-chip, high-quality company that will not disappoint over the long term.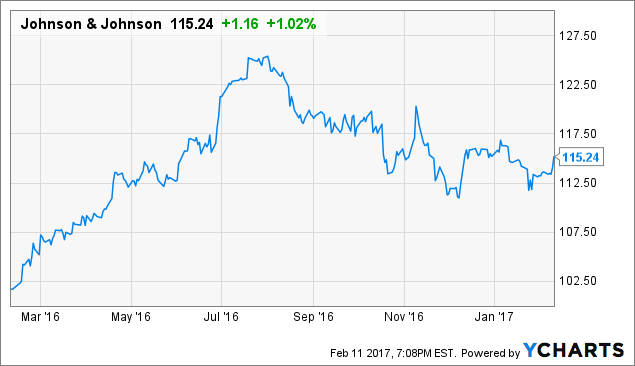 Disclosure: I am/we are long JNJ.
I wrote this article myself, and it expresses my own opinions. I am not receiving compensation for it (other than from Seeking Alpha). I have no business relationship with any company whose stock is mentioned in this article.