Background
This month's article marks the twenty-third installment of my on-going series outlining my efforts to achieve dividend growth success. The portfolio is nicknamed the MnM portfolio, which is a moniker for "Minne(sota) 'n Monthly."
Note: The portfolio continues to hold 35 stocks which is at the lower end of my target portfolio size of ~35-40. I feel that the portfolio holds a sufficient number of stocks such that I can effectively follow them all. I will work towards achieving more equal weightings, as this will provide strong diversification with each stock representing approximately 2%-3% of the portfolio total. I also receive 100 free trades each year from my brokerage, so I can trade in small quantities without worry about brokerage trading costs.
That being said, here's what happened in January.
January 2017
The year started off with several positive developments. Specifically, the portfolio saw six positions increase their dividends and saw a modest appreciation. Maybe the most exciting development this month was that I have now become eligible to participate in my employer's 401K plan, which I will report on later in the article.
I have captured the activity for January and for the year to date in the standard roll-forward summary below. The portfolio increased by just under 1% for the month, slightly trailing the S&P 500's climb of around 1.9%.
While the overall return of the portfolio was fairly muted, there was a fair amount of pricing movement within the individual portfolio positions. The holdings of Apple (NASDAQ:AAPL), Amgen (NASDAQ:AMGN), Emerson (NYSE:EMR), Fastenal (NASDAQ:FAST), Illinois Tool Works (NYSE:ITW), Procter & Gamble (NYSE:PG) and WestRock (NYSE:WRK) all saw a fair amount of appreciation during the month, while the holdings of Cincinnati Financial (NASDAQ:CINF), Sysco (NYSE:SYY), Target (NYSE:TGT), Verizon (NYSE:VZ), and Main Street Capital (NYSE:MAIN), all saw a fair amount of depreciation. They seemed to largely balance each other out.
The portfolio collected $217.10 in dividends during the month, all of which was recurring on positions held.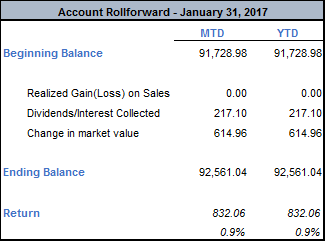 The portfolio was comprised of the following securities as of January 31, 2017: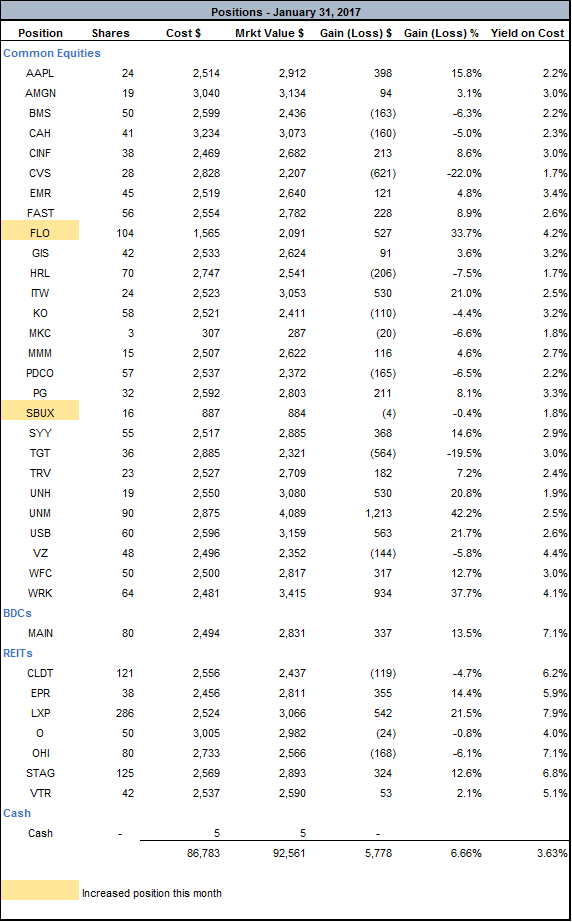 The following sections go into greater detail of the events that have occurred since the end of December.
Sales
None.
Additions
This month, I continued to build on some of the partial positions within the portfolio, adding three shares of Starbucks (NASDAQ:SBUX) and two shares of Flowers Foods (NYSE:FLO). I am comfortable building Starbucks at current prices, as it has held relatively flat since I initiated the position. Flowers Foods has become somewhat of my spare change stock. I will continue adding to it in small amounts, but I wish I had bought more before it ran up. I am fortunate that I got into it last year when I did.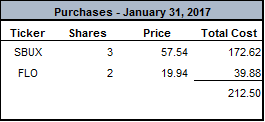 Dividends Collected
I collected $217.10 in dividends and interest during the month, all of which was recurring. I have updated and included the forward-looking dividend summary as follows: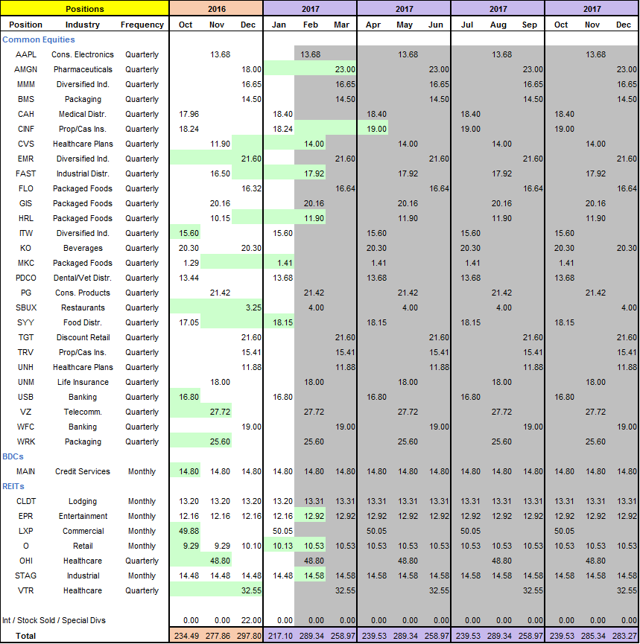 As you can see from the portfolio holdings chart above, the portfolio is entirely invested and full dividends are being collected. While I have tried to make the income stream as uniform as I can, some of the positions vary the timing of their payments. For example, Coca-Cola (NYSE:KO) paid in December, the last month of the quarter. This was a change as compared to the prior quarters when they had made their payment in the first month of the following quarter. Starbucks also paid in December when previously they had been paying a month earlier. Given these timing changes and the special dividend from Main Street Capital, the drop in income as compared to December is easily explainable.
Because of all this skewing, I added the yearly quarter-over-quarter comparison, comparing the current quarter to the same quarter from the prior year in the hopes of introducing a better metric for comparison. I am more than happy with the growth in income of 15.7% as compared to Q1 2016, noting that a portion of this growth came from last year's rollover investment. Nonetheless, organic dividend growth and reinvestment were major contributors to the increase.

Dividend Increases
As mentioned in the summary points of the article, January began the year on a strong note with six positions announcing increased dividends.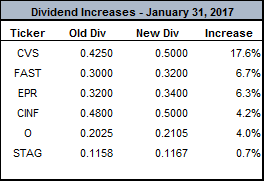 Battered CVS Health (NYSE:CVS) was the big raiser, announcing a double-digit increase while Fastenal, EPR Properties (NYSE:EPR), Cincinnati Financial and Realty Income (NYSE:O) all contributed stellar increases. STAG Industrial (NYSE:STAG) also threw out a token increase, but even this slight bump adds $.10 a month to income.
The 2017 income trend line is already skewing up. I will be paying close attention to see just how close it gets to the $300 mark by the end of the year.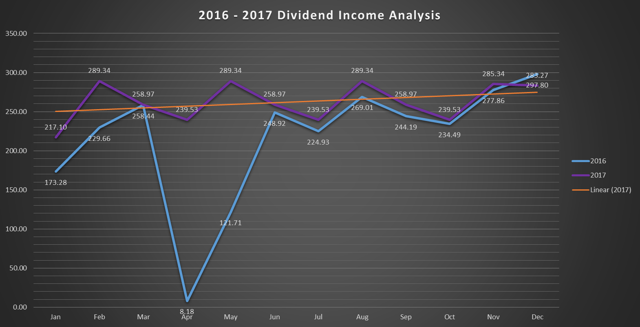 Introducing… The MnM 401K!!!!!!!!!
It seems like forever, but I am now eligible to participate in my employer's 401k program. The plan features a match which is immediately vested, and an annual profit sharing component, which I will be eligible for next year and vests over six years.
The investment choices of the plan were somewhat limited, so instead of just taking the S&P 500 fund, I took the BlackRock Equity Dividend Fund (MUTF:MADVX) trying to pair up to my dividend growth strategy as best I can.
I have been trying to find the best way of presenting the funds and the activity each month, so here's the first stab. Let me know if you have any suggestions on how to better present it. It will one day join the MnM Portfolio.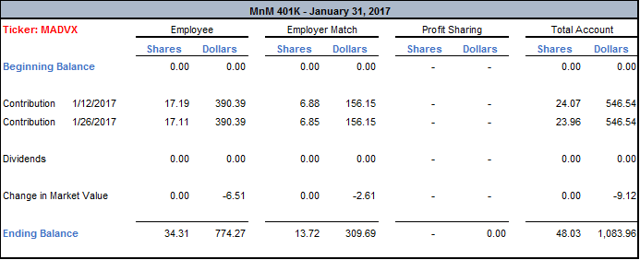 Closing Thoughts
It was a fairly eventful start of the year. Dividend increases came in strong and the portfolio held up fine despite a fair amount of individual stock volatility. I am excited to now be participating in my employer's 401K plan, so growth will be coming from inside and outside of the portfolio.
Looking at 2017, I am optimistic that dividends will hold up and increase without issue, but I keep wondering how much longer the market run will last. There are places to invest right now within the portfolio, but many positions, particularly those that will benefit from higher interest rates (banks and insurers) have run up to a point where I will just have to wait for a fall before buying any more.
Looking into February, I am hoping to continue building my smaller positions, but it might end up being a Minnesota month, as I am considering adding to several of my Minnesota-based positions. This includes UnitedHealth (NYSE:UNH) and Hormel (NYSE:HRL) amongst others. As always, thanks for reading and hopefully your 2017 started off just as well.
Disclosure: I am/we are long THE STOCKS LISTED IN THE PORTFOLIO.
I wrote this article myself, and it expresses my own opinions. I am not receiving compensation for it (other than from Seeking Alpha). I have no business relationship with any company whose stock is mentioned in this article.