Barrick Gold: Fourth-Quarter Earnings Analysis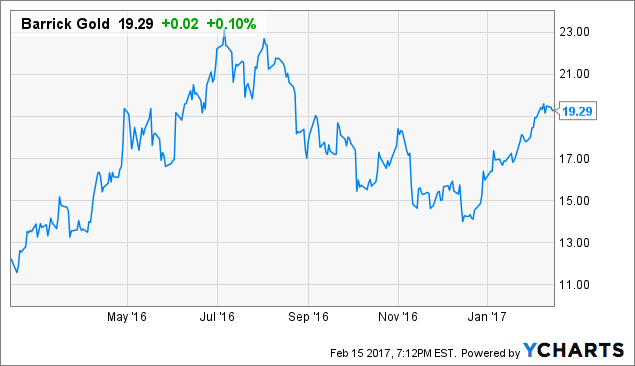 Barrick Gold (NYSE:ABX) has outdone itself. The company just reported its Q4 2016 and full-year 2016 financial results, and I am quite pleased with the results. In fact, I think this is one of the strongest quarterly results reported by a gold miner in years.
For some background: readers may recall that I previously listed Barrick as one of my top gold stocks to own for 2017. In fact, I listed Barrick as the #8 pick on the list. I argued that Barrick has been executing on its strategy to improve its free cash flow and reduce its net debt; all-in sustaining costs had been falling every quarter, free cash flow improving, and non-core asset sales really helped improve the balance sheet. I called the stock a must own for gold bulls, when shares traded at under $16 per share.
Then in late January, I covered Barrick's production results, as it announced it produced 5.52 million ounces of gold in 2016, at the high end of the company's guidance of 5.25 - 5.55 million ounces, with copper production in-line with estimates. The stock traded under $18 per share at the time.
Now, Barrick has reported its Q4 2016 and full-year financial results, and the results are very strong, which is why shares are up more than 2% in the after-hours, to $19.70 per share. Here's a highlight of the results:
- Gold production in Q4 was 1.52 million ounces at all-in sustaining costs of $732 per ounce. Barrick's average realized gold price was $1,217 per ounce, leading to margins of close to $500 per ounce.
- Barrick earned revenue of $2.32 billion in Q3, with operating cash flow of $711 million and free cash flow of $385 million. Q4 net earnings was $425 million, or $.36 per share.
- For the full-year 2016, Barrick reported revenues of $8.56 billion, operating cash flow of $2.64 billion, and free cash flow of $1.51 billion. For 2016, net income was $655 million or $.56 per share.
- Capital expenditures in 2016 fell to $1.12 billion, down from $1.71 billion in 2015 as Barrick divested non-core assets and decreased expenses at several operating mines.
- The company made significant progress on its debt reduction initiatives. It cut total debt by $2.04 billion or 20% in 2016. It ended the year with $2.38 billion in cash and equivalents compared to $7.78 billion in debt, which is down from $9.76 billion a year ago. It aims to reduce its total debt by $2.9 billion to $5 billion by the end of 2018, and half of this total debt reduction is targeted for 2017.
- The Board of Directors approved an increase in the quarterly dividend to $.03 per share, up from $.02 per share. Barrick is one of the few gold miners paying a dividend currently.
- For 2017, production guidance is 5.60-5.90 million ounces of gold, at a cost of sales applicable to gold of $780-$820 per ounce, and all-in sustaining costs of $720-$770 per ounce, so it should be another profitable year for the miner as long as gold prices stay above $1,000 per ounce, which I see as highly likely (prices trade north of $1,200 per ounce currently).
- For 2018, Barrick expects to produce 4.80-5.30 million ounces of gold, at all-in sustaining costs of $710-$770 per ounce. For 2019, it expects to produce 4.60-5.10 million ounces of gold, at all-in sustaining costs of $700-$770 per ounce.
To sum up my thoughts, I thought this was an outstanding quarter and a turnaround year for Barrick Gold as the company maintained strong production from its core assets, got its costs under control, sold non-core assets, and reduced its total debt by 20% (slightly exceeding its target). The company is in a much stronger financial position than it was a year ago, and shares should continue to outperform peers.
As I said in my last article, I wanted to add Barrick shares before this quarterly earnings release, as I felt a positive earnings report could lift shares higher. Well, that's exactly what has happened. While I never bought shares (I ran out of cash to invest), I remain bullish on Barrick and will look to buy shares once it's possible for me to do so.
Disclosure: I/we have no positions in any stocks mentioned, but may initiate a long position in ABX over the next 72 hours.
I wrote this article myself, and it expresses my own opinions. I am not receiving compensation for it (other than from Seeking Alpha). I have no business relationship with any company whose stock is mentioned in this article.