Agnico Eagle Mines: Mixed Q4 Results, But the Future is Bright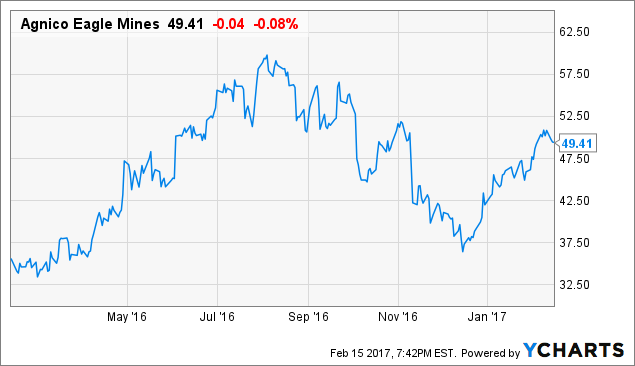 Agnico Eagle Mines (NYSE:AEM) reported its fourth-quarter and full-year 2016 financial results Wednesday evening, and overall, I thought it was a mixed quarter. Still, there is a lot to be excited about as Agnico is forecasting pretty strong production growth and falling cash costs based on its four-year guidance. Here, I break down Agnico's earnings report and give my updated thoughts on the stock.
Previously, I covered Agnico following the company's Q2 2016 financial results. At the time, I praised Agnico's strong earnings and its net debt reduction, as well as the 25% bump in the dividend. However, I felt shares were a little overvalued at the time, and shares were trading near 2012 prices of $55 per share. So I recommended holding off on buying shares and waiting for a pullback.
That turned out to be the right call. Since that article on July 28, 2016, Agnico has declined to the current stock price of $48.22, a 12.59% decline (the right time to buy would have been in early December, when shares traded at a low of $37).
Well, Agnico just released its quarterly earnings for Q4 2016, and it was a mixed quarter in my opinion. According to Seeking Alpha, Agnico earned $.02 EPS, which missed estimates by $.06; revenue of $499.21 million was a 3.4% improvement from last year, but missed estimates by $13.83 million.
Production in Q4 was 426,433 ounces of gold, in-line with Q4 2015 production of 422,328 ounces. Total cash costs were essentially unchanged at $552 per ounce. Net cash provided by operating activities was $120.6 million in Q4, compared to $140.7 million last year, which was disappointing in my view.
For the full-year 2016, however, things look a bit better.
For the fifth consecutive year, Agnico says its annual gold production has exceed its annual guidance. The company's production for the full year 2016 was 1,662,888 ounces of gold, compared to guidance of 1.6 million ounces. Total cash costs per ounce for the full year 2016 were $573, which was below guidance of between $580 and $620; AISC for 2016 was $824 per ounce, below guidance of between $840 and $880.
Finally, Agnico ended the year with a solid balance sheet, with its net debt reduced by $346 million to $666 million in 2016. That's one of the lowest net debt balances among the major gold producers. Agnico has $548 million in cash, cash equivalents, and short-term investments, and has $1.2 billion available in an undrawn credit line.
When you look at Agnico's four-year production and cash cost guidance, things look even better. By 2020, Agnico expects to produce 2 million ounces of gold, a 30%+ increase from current levels. Meanwhile, Agnico expects lower capital expenditures and lower AISC by 2020 as the Meliadine and Amaruq project have been approved for construction; Amaruq is expected to start up in Q3 2019, while production at Meliadine is forecast to begin a year earlier than previously expected, in Q3 2019. The company is guiding for 2020 AISC to fall below the low-end of 2017 guidance of $850 per ounce.
In conclusion, this certainly wasn't a great quarter by any means, as Agnico produced lower cash flow and missed revenue and earnings estimates. However, for the full-year 2016, Agnico hit its targets and had a pretty strong year. Looking forward to 2020, Agnico has a strong internal growth plan with its two new projects just approved, and a solid balance sheet to support this growth.
While Agnico didn't crack my top 10 gold stocks to own in 2017, I think it is still one of the best managed companies among the senior miners, and should outperform peers in the future. Shares are down in after-hours trading by 2.4% due to the earnings miss. I think this could be a decent buying opportunity for long-term investors. I'd prefer to buy shares under $45 personally. So I think investors should exercise some patience and wait for a better buying opportunity, or perhaps initiate a small position here and then dollar-cost average on any dips.
Disclosure: I/we have no positions in any stocks mentioned, and no plans to initiate any positions within the next 72 hours.
I wrote this article myself, and it expresses my own opinions. I am not receiving compensation for it (other than from Seeking Alpha). I have no business relationship with any company whose stock is mentioned in this article.