Every month, I review several leading and coincident indicators. Leading indicators predict what we can expect in terms of growth over the next 1-3 months. Coincident indicators tell us what is currently happening. Lagging indicators tell us what has happened.
In this article, I am going to review the retail sales for the month of January. If you want to know more about economic indicators, feel free to read my article about this topic.
Retail sales growth has hit 5.6% growth in January versus the same month one year ago. This is the highest number since 2012. In other words, a five-year high (!). Retail sales have gone up after bottoming in the first quarter of 2016. It had a terrible performance after the Q3/2014 peak until this very bottom. Note that I only talk about year-on-year performance. Month-on-month performance is just too volatile and doesn't give you any patterns you can work with. Especially when using leading indicators like the non-manufacturing ISM.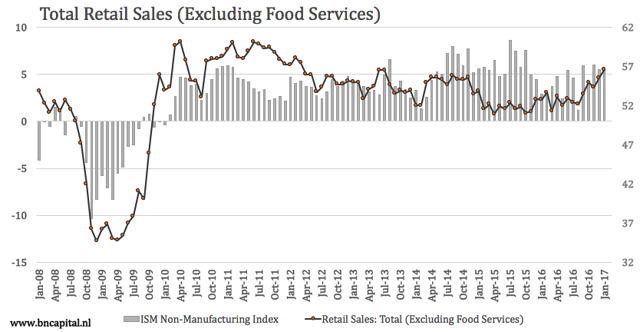 All retail industries you see below have performed better in January. Food services and drinking places have gained 3.2 points from 2.4% growth in December to 5.6% in January. This was desperately needed after a steep downtrend since 2014. Clothing and accessories are also continuing their growth acceleration trend, with another 1.3 points gain to 2.5% in January. Furniture sales are growing 1.2% after hitting a multi-year low of 0.9% in December.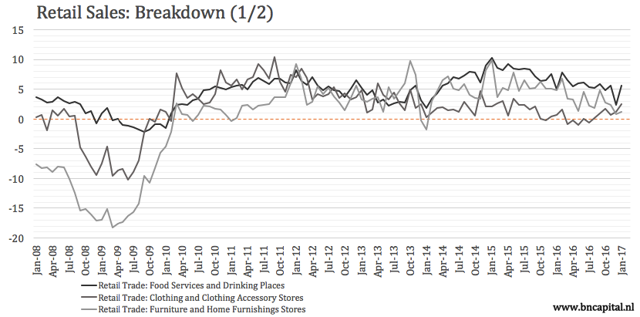 Motor vehicle and parts dealers declined 0.6 points from 7.4% to 6.8% in January. Electronics and appliances, on the other hand, are desperately trying to go above 0%. The January number showed electronics are contracting 1.3%. This is the "best" number since the first quarter of 2016. Building materials went up to 3.8% versus 3.4% in December.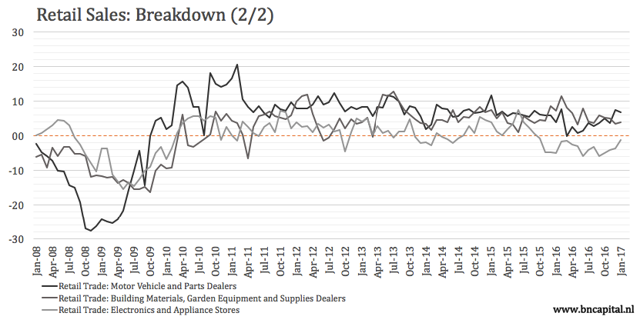 Conclusion
Retail sales are following leading indicators. Current growth is at a five-year high after bottoming in the first quarter of last year. There is tremendous support for retail stocks and consumer-related trades. Especially considering that leading indicators are likely to grow even further. I am a big fan of these numbers, since they give confirmation of leading trends and a solid foundation for an extended retail rally. Note that I will use the info in this article to work out further trading ideas over the next 1-3 weeks.
PS: See my recent article on retail here. The info in that article adds to the bull case described here.
Disclosure: I/we have no positions in any stocks mentioned, and no plans to initiate any positions within the next 72 hours.
I wrote this article myself, and it expresses my own opinions. I am not receiving compensation for it (other than from Seeking Alpha). I have no business relationship with any company whose stock is mentioned in this article.