Recent hedge fund filings have been released, which show that legendary fund manager George Soros may actually be embracing the Trump Trade. The filing showed that Soros sold his gold holdings in Q4 2016, while also loading up on financials, essentially betting on higher rates and a stronger U.S. dollar. Let's break down the merits of this trade.
For one, gold is now in a cyclical downtrend, in similar fashion to that of its cyclical uptrend the last two decades. As opposed to accommodative monetary policy globally, fueling a bond bull market over the last few decades, the current state of the world seems to favor higher rates. U.S. policymakers are calling for a minimum of three rate hikes in 2017, which they claim are fully justified by economic and inflationary trends. Moreover, even the Bank of Japan is targeting higher long-term rates to aid in bank profitability.
Higher rates are negative for assets that yield nothing, such as gold. The chart below is of gold, tradeable through SPDR® Gold Shares (NYSEARCA:GLD). Gold earns no interest, and is simply a storage of wealth, similar to a zero-coupon bond. The duration risk is high on this asset, and is a reason why gold is selling off heavily amid higher interest rates. Soros unloaded his gold holdings in Q4, acknowledging that gold is unattractive in the current economic environment.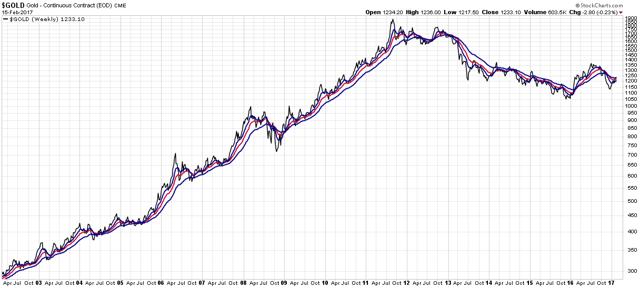 Additionally, higher U.S. interest rates benefit the U.S. dollar. The top in gold correlated strongly to the bottom in the dollar. The U.S. dollar is tradeable through PowerShares DB US Dollar Bullish ETF (NYSEARCA:UUP). Expect higher rates to continue to fuel dollar strength, which makes gold priced in dollar terms less attractive, further aiding the short bias towards gold holdings.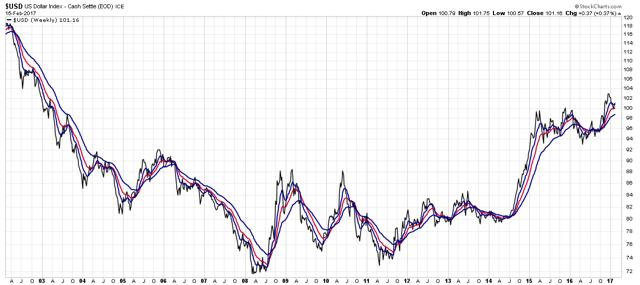 Finally, financials are ripping due to higher interest rates and less regulation, which is also acknowledged by Soros' investing thesis. In Q4, Soros used the proceeds of his gold sales to fund buying in both Goldman Sachs (NYSE:GS), as well as buying call options in Financial Select Sector SPDR® ETF(NYSEARCA:XLF). The financial sector has been massively underperforming since the financial crisis, as both monetary and regulatory policy were unfavorable for the sector. Yes, the sector deserved some shame due to its antics leading up to the crisis, but the beaten down names now look primed to move higher.
The chart below is of XLF over Guggenheim S&P 500® Equal Weight ETF (NYSEARCA:RSP), representing the relative strength of the financial sector. After underperforming for the last decade, the sector looks to be a leader now. If Trump continues to push through his pro-business policies, and the global economy begins to pick up, there is no reason why financials can't recover much of their losses from the last few years.
My investing thesis is similar to Soros, but not because of him, I have believed in this trade for many months. Sell gold that you do own, or short it if you can. Instead, own the U.S. dollar, and bet on higher interest rates. A way to play this through equities is to buy financials, either as the index, or individual names. Both less regulation and higher interest rates should benefit this trade over coming years.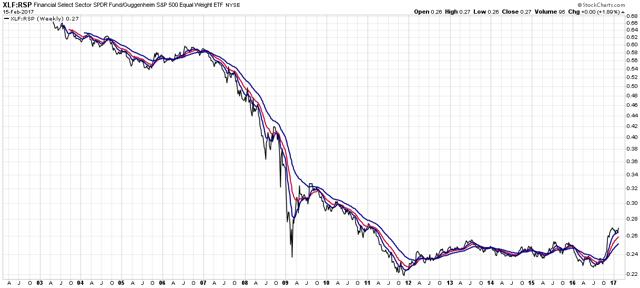 Disclosure: I/we have no positions in any stocks mentioned, and no plans to initiate any positions within the next 72 hours.
I wrote this article myself, and it expresses my own opinions. I am not receiving compensation for it (other than from Seeking Alpha). I have no business relationship with any company whose stock is mentioned in this article.