Canadian stocks inched higher in January, but the climb from here may be a bit more challenging. Here are three potential drawbacks and a possible silver lining that could impact future gains.
THREE POTENTIAL DRAWBACKS
Valuations: The Canadian equity market's total return last year was juicy by historical standards in both absolute terms and also relative to the U.S. and EAFE (see the chart below). After several consecutive years of underperformance, Canadian stocks may have been overdue for a catch up. But it's worth bearing in mind that most of the upside came from multiple expansion rather than better earnings. Whereas price-to-book was well below historical averages to start 2016, it is now closer to average at the beginning of 2017 (see the chart below). The same can be said for price-to-earnings multiples.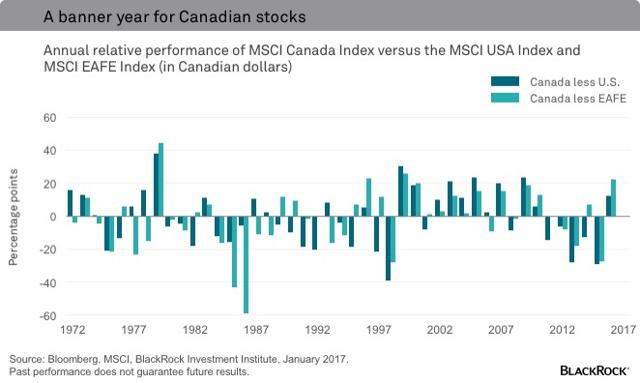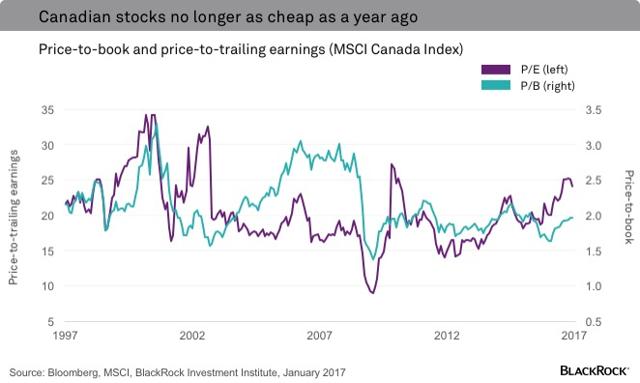 Economic growth: We do see some room for modest upside to consensus economic estimates in Canada, but the Canadian economy has little to cheer beyond the potential residual benefits from better activity south of the border. Yes, oil prices are higher and may even rise further during 2017 but not to a level that would trigger substantial investment in building out new production.
Yes, the Canadian dollar has cheapened versus the U.S. dollar, which helps the competitiveness of non-energy exports, but anemic productivity growth during the commodity boom years dampens our enthusiasm. And yes, federal infrastructure spending is beginning to see the light of day in 2017, but most of the spending is still being held up in the bidding and due diligence phases. With an overly indebted Canadian household, upside to economic projections is likely limited.
U.S. policy: It remains unclear how the new U.S. president's approach to trade, tax reform, infrastructure spending and deregulation this year will affect Canada, as well as how these efforts will change the competitive landscape between the U.S. and Canada. Many details are cloudy and in flux. So far, the White House has taken a much more technocratic approach to the North American Free Trade Agreement (NAFTA) revisions than the campaign rhetoric would have suggested.
This offers a welcome sigh of relief to those industries and companies with tightly woven cross-border supply chains. But lest anyone become complacent, the border adjustment component of the House of Representative's tax reform proposal could have serious negative implications for companies with high export sales to the U.S., to say nothing of the disadvantage that a sharp cut in the U.S. corporate tax rate would mean for Canadian companies operating in global markets. Meanwhile, efforts to roll back regulation in financial services, energy and healthcare could also put Canadian companies at a short-term competitive disadvantage to their American peers.
A POTENTIAL SILVER LINING
Reflation: The nearly two-thirds exposure to energy, materials and financials potentially makes the Canadian equity market positioned for an upturn in economic growth and waning deflation fears, even though earnings growth outside of the big three industry sectors is much harder to find.
That said, the expected 20% plus earnings growth in Canada for 2017 based on analyst estimates already hinges almost entirely on prospects for sustained advances in energy and industrial commodities. If oil prices move into the low- to mid-$60/barrel range (as measured by West Texas Intermediate), there may be substantial incremental improvement in energy sector earnings beyond the already optimistic forecasts, which assume an average price closer to $57/barrel this year, according to Bloomberg. However, the same border adjustment proposal discussed earlier, if enacted, would likely weigh on global oil prices if the resulting higher U.S. domestic price for oil encourages U.S. producers to grow output.
More modest, but still positive, equity returns in 2017 are possible with the potential for periodic setbacks along the way. While the outlook for Canadian stocks could improve materially on any further rebound in commodity prices, this is too little to hang your hat on when there are also competing concerns about valuations, policy shifts and the economic outlook.
This post originally appeared on the BlackRock Blog.