I wrote about how much undervalued First Data Corp. (NYSE:FDC) was back in October 2016. Since then, the stock has appreciated about 20%. The latest quarterly earnings report is out, and it shows solid progress in First Data's turnaround. The good news for investors is that the stock is still underappreciated, undervalued, and poised to go much higher from this level.
Stock still significantly undervalued
Company management projected a 15% increase in adjusted EPS in 2017 at the Annual Investor Meeting last November, and confirmed that guidance in the latest earnings call. However, even after such upbeat forecast, the market appears to be anything but enthusiastic about FDC stock.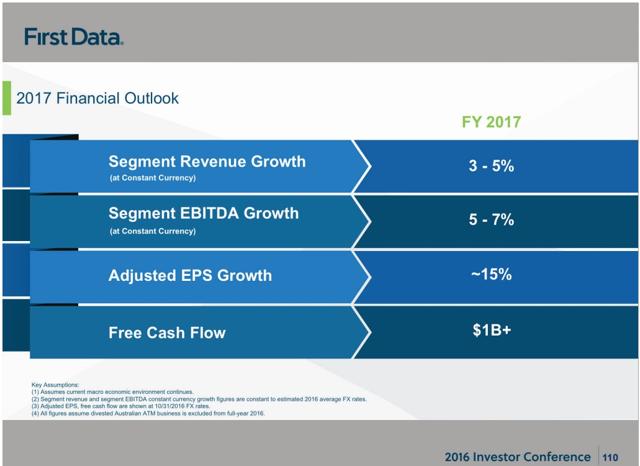 *2017 First Data guidance, Source: First Data 2016 Investor Conference
To see how much undervalued the stock still is, look no further than this comparison:
| | | | |
| --- | --- | --- | --- |
| | Forward Earnings/share ($) | Price ($) | Forward P/E |
| Vantiv, Inc. (NYSE:VNTV) | 3.17 | 63.76 | 20.11 |
| Global Payments Inc. (NYSE:GPN) | 3.8 | 78.22 | 20.58 |
| Total System Services (NYSE:TSS) | 3.1 | 54.03 | 17.43 |
| S&P 500 (NYSEARCA:SPY) | | | 17.75 |
| First Data Corp. | 1.518 | 16.14 | 10.63 |
*All forward earnings/share data are from respective companies' 2017 guidance. Prices are from February 13, 2017. S&P 500 forward P/E is from WSJ.
As we can see, First Data trades at a significantly lower forward P/E than both its peers and the S&P 500 average.
Turnaround on track
1. Debt Refinance and Debt Paydown
First Data did several re-financing deals in Q4 last year, reducing by 10% the total interests it will have to pay annually in the future. In 2016, the company used the majority of its free cash flow to pay down its debt, reducing the total debt load by $1.1 billion.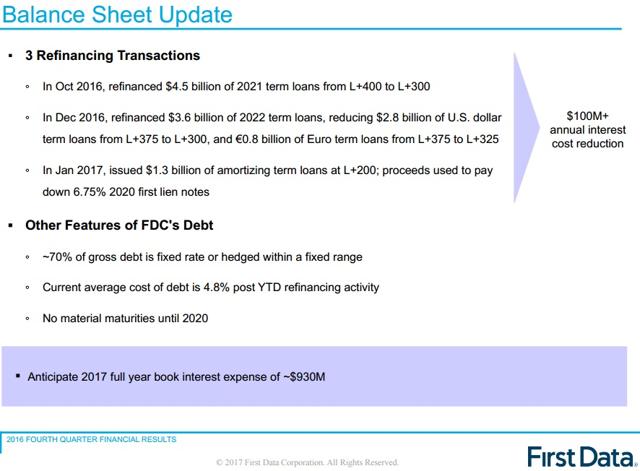 *Debt refinancing reduces interest expenses by $100 million+, and 70% of gross debt is either fixed or hedged. Source: First Data 2016 Q4 earnings presentation.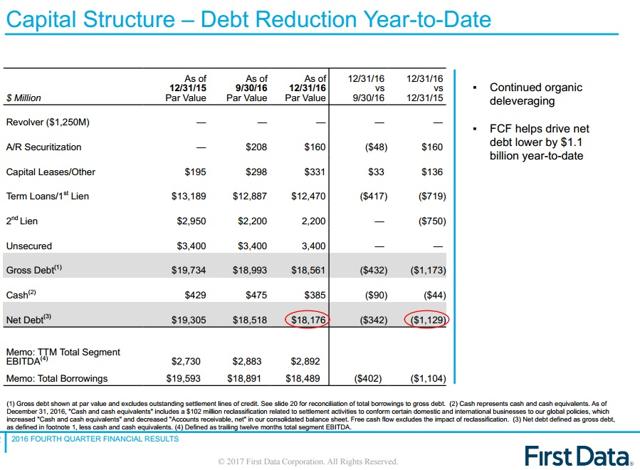 *Paid down over $1.1 billion of debt in 2016. Source: First Data 2016 Q4 earnings presentation.
Reduced debt load and lower interest rates from re-financed loans will shave interest expenses by more than $100 million in 2017. In addition, it is almost certain that First Data will keep deleveraging its balance sheet - an act that will even further reduce its interest expenses. The interest expense savings alone will boost First Data's 2017 EPS by more than 10 cents a share. If the company can hit its 2017 revenue growth target and EBITDA growth target, it will have a very good chance of reaching or even exceeding its 15% EPS growth goal.
2017 estimated earnings/share generated from interest expense reduction:
| | |
| --- | --- |
| Interest Savings From re-fi | 100 |
| Interest Savings From further de-leveraging | 22.5 |
| Total Interest Savings | 122.5 |
| Diluted Shares | 929 |
| Gross Total Interest Savings/Share | 0.132 |
| Current First Data Tax Rate | 20% |
| Net Earnings/Share increase | 0.106 |
*Except per share number and tax rate, all figures are in millions
*If we assume a linear deleveraging of $1 billion of debt over the year of 2017 and apply an average debt cost of 4.5%, we get roughly 22.5 million annual savings this year. The diluted shares count is from the company's 2016 Q4 earnings release.
By keeping paying down its debt with its strong cash flow, First Data forecasts the leverage ratio will fall to around 4 in 2019 - a number that is very close to the industry average.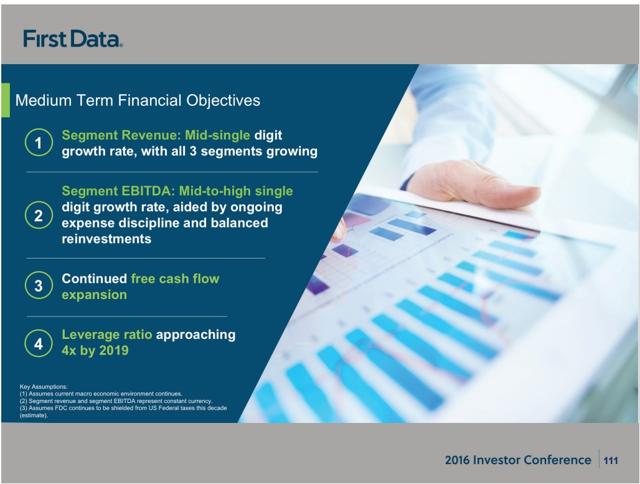 *Management is determined to lower the leverage ratio to the industry average by 2019. Source: 2016 FDC Investor Day Presentation
2. Improved Business Results
FDC's 2016 results show solid improvement compared to the 2015 numbers. On a constant currency basis, total segment revenue increased by 4%, while total segment expenses decreased by 1%. The company's EBITDA margin improved by 180 basis points and EBITDA increased by 9%. As a result, adjusted net income doubled from 2015.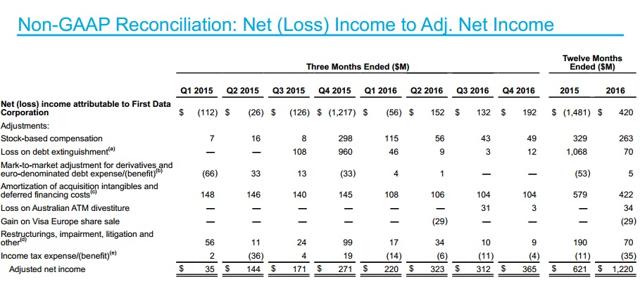 *Adjusted net income doubled in 2016. Source: First Data 2016 Q4 earnings presentation.
The results of Global Financial Solutions (GFS) division are especially worthy of praise. Since CEO Frank Bisignano took over, he quickly turned this division from one losing clients to one winning new contracts. In 2016, GFS' revenues rose 10% and EBITDA jumped 21%. Since the client onboarding process takes several months after initial contract wins, some of the new contracts signed in 2016 have yet to materialize into sales. However, with a strong pipeline, First Data's GFS segment should witness continued healthy growth in 2017.
Global Business Solutions (GBS) did not improve as much as the GFS division did: GBS' revenues climbed 2% and EBITDA grew 6%. However, the segment's results are still rather encouraging. First, management thinks that Clover, the company's next-generation POS system, is getting good traction, and therefore, will start publishing Clover sales numbers in 2017. If the system indeed performs well in the future, it will boost this division's results nicely. Second, there is continued improvement in First Data's small business customer churn rate. This declined by 100 basis points in Q3 2016 and declined another 100 basis points in Q4. Third, the company's Latin America business is on fire. Revenue in Q4 grew 45% compared to last year, driven by Brazil and Argentina.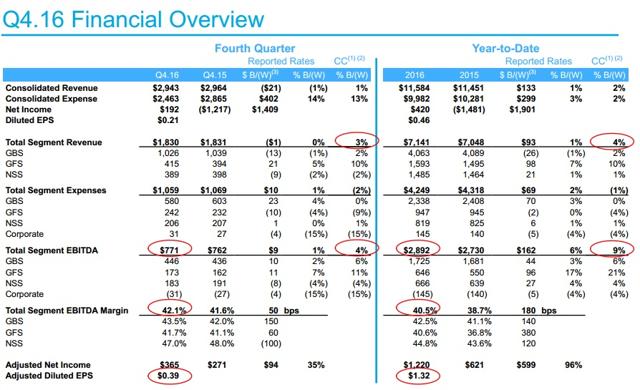 *The GFS segment is performing nicely, and other divisions are improving as well. Source: First Data 2016 Q4 earnings presentation.
Summary
First Data is clearly turning around, and its business fundamentals should keep improving. FDC continues to be a cheap stock in a fairly valued market. A fair valuation of the stock should assign a forward P/E multiple of 16-17 - I don't see any reason why it should not trade close to the S&P 500 forward P/E. A 16-17 forward P/E multiple implies this stock can rise another 50% from the current level.
I recommend investors to take a position in First Data Corp. and hold the stock for the long term.
Disclosure: I am/we are long FDC.
I wrote this article myself, and it expresses my own opinions. I am not receiving compensation for it. I have no business relationship with any company whose stock is mentioned in this article.