Coach (COH) has come out with positive quarterly results for the period ending in December 2016, adding investor confidence to the company's ability to properly execute its turnaround plan. The CFO's departure last June hasn't impacted the path to recovery, proving that above cost cutting & organizational efficiencies the new collections launched by Stuart Vevers enjoy an increasing popularity.
In the middle of a weak consumer retail traffic and a promotional environment within a fragmented retail industry, Coach is among the sole survivors. Indeed leather goods manufacturers such as "Michael Kors (NYSE:KORS)" and "Kate Spade (NYSE:KATE)" are negatively impacted by the US retail industry softness, for instance "Macy's (NYSE:M)" as well as Saks 5th Avenue (OTCPK:HBAYF). We will discuss whether Coach can manage to survive in this instable context.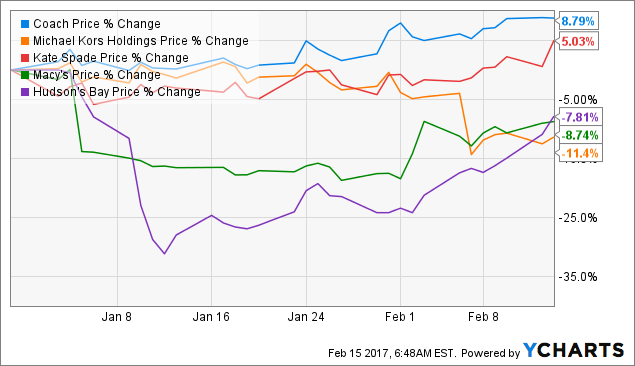 Let's have a closer look at Coach's P&L, more particularly at net sales and operating profit by brand. Sales for the Coach brand accelerated during 2Q 2017 compared to 2Q 2016, the same trend was clearly visible for EBIT margins as they improved by +130 basis points to 22%. However, excluding non-GAAP adjustments, the EBIT margin improvement reduces to +20 basis points at 22.5% against 22.3%. Also, Stuart Weitzman brand revenues (9% of sales) strongly increased by +26%, about $24 million, however it's important to highlight that $21 million was generated thanks to the acquisition of Stuart Weitzman Canadian distributor. Hence, the growth is not as spectacular as it first appeared. Stuart Weitzman EBIT margins deteriorated due to higher SG&A expenses. Overall the company reported an increase in operating margins of +50 basis points to 21%. However if you take into account GAAP to non-GAAP reconciliation, the operating margins have slightly deteriorated by -10 basis points to 22.3% (vs 22.4% in 2Q 2016) which is not exactly the same picture as first presented. Last but not least, SG&A increased by 5% compared to the same period last year mostly due to higher marketing costs and advertising-related events whereas distribution and customer service expenses decreased. We mentioned that reported EBIT increased while SG&A costs grew but COGS remained constant which benefited gross margins by +120 basis points to 68.6%, nevertheless we should not put aside the following statement from management:
"The company includes inbound product-related transportation costs from our service providers within cost of sales. The company, similar to some companies, includes certain transportation-related costs related to our distribution network in SG&A expenses rather than in cost of sales; for this reason, our gross margins may not be comparable to that of entities that include all costs related to their distribution network in cost of sales."
At the bottom line, net income largely benefited from the decrease of the effective tax rate from 33% to 27%. Despite a tiny dilution after the share issuance for stock options and employee benefit plans (2 out of 281 shares), EPS increased by 11%.
Looking at the balance sheet for the last 6 months, what first caught our attention was the decrease of long-term investments due to proceeds from the sale of the company's new office tower in Manhattan (10 Hudson Yards) for $680 million. Together, the sale of its former headquarters on West 34th Street in Manhattan resulted in a reduction of Property Plant & Equipment by approximately $280 million. Consequently, cash increased by $450 million as well as short-term investments by $70 million mostly consisting of U.S. government securities and commerical paper while the share of U.S. corporate securities has decreased. As of December 31, 2016 approximately 54% of cash and short-term investments (30% of total assets) were held outside the U.S. which is an interesting point as with the Trump administration's offshore capital repatriation, it will be encouraged thus supporting share repurchase programs or M&A. As regards to long term assets, goodwill has decreased by -7% we thought this could be the reason for an impairment due to the high price paid for Stuart Weitzman but according to COH statement this is solely the negative impact of Foreign exchange. Focusing on Liabilities, most of the changes come from the decrease of accounts payable as well as lower long-term debt due to the repayment of a $285 million tranche. Total equity has increased thanks to higher retained earnings, consequently the equity ratio to liability has almost doubled to 4 times.
During 1Q 2017 inventory is built for the year-end holiday season, hence the following quarter (2Q 2017) is subject to much lower working capital requirements. What we noticed in the cash flow from operating activities is that accounts receivables have increased by $30 million and payables decreased by $30 million so that's a zero sum game for future quarters as more receivables can be compensated by less payables. As regards to working capital and capital expenditures, Coach is sitting on a liquidity available amount of $2.7 billion (cash and debt) which strengthens its potential for external growth opportunities.
After an overview of recent Coach earnings, we have a better understanding of what items are going in the right direction and what is shown just to impress investors. Nevertheless, we were satisfied by the North American region comparable store sales performance as well as operating margin improvement highly weighing on company's EBIT. North America being its largest market, it's reassuring to see that Coach is back on track.
We highly respect Taylor Dart's comment on our last article, we do not expect the price to reach $80 in the short term but are happy todiscuss if Coach is still a value company at $38?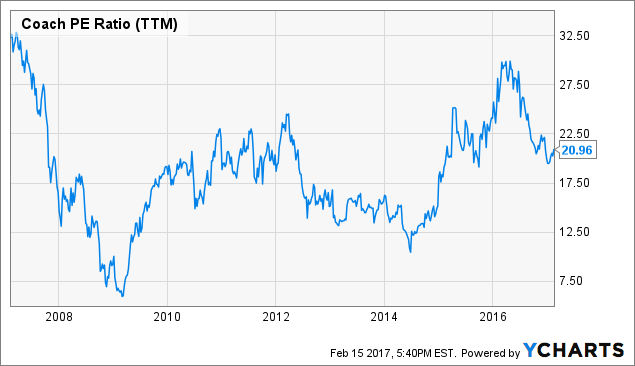 COH PE Ratio (NYSE:TTM) data by YCharts
Trailing twelve month P/E have come down from 2016 peaks and looking next year P/E the company is valued at 15.8 times which is slightly above industry average of approximately 15 times. Hence, we have to take into consideration the +10% earnings growth to asses if that's achievable in this industry environment. Expected earnings growth doesn't come up too expensive as the next 2 year earnings growth is valued at 1.8 times which is below the 2.0 times threshold. We trust EBITDA margins will reach 25% in the next 2 years thanks to Coach transformation plan to elevate the brand image. Finally, the fact that the company has a negative net debt to EBITDA of -1.4 times coupled with a hefty dividend policy yielding 3.4% makes the company a solid business case for any investor who wants to be exposed to the US luxury sector.
It's unusual but necessary. We would like to express our sincere condolences to Coach founder Miles Cahn who passed away on February 14th and address our gratitude for turning a small family business into one of the best US leather goods company. RIP.
If you have not followed us, please take five seconds and click our name above (top of the page).
Disclosure: I am/we are long COH.
I wrote this article myself, and it expresses my own opinions. I am not receiving compensation for it (other than from Seeking Alpha). I have no business relationship with any company whose stock is mentioned in this article.