During October of last year, I began writing bearish articles about Skechers (NYSE: SKX) on here. I argued that the company's share price would continue to fall due to weak domestic sales growth, unpopular products, and a host of other factors.
The company's share price did fall more than 20% after the release of my first article, when the company reported a dismal Q3 earnings report. Since then, however, share price has rallied to its current level of $26. There were several mistakes I made when assessing Skechers, which prevented me from seeing the upside in its share price.
I'll provide an updated opinion on the company and will explain the mistakes I made when trying to evaluate the company, which I hope will serve as a lesson to readers for what NOT to do when assessing a company.
International Growth
Skechers surprised with a solid earnings report primarily due to strong international growth of 17.1%, along with a 48.5% increase in sales in China. International revenues now comprise 46.1% of its sales, which have been slowing due to domestic weakness. The company has managed to achieve popularity in Asia, particularly China, due to a shift in demand towards athletic apparel and footwear.
The company has began to shift its focus and attention on Asian countries including China, Japan, and South Korea as demand for its products in the United States has remained weak (domestic wholesale revenues declined by 12%).
The company has struck a joint deal with Luen Thai Enterprises in order to market its products in South Korea and has made a smart move in utilizing celebrities that are part of the country's popular entertainment industry to market its products. A visit to the company's Chinese site also shows a famous pop group called EXO marketing its products on the front page.
Despite my previous articles criticizing the company, I admit that I've been impressed by the company's recent moves. As a Korean myself, I can attest to the fact that using those pop groups to endorse its products was a very smart move on Skechers' part.
By doing so, management showed that it understood its mistake in the US: Skechers failed to market its products to more fashion-conscious teenagers and millennials in the United States and subsequently saw a rapid slowdown in domestic sales growth, something that I highlighted in my previous articles on the company. The company is clearly trying to avoid its prior mistakes and appeal to the teenage demographic, which is an important market for sportswear companies.
Personal Bias
I will admit that I made the mistake of conflating my own personal perception of the brand with my opinion of the company as an investment. I viewed the company's products as unfashionable and argued that renewed competition from Adidas (OTCQX: OTCQX:ADDYY) and Nike (NYSE: NKE) would cause further weakness in the company's domestic business. Skechers' share price did tumble over 20% following my first article due to slowing domestic sales as I had predicted, but I failed to consider the international potential of the company.
This was in part due to my own personal bias against the brand, along with my failure to consider all aspects of the company and the brand. I will also say that at the time, I was fairly new to Seeking Alpha and equity research as a whole, and did not appreciate how inexpensive Skechers was in relation to its peers: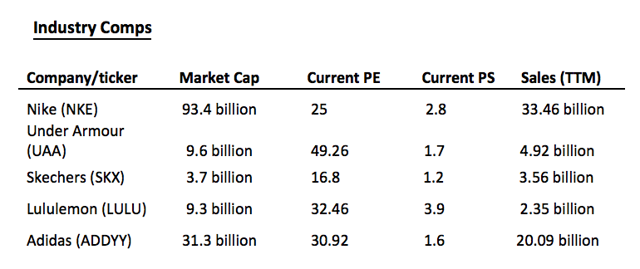 As you can see, even at current levels Skechers is much cheaper in comparison to its peers. At the time I wrote the first two articles, I did not place that much importance on valuation and let my personal biases obscure how inexpensive the company was.
Concerns
Despite the company's solid ER and change in market sentiment, I still do not consider Skechers a favorable long-term investment and will explain why below.
Skechers' growth and share price is riding on the expectation that the company will be able to continue growing international sales at a rapid clip. If the company is able to continue doing so, this may fundamentally alter the bear case. However, as the company is still in the early stages of expanding internationally, I would like further confirmation that the company will be able to sustain its international sales momentum before recommending it as a buy.
The company's share price increased rapidly then plummeted when the company failed to sustain momentum in its North American business. If this were to occur in the company's international business, I believe a similar decline in share price will follow. Growth in its international business, while solid at 17%, is by no means spectacular and it remains to be seen whether or not the company can continue to grow international revenues at a rapid pace.
The company's Q4 sales growth was only 5.8%, the slowest quarterly growth rate since 2012. Earnings were also only 4 cents, much lower than 19 cents reported a year earlier. This was due to an expansion of its international footprint and retail store base, which is less profitable than its wholesale business.
The company also experienced a 12% decline in its domestic wholesale business, further confirming my earlier thesis that demand for its products in North America has plateaued. The company has lost nearly all of its momentum domestically, which explains how the company still remains "undervalued" in relation to its peers, as per the above comparison chart.
Conclusion
I've found that in equity research, knowing when to admit you were wrong is an important characteristic and a means of improving as an investor. I admit that I failed to consider how inexpensive Skechers was and its international growth potential, and thus mistimed my bearish articles on the company. While the company's share price did dip following my first article, it has subsequently risen sharply and as a result I admit that I've deserved the flak I've received in the comments sections of those articles.
I still am not bullish on the company long-term for the reasons outlined in this article although share price may increase in subsequent quarters if the company is able to sustain momentum in its international business. However, I will keep readers posted and will write a new article if the company continues to surprise to the upside or, conversely, if my prior theses on the company are proven true in the long run.
Thanks for reading and please feel free to contact me with any questions via the comments section or email (email address is in my Seeking Alpha bio).
Disclosure: I/we have no positions in any stocks mentioned, and no plans to initiate any positions within the next 72 hours.
I wrote this article myself, and it expresses my own opinions. I am not receiving compensation for it (other than from Seeking Alpha). I have no business relationship with any company whose stock is mentioned in this article.