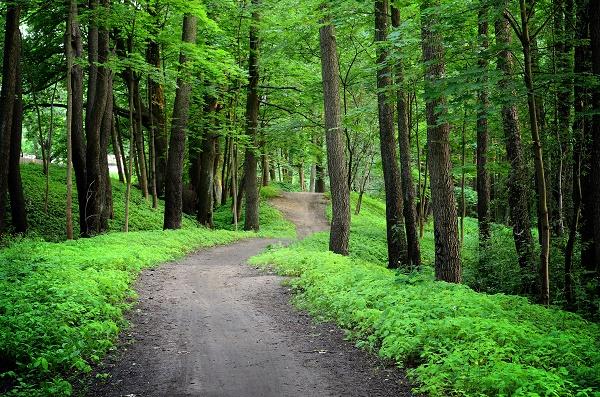 Consolidation Of Share Price Around Previous Highs
With outstanding performance recently attained, both market and macroeconomic factors will combine to produce consolidation of share price around or above recent highs for Nvidia Corp. (NASDAQ:NVDA). It is likely that the February 2017 high of $120.92 will be exceeded in coming months. Thereafter, a marked downturn is expected, the severity and duration of which will largely, but not wholly, be determined by macroeconomic factors. This scenario, as it unfolds, paves the way for a timed profitable short of the stock, which is not yet priced in.
Nvidia achieved outperformance of Wall Street estimates in Q4. Stock price is close to its exceptional 18-month highs, having climbed by 224% during the last financial year. Yet, the future for Nvidia is circumscribed by concerns of shrinking markets for both PCs and add-in graphics cards, and by developing, disruptive competition in key markets from Advanced Micro Devices Inc. (NYSE:AMD) and Intel Corp. (NASDAQ:INTC). The company also stands in the shadow of a possible semiconductor trade war with China that has broad economic implications for Nvidia and the U.S. economy.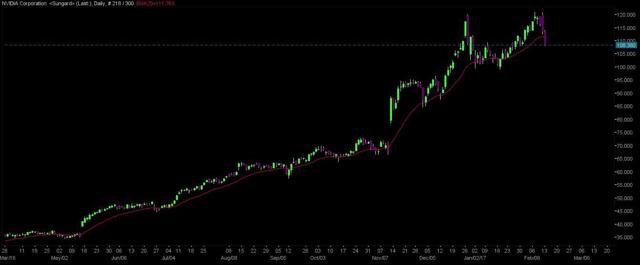 (Source: NASDAQ)
As the winds of change blow at the onset of a transition, a mixture of positives and negatives is to be found for Nvidia, while share price starts to exhibit characteristics of a lateral consolidation range.
Repurposing For More General Application
Currently, the company derives approximately 85% of its revenue from GPUs, and is seeking to repurpose its graphics products for more general processor applications in autos and data centers to develop further income. Nvidia's data center revenue growth has consequently in recent quarters outstripped that of Intel, the market leader.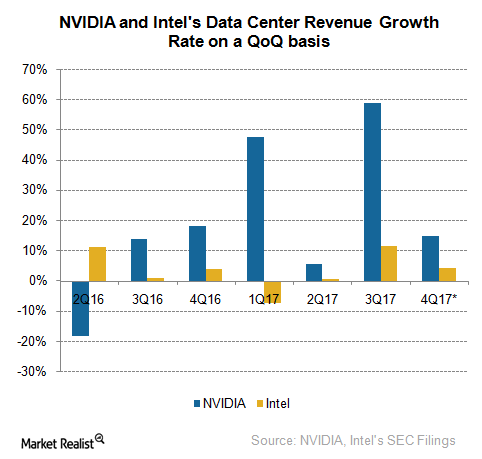 However, Nvidia's diversificational shift away from gaming and computing toward platform models for self-driving autos and deep machine learning has seen a migration of approximately 10% of the company's discrete GPU market share to AMD. While this shift is not yet of game-changing proportions, it does provide AMD with impetus for further inroads.
Fuelling high-end data center growth, the company's DGX-1 server, which Nvidia describes as "the world's first AI supercomputer in a box," was designed specifically for AI and deep learning, and claims performance which equates to that of 250 regular servers.
Level Of Competition Increasing
It is the franchise player for Nvidia's data center business, with adoption across many different rapid learning neural network applications, including financial, autos and medical sectors. The last quarter showed a 205% increase in data center revenue, at $296 million, over the same quarter a year earlier.
Yet as consumer semiconductor markets indicate downward, the level of competition in deep learning and AI markets is increasing. In December 2016, AMD announced Radeon Instinct, GPU accelerators designed for machine learning systems, for shipping in 1H17. The highest specification variety of Radeon Instinct, the MI25, brings 25 TFLOPs of half-precision floating-point performance, while Nvidia's P100 Tesla GPU has just 21.2 TFLOPS in its optimal configuration.
In November 2016, news broke that AMD's Radeon FirePro server GPUs are to be integrated in 2017 into the cloud platform of Alphabet Inc. (NASDAQ:GOOG) (NASDAQ:GOOGL). Yes, Nvidia's GPUs have already been adopted by the cloud platforms of Amazon.com, Inc. (NASDAQ:AMZN), Microsoft Corporation (NASDAQ:MSFT), International Business Machines Corporation (NYSE:IBM) and by Baidu, Inc. (NASDAQ:BIDU) for its self-driving auto platform. Yet the Alphabet coup was a significant escalation of competition from AMD in the accelerator market. Significant enough to hike AMD's stock price by 11.2% in just one day after announcement.
Number Of Applications Growing Dramatically
With the number of applications for AI and real time analytics growing dramatically, other companies have been drawn to the space. Intel has acquired deep learning and AI startups like Saffron, Nervana Systems and Movidius. Intel is also applying its FPGA technology, obtained through the acquisition of Altera, to AI and machine learning. Intel's first AI chip - Lake Crest - is expected in 1H17, while the next - Knights Crest - will launch thereafter.
See Seeking Alpha "The Role Of Artificial Intelligence In Intel's Corporate Transition Strategy"
While not currently having a product in the high end data center segment, Qualcomm Incorporated (NASDAQ:QCOM) waits in the wings. Its Centriq 2400 product is not yet high performance.
In addition to market dynamics, the future for Nvidia will involve macroeconomic considerations. Earlier articles discussed these in some detail, covering a possible semiconductor trade war with China, and its concomitant effects.
Recent Developments Lend Weight To Threat
Recent developments have borne out the potential threat of great damage to Nvidia and the U.S. economy posed by the prospect of a trade war with China. Foreign holders of U.S. debt have been dumping debt instruments at a very concerning rate.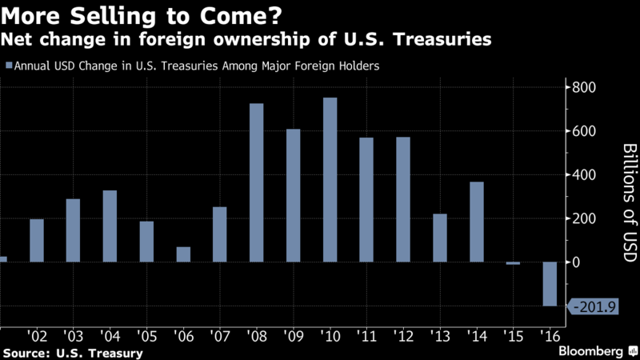 China is the holder of more U.S. debt than any other foreign country, with in excess of $1.24 trillion in bonds, notes and bills. To exacerbate an already alarming trend, the possibility of China's retaliatory selling of U.S. debt to counter any levy on Chinese imports imposed at the behest of the Trump administration implies grave damage to Nvidia's revenue and to the U.S. economy as a whole. The ditching of large amounts of U.S. debt has very negative, long-term implications for the U.S. dollar standard, U.S. demand, global demand and the stock market. Nvidia's stock price would no doubt be hit hard.
While domestic demand for U.S. government debt has to date stepped in to pick up the slack caused by foreign selling, the sharp catalyst of a trade war with China would tip the U.S. debt market into a precipitous slide. The prospect of higher interest rates in the U.S. could further reduce overseas demand for U.S. debt instruments.
Conclusions
After outstanding results in the last year, Nvidia faces increasing competition in rapidly evolving AI and machine learning applications in a high end data center market. These challenges, and the threat posed by a possible semiconductor trade war with China, with all its macroeconomic potentialities, mean that over the course of 2017 Nvidia's share price is expected to range near or above its previous highs in a consolidation period. That consolidation period will then be followed by a retracement in price.
The magnitude and timing of an ensuing downturn will largely be determined by macroeconomic developments connected to the possibility of a trade war with China.
With share price still near its recent highs, these factors have not yet been priced into the stock, offering the potential for a profitable short.
Elsewhere on Seeking Alpha:
To follow this author and receive immediate alerts upon publication of future articles by this author, please click on the "Follow" button at the top of this page next to the author's name and icon, and then select "Real Time Alerts."
Disclosure: I/we have no positions in any stocks mentioned, and no plans to initiate any positions within the next 72 hours.
I wrote this article myself, and it expresses my own opinions. I am not receiving compensation for it (other than from Seeking Alpha). I have no business relationship with any company whose stock is mentioned in this article.