Investors may be looking at the latest report of the inventory to sales ratio and thinking, 'yeah baby', here comes that growth we were waiting for.
Not so fast!! Even though the inventory to sales ratio has been on a steady decline, a look behind the numbers reveals some lingering concerns.
Inventory to sales ratio measures the estimated monthly sales for manufacturers, retailers, and merchant-wholesalers and compares it to the inventory for those same companies. A rising inventory to sales ratio indicates that either sales are slowing, inventory is building up, or some combination of the two, which is usually a leading indicator of a potential slowdown in economic activity.
A declining inventory to sales ratio indicates the opposite, and with the current release of 1.35, the ratio is back down to levels last seen in December 2014.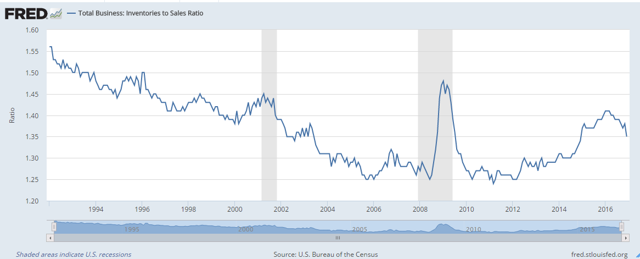 That's the good news. And so is the fact that higher sales is driving down the ratio. Not so good is that inventories are still climbing.
The table below has some interesting data. Looking at the adjusted data in the top half of the table, we can see that the inventory to sales ratio for total businesses declined to 1.35. But the breakdown into the sub-components may reveal some interesting deviations. For example, sales of manufacturers increased by $10 million from November 2016 to December 2016, while inventories have remained flat going back to December 2015. This could be a sign that the manufacturing sector will have some increased economic activity.
On the other hand, the inventory to sales ratio for retailers has remained at 1.47 to 1.48 - the same as it was last December. While sales of retailers have increased in the past year, inventories have increased by a greater amount. This is not so surprising considering the trends towards online shopping and the closing of many retail stores. In fact, department stores had the worst change in inventory to sales ratio from December 2015 to 2016, increasing from 2.08 to 2.14.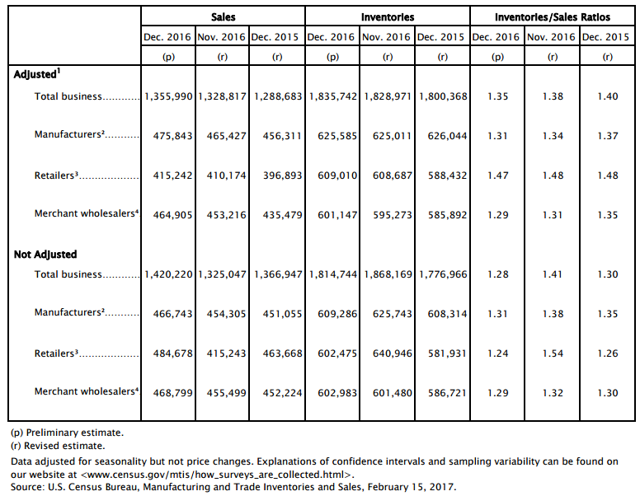 So generally speaking, the inventory to sales ratio trend continues to be positive - except for department stores. If the trend continues and the sales component remains strong or accelerates, we could finally see the bump in economic growth we've been waiting for.
The strongest trend seems to be in the manufacturing sector and it also may potentially benefit from President Trump's policies. If the scenario plays out, I'd look into some of the industrial ETFs for a tactical overweight. I've already mentioned the Industrial Select Sector SPDR Fund (NYSEARCA:XLI). Here are a few others for you to consider:
· Vanguard Industrials ETF (NYSEARCA:VIS)
· First Trust Industrials/Producer Durables AlphaDEX Fund (NYSEARCA:FXR)
· iShares U.S. Industrials ETF (BATS:IYJ)
Just make sure you do your due diligence and invest in the ETF that gives you the exposure to industrials that is appropriate for your investment objectives and risk profile.
Disclosure: I/we have no positions in any stocks mentioned, and no plans to initiate any positions within the next 72 hours.
I wrote this article myself, and it expresses my own opinions. I am not receiving compensation for it (other than from Seeking Alpha). I have no business relationship with any company whose stock is mentioned in this article.