TransCanada Corporation (NYSE:TRP) is one of my favorite dividend stocks for the next decade.
The company has a long growth runway. Several catalysts could lift shares in the coming years.
And I'm not the only one bullish on this stock. Billionaire resource investor Eric Sprott owns a large stake. Hedge fund giant Ray Dalio has been quietly building up a position, too.
Let me explain…
1 Dividend Growth Stock for 2017 and Beyond
I'm a big fan of a group of companies I like to call my Dependable Dividend Growers.
These are wonderful, wide-moat businesses. Their entrenched market position allows them to earn outsized returns year after year. Many of them have been paying distributions for decades.
You don't need an MBA to see the wisdom in this strategy. As dividends grow, yield hungry investors tend to bid up the share price. And for those of us looking for retirement income, the inflation busting power of dividend growth can be more important than a high yield today.
Case in point: TransCanada.
TransCanada is a energy infrastructure company with operations across North America. Its pipelines ship millions of barrels of oil and natural gas each day. The company also owns a substantial power business, generating and transmitting electricity to millions of households.
Its status as a Dependable Dividend Grower comes down to a couple of points.
First, I want to see a visible growth runway. Dividend hikes don't come out of thin air. They come from growing profits and cash flows. Few businesses can raise prices at a double-digit clip each year, so we want to see a plan to expand operations, grow profits, and pay shareholders.
TransCanada has a nice tailwind that could propel earnings for the next 10 years. Surging North American oil output has created a shortage of energy infrastructure. Sure, expectations have been tempered since the shale bust of 2014. But given the price discounts for landlocked brands of crude, there is still demand for new pipelines.
Management has laid out their vision for the coming decade. Over the next 10 years, TransCanada wants to acquire small competitors, build out its pipeline network, and increase its stakes in partially-owned subsidiaries. Executives expect this will grow earnings per share by about 8% to 10% through 2020.
These numbers look reasonable. Right now, TransCanada has C$25 billion in near-term infrastructure projects through 2018. You can add about C$45 billion of commercially secure proposals that are still awaiting regulatory approvals.
I expect that backlog to grow considerably in the coming months. In his first few days in the White House, President Donald Trump has set a "business first" agenda. With less red tape to cut through, pipelines owners may look to add more projects to their plate.
TransCanada already looks like the biggest winner. Investors had mostly written off the company's Keystone XL pipeline, which would ship over 800,000 barrels of Albertan crude to U.S. refineries on the Gulf Coast. President Trump, however, pulled the project out of the abyss and gave it the greenlight.
We could see more of this. Under the Trump administration, management may try to push new pipelines proposals. That would be a major catalyst for the stock.
Next, we want a growing dividend.
Growth is great, but most of us want income. Businesses that pay out dividends also tend to be more disciplined in their capital allocation. They have less cash to blow on silly takeovers or ego boosting side projects.
Here as well, TransCanada stands out. The company has increased their dividend for 15 straight years. Today, shares pay out an annual distribution of $2.26 each, which comes out to a yield of 3.7%.
I expect that to continue. Over the coming years, management has promised to hike the payout in-line with earnings. They project the dividend to grow between 8% and 10% annually through 2020.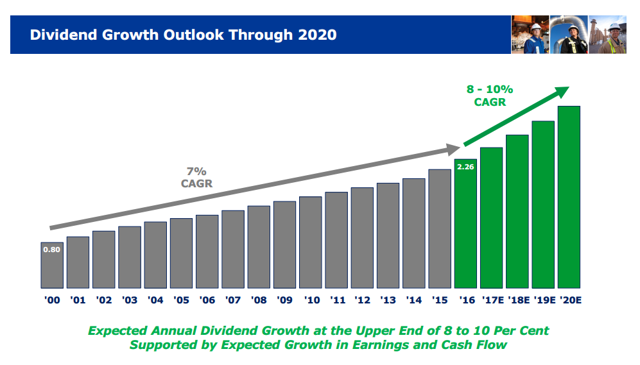 Source: TransCanada Investor Presentation
Executives are in the habit of increasing the dividend at the start of each year. The Canadian company is scheduled to report earnings on February 16. I'd be willing to bet a bag of ketchup chips
TransCanada will announce another 8% dividend increase or more.
Of course, TransCanada is no sure thing.
Several headwinds could crimp the stock price, including regulatory risks, higher interest rates, and slower economic growth. And while expansion is great and all, it won't do us any good if we overpay for the stock.
Promised dividend hikes aren't in the bag, either. Any payout increase needs approval from the board of directors. Distribution hikes are also dependent on profits and cash flows.
I'm not super worried, though. Utility cash flows tend to be steadier than bond coupons. After all, the light bill is usually the last one people skip after losing their jobs. High barriers to entry also tends to keep profits fat decade after decade. For this reason, pipeline names like TransCanada are a favorite of retirees.
TransCanada shares aren't too expensive, either. Investors dumped oil stocks after the drop in energy prices, even companies whose profits are relatively immune from such volatility. Right now the business trades at about a 16 EV/EBITDA multiple. This is below the company's historical average and in-line with peers.
On the dividend, executives would be hesitant to get investors' hope up unless they were sure they could deliver. Management also has a lot of projects underway. So if one pipeline gets tied up in red tape, the whole thesis doesn't fall apart.
Bottom line on TransCanada
You only need to look out one decade to see the power of owning a dividend growth stock like TransCanada.
Let's assume the company can grow its payout by an inflation-busting 7% annually, which is the lower end of estimates. By 2027, TransCanada's dividend would hit $4.41 per share. This would represent a yield on cost of 7.1% based on the share price today, not to mention the potential for capital gains. That's a tidy stream of income for those approaching retirement.
Bottom line, TransCanada is a classic Dependable Dividend Grower; a company with a long expansion runway, a growing distribution, and a shareholder-first management team. Perfect for retirees looking to beat inflation and earn a steady income. This is one dividend stock I want to own for the next 10 years.
Disclosure: I/we have no positions in any stocks mentioned, and no plans to initiate any positions within the next 72 hours.
I wrote this article myself, and it expresses my own opinions. I am not receiving compensation for it (other than from Seeking Alpha). I have no business relationship with any company whose stock is mentioned in this article.