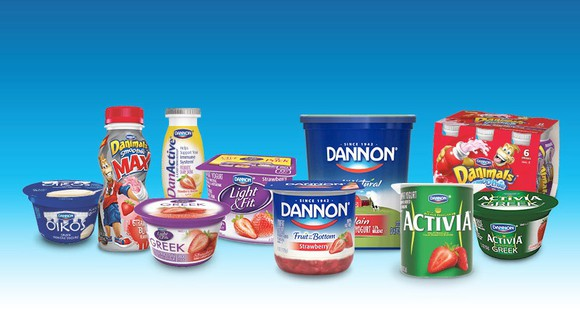 Whether or not China can transition to a consumer-driven economy, only time will tell. But one thing we know for sure right now is that retail sales in the world's second-largest economy are as buoyant as ever. In December, Chinese retail sales grew by an impressive 10.9 percent year on year, up from 10.8 percent the previous month. Whilst there are a number of companies that look set to prosper from this growth, one company in particular that we expect to benefit from the surge in consumer spending is French food giant Danone (OTCQX:DANOY).
The insatiable demand for infant formula
Ever since the tragic Chinese tainted milk scandal in 2008, consumers have had a great distrust for Chinese milk products. This has led to an insatiable demand locally for well known and respected international infant formula brands such as Danone's Aptamil, Mead Johnson's (NYSE:MJN) Enfamil, and A2 Milk's (OTCPK:ACOPF) a2 Platinum. This demand only grew more intense when China lifted its one-child policy.
As with every boom, it didn't take long for low-cost manufacturers to flood the market. Luckily for Danone, Chinese consumers have a taste for premium products - especially when it comes to their child's development. The bonus here is that as disposable income levels rise, we see the potential target market increasing substantially. Great news for Danone and its high margin products, and a key reason why its Early Life Nutrition segment suddenly became its largest contributor of operating income in its half-year results. Operating income increased 30.8 percent to €527 million, equating to 35.6 percent of total half-year operating income.
We are bullish on yoghurt
Danone's next largest segment is its Fresh Dairy Products segment, which provided €514 million, or 34.8 percent, of its total half-year operating income. Although sales dropped reasonably sharply in the first half of the current fiscal year, we expect these to rebound strongly in the next 12 months.
The reason for this is once again the changing tastes of Chinese consumers. As you can see on the chart below, sales of yoghurt in China have been growing at a strong rate in the last six years.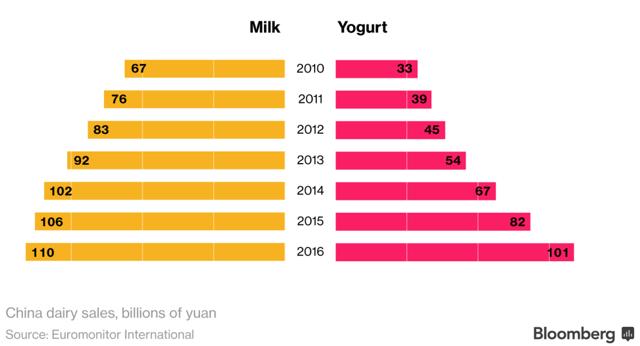 Source: Bloomberg
We remain confident that this growth will be sustained for several more years, giving Danone's Fresh Dairy Products segment a huge lift.
Water could be the next liquid gold
As the owner of mineral water brands such as Aqua, Evian, Bonafont, and Volvic, Danone is better positioned than anyone to profit from the rise in healthy living in China. As pollution rises to hazardous levels and water quality becomes questionable, bottled water is the natural choice for Chinese consumers. A key advantage here for Danone is that its distribution is perhaps second only to Coca-Cola (NYSE:KO) in China in our opinion. But we'd much rather be bottling water than sugary drinks in the country at this point in time. As you can see on the chart below, water is where the growth is.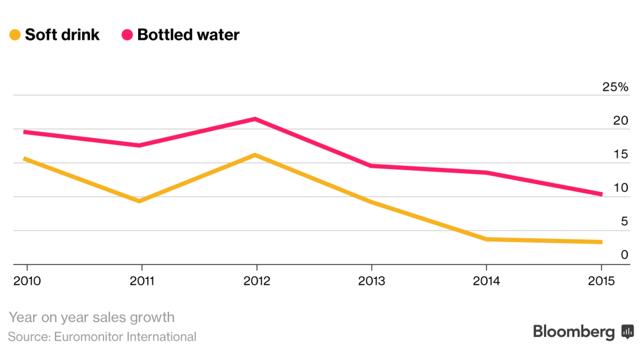 Source: Bloomberg
By being able to reach the masses, Danone can capitalise on this consumer trend and boost segmental sale. Danone's Waters segment contributed €282 million, or 19 percent of total company operating profit in the first half of fiscal year 2016.
Is Danone's stock priced fairly?
In the last six months, Danone's stock has fallen by 18.3 percent, as shown below.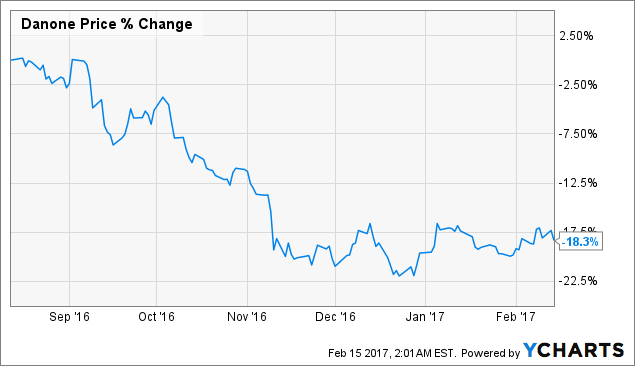 This has left its stock trading at just 20x trailing earnings. Not only is this a discount to its five-year average, but makes it the cheapest amongst a good number of its rivals. As you'll see on the chart below, Danone certainly looks attractive on a peer valuation.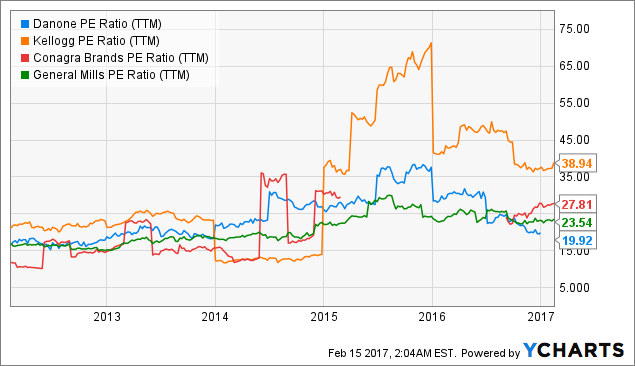 We anticipate the boost from Chinese demand to result in fiscal-year 2017 earnings per share of the equivalent of 74 cents. Based on the current multiple and our forecast, we have a price target of $14.40 for DANOY. Should it hit, our target investors will take home a return in excess of 12.6 percent, before dividends.
The future looks bright for Danone
It is for these key reasons that we think Danone is one of the best investment options in the food industry right now. With its three key segments all poised to see operating profit boosted over the next few years from these strong consumer-driven tailwinds in China, Danone is definitely a food stock we want a slice of.
Disclosure: I am/we are long DANOY.
I wrote this article myself, and it expresses my own opinions. I am not receiving compensation for it (other than from Seeking Alpha). I have no business relationship with any company whose stock is mentioned in this article.
Editor's Note: This article discusses one or more securities that do not trade on a major U.S. exchange. Please be aware of the risks associated with these stocks.