Viacom (NASDAQ: VIA) (NASDAQ: VIAB) has had many recent problems. The troubles with Sumner Redstone and Philipe Dauman have been well documented (here's one article at Deadline on the subject). The company is moving into a new chapter in its corporate life, and as such, changes are being made. This, to me, makes the stock a possible trade for short-term players, but for those who aren't looking to get in and get out based on chart performance, there are better opportunities within the media sector in which one could invest.
The company did well in terms of its recent earnings report as far as beating analyst projections. According to this Seeking Alpha news item from February 9, adjusted net income for the fiscal first quarter came in at $1.04 per share, which meant that Viacom beat the expected stat by $0.20. Revenue of $3.32 billion also came in higher than anticipated. But, according to another news item , operating income and net earnings went down. Still, the latter link shows that there were gains across the operating segments. In a relative sense, the report wasn't too bad (as an example, the press release shows a nice improvement in operating free cash flow for the quarter).
However, what I'd like to focus on is the future, where things go from here. Bob Bakish is the company's new CEO, and he has plans to get the content concern on a path of growth.
In general, I think he's on the right track. He wants there to be more cross-promotion among the company's brands and the Paramount studio. This Deadline article talks about the subject -- in a nutshell, MTV and Nickelodeon, to name two examples, will produce a couple films per year. Okay, fine, I see why the company is doing that. I also see value in the idea of changing the Spike channel into The Paramount Network.
But honestly, a lot of what I'm reading in these news reports tells me that there isn't one central big idea being presented to catalyze growth in shareholder value. For instance, the new CEO said that, in terms of MTV, work needs to be done but also that there won't be a focus on scripted programming; instead, music and reality shows will be explored as a driver for that channel. Things may eventually evolve on that count (and to be clear, scripted shows aren't being eliminated), but in today's streaming age, I believe scripted series are key to any media conglomerate's overall strategy. MTV could serve as a platform for the next The Walking Dead or Stranger Things; I don't see Comedy Central or Nickelodeon being able to accomplish such a feat (we'll have to wait and see how The Paramount Network fits in that regard).
I also would have rather seen an immediate change in leadership at Paramount. Brad Grey is a Hollywood exec who has been around a long time; he knows the business. But, maybe it's time to see what a new perspective would bring to the asset. If Bakish wants more integration between the studio and the cable networks, and if he truly believes, as he seems to (and as I do), that Paramount is an important part of the turnaround plan, then installing a new studio chief would be a required move at this stage. This Hollywood Reporter piece discusses Grey and his relationship to the company's current plans, and it seems to show, in my opinion at least, some confusion as to how exactly Grey and Bakish will work together, or whether Grey will depart.
What I would like to see is a general desire not to do Hollywood business the way it is usually done. In particular, I'd like to see Paramount retain as much ownership over the cash flows of its projects as possible (i.e., keep the use of co-financing partners to a minimum). I want Viacom to go where the market demands: the demos that show up on opening night want blockbuster entertainment, whether that means a superhero film or a low-budget horror entry (see any popular Blumhouse film). If you're making a superhero film, don't panic and give up some of that bet to an outsider, fund the entire thing. Keep costs down, focus on concepts and not celebrity actors. Also focus on consumer products. Shake things up in terms of content distribution and windows: have MTV run a Paramount summer blockbuster two weeks after it hits theaters. Crazy idea, yes, but the point is plain: it can't be business as usual, it can't be simply an exercise of changing brand strategies. True corporate teamwork, combined with fiscal discipline and fresh thinking on both the creative and talent sides of the equation, is what Bakish should want at this time.
Let's have a look at the one-year stock chart for both share classes of Viacom stock.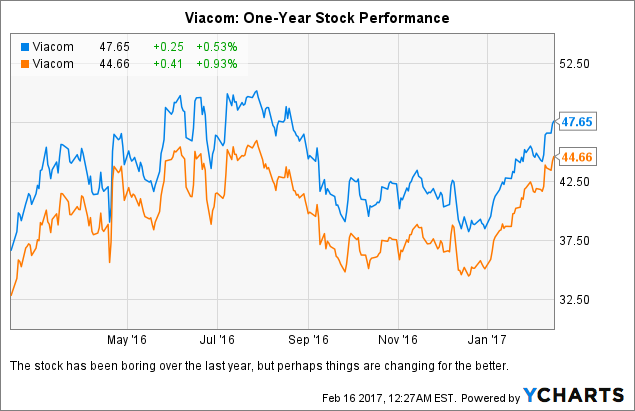 Kind of a sideways situation there. And I can't predict the future -- this indeed could be a inflection point that sees the shares go higher from this point on. The new CEO may be successful right from the start.
In my opinion, I'd rather wait before starting a long-term bet on a changed Viacom. The stock could be a trading vehicle for now. Nothing wrong with that, but this isn't the stock I choose to trade. If Bakish can put into production some great content on both the small and the silver screen, then I will definitely be more inclined to look more seriously at the stock as an investment idea.
Disclosure: I/we have no positions in any stocks mentioned, and no plans to initiate any positions within the next 72 hours.
I wrote this article myself, and it expresses my own opinions. I am not receiving compensation for it (other than from Seeking Alpha). I have no business relationship with any company whose stock is mentioned in this article.