Times are rocking for investors. With the S&P 500 up about 10% since the election, and the Dow Jones crossing the 20,500, the 20K milestone seems like old news. It is during times like this, that fair deals become more difficult to find. The euphoria of a rising market brings increased danger to investors. Even with the market setting records on a weekly basis, potential headwinds remain ahead in the form of side effects from President Trump's possible policies, and a hawkish Fed. To prepare for an inevitable downturn after a long bull market, investors should consider raising a partial cash position, and looking for quality companies trading at a discount to the market.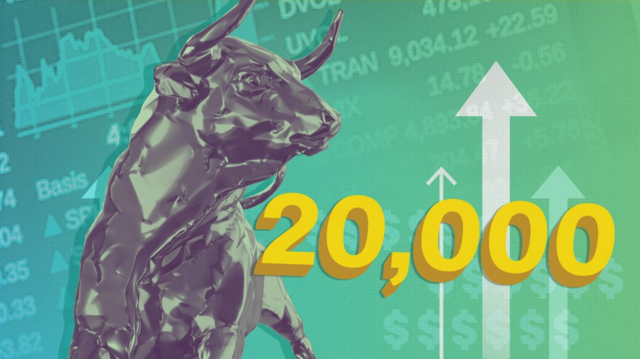 source: CNN Money
The symptoms of a bubble
Market valuations are above historical norms
The extended market run has pushed many stocks to near, or past week highs. The S&P 500 is up almost 10%, while the Dow Jones is up 12% over the past three months.

source: Google finance
This has pushed the total P/E of the S&P 500 to more than 26X earnings, while the historical average is between 15X-16X earnings. Even taking the last 25 years into account which included previous bubbles during the late 1990s, and 2008 - the average only rises to about 19X earnings. For discussion's sake, since I don't see the S&P 500 dropping 62% without a catastrophic scenario on par with the Great Depression taking form, let's use the 19X earnings mark as our base. This would result in the S&P 500 being 36% over-valued at today's valuations. Assuming historical returns of the market of 10% annually, it will take 3-4 years for the S&P 500 to burn off its premium, and return to a valuation within historical averages. This is an extremely risky environment for investors who buy into index funds that typically track the market. An event sparked correction, or a period of "flat" prices as earnings catch up to market levels, would cause P/E compression to eat away at returns from S&P 500 tracking investments over the next several years.
Investors are too comfortable in the market
The market can build momentum during continued trends - both positive, and negative. With the Dow Jones passing 20,000 - an easy to remember and round number, you may begin to hear more about the markets in your walk of life. Your relatives may begin talking about how they are putting more money into their retirement accounts because of "how well everything is doing". Perhaps that friend that never spoke about financial news, is all of a sudden interested in what is going on in the markets. When markets rise continuously, excitement begins to build. When excitement builds, emotion takes over and clouds decision making. Investors who were scorned by the last bear market have finally "had enough" of missing out on one of the best bull runs in history, and have jumped in to avoid missing out on further gains.
The VIX indicator is a number based on the prices of S&P 500 options to indicate volatility expected by investors in the future. A high number indicates that investors are expecting large swings in the markets, while a low number indicates an expectation of low volatility. It is often called a gauge of "investor fear".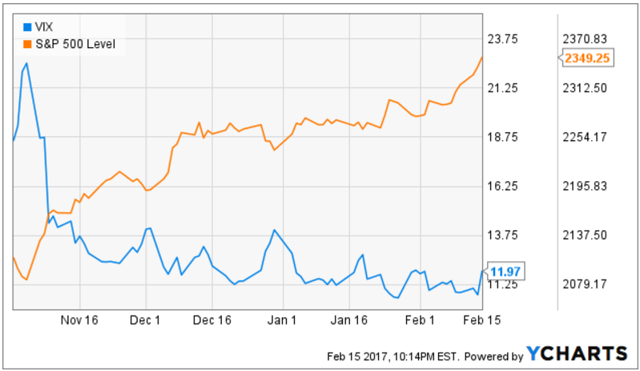 After the election on November 8th, the markets began to surge while the VIX plummeted as fears over the market subsided and optimism rose. This means that investors are essentially "betting" on the market continuing to rise higher. Historically, the VIX average is about 20 so the current figure in low double digits is a sign that investor sentiment is very bullish. The problem is that when everyone is expecting a certain outcome, a failure to produce that outcome could prove disastrous.
What investors are currently betting on
The tax rate for US corporations is 35% at the federal level, and state taxes push that as high as 39.2%. This is extremely high compared to other industrial countries around the world.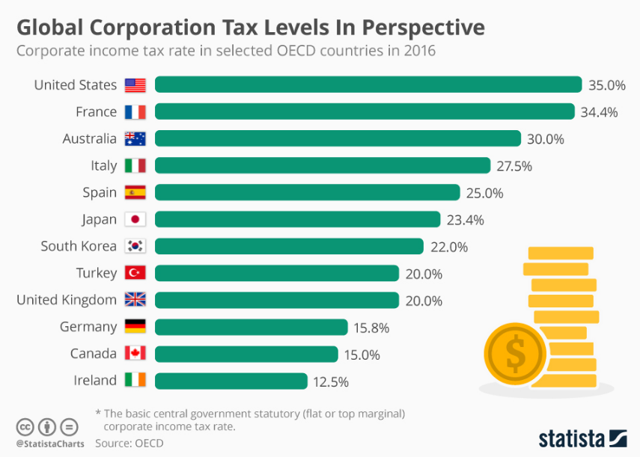 This huge competitive disadvantage put on US corporations has caused US based companies to leave the United States, or to hoard cash profits overseas. While many specifics of President Trump's plan have yet to be finalized, a fundamental point on the agenda will be to dramatically reduce the corporate tax rate from 35% to a lower rate, likely about 20%. This would not only increase the earnings of US corporations moving forward, but also give incentive to companies with overseas cash piles to repatriate, bringing that money back into the US. However, it is not that simple as other policies could overlap and provide possible economic headwinds.
Events looming that could threaten market momentum
Trump's push for US jobs
Donald Trump has made good on his campaign promise of effort to bring manufacturing jobs back to the United States. Between Trump's direct input on the Carrier deal, his executive order to continue controversial pipelines, and various companies deciding to invest in US assets - there is definitely activity on that front. However in doing so, Donald Trump has also thrown around some very eyebrow raising proposals in the process. Donald Trump has repeatedly suggested a tariff on goods made offshore and imported back to the US. A 20% tariff has been threatened by Trump on goods imported from Mexico, while a staggering 45% tariff on Chinese goods has been tossed around by Trump. In order for any of these tariffs to become permanent law, Donald Trump would require the support of congress. While it is difficult to speculate further than this because of the unpredictable nature of America's 45th president, a tariff of any kind would severely hamper consumers. Companies would surely pass down these tariffs to consumers in the form of price increases. Consumers having to pay an extra 20-45% on the majority of goods they purchase would be a crushing blow to consumer spending which drives our economy.
A hawkish Janet Yellen
Fed chair Janet Yellen spent Valentine's day performing a semi-annual testimony on monetary policy for the US Senate Banking Committee. After December in which interest rates were raised for only the second time in about a decade, Janet Yellen reiterated that the Fed is aiming for up to three rate hikes in 2017. This is in response to concerns that delaying further could force the Fed into "catch up mode" if the economy gets too hot and inflation spikes. Were interest rates to rise too rapidly, the economy would suffer blow back with too much strain being placed on the economy too soon. This could put the country at risk of recession.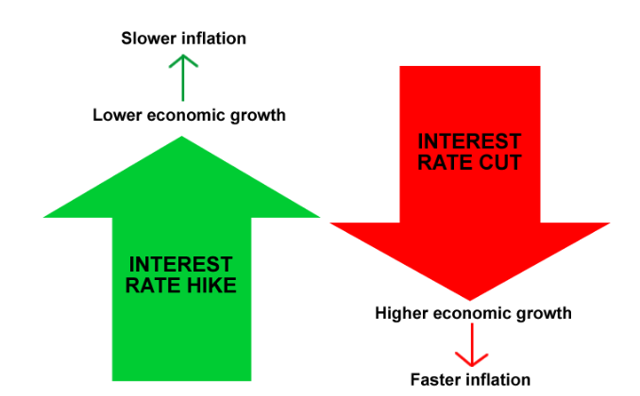 The increase in interest rates will also push the yields on bonds higher which will adversely effect the share prices of dividend paying stocks. Many traditional high yielding stocks are trading at valuations far above their respective historical norms after years of low interest rates having forced investors to "flee to yield". For the past several years, dividend paying stocks have been leaned on as a source of reliable income in a low interest rate environment.
How can investors prepare best prepare for inevitable tough times ahead?
Raise a partial cash position
It always makes sense to keep some "powder dry" in the event an upexpected bargain pops up. When the market begins to reach levels of mass euphoria and severe over valuaton, it is prudent to strengthen your cash holdings. After all, nobody can predict when the market music will actually stop (if you can, I would like to buy that crystal ball from you). The best thing you can do is be prepared. This is not to say investors should liquidate their holdings! It is always important to stay invested because those who make the most money do so by making sure they are around to ride the best of days, while waiting out the bad.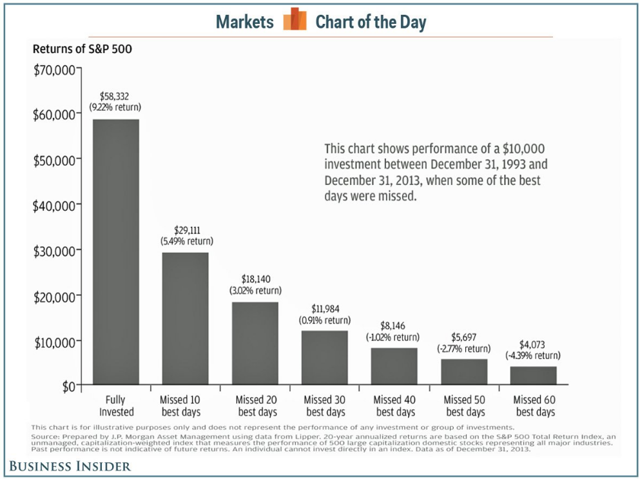 In an ideal world, a 20-30% cash position built up from "new" funds would give an investor enough flexibility to take advantage of any major down swing in the market while staying invested enough to continue growing wealth as earnings compound and drive the intrinsic value of your holdings higher. Balance is key. Investors who went completely into cash in 2008 out of fear proceeded to miss out on a bull run that has lasted years.
Search for high quality - fair price
Investors preferring to continue investing 100% of new funds can do so by taking advantage by buying high quality individual stocks trading at "fair" or better valuations. Even among an expensive market, there is always a fair deal somewhere. This is the biggest advantage an investor buying individual stocks has over someone buying into index funds. For example, Johnson & Johnson (NYSE: JNJ) is currently trading at 19X earnings. Johnson & Johnson is arguably one of the top 10 companies in the world given its sparking balance sheet, AAA credit rating, and consistent 8-11% earnings growth that has enabled it to pay annually increasing dividends to share holders for 54 years running. Yet, it trades at a significantly discounted valuation to the S&P 500 as a whole. These are the types of intelligent investing decisions that can enable an investor to remain invested while minimizing the damage done from a market correction.
Wrap up
It's easy to make money when the markets are green on an almost daily basis. It is also the best time to plan for the inevitable correction, as nothing goes up forever. An unexpected political headwind, and/or rising interest rates could lead to a correction down the road. By keeping a balanced approach to address both the ups and downs of the market, investors can separate themselves from the pack.
If you liked this article, please find my profile icon at the top of this page, and hit the "Follow" button. I enjoy engaging with those who comment, and am always looking for feedback that allows me to improve on the content I provide. As always, thanks for reading.
Disclosure: I am/we are long JNJ.
I wrote this article myself, and it expresses my own opinions. I am not receiving compensation for it (other than from Seeking Alpha). I have no business relationship with any company whose stock is mentioned in this article.