So, AIG: a loss-making 4Q'16 driven by commercial reserve expenses at a level much above expectations, and whose commercial cat losses were appreciably higher too. Retirement annuities went backwards. And results-fatigued analysts have been hit with a fog of reallocations: expenses, investment income and chunks of operating divisions. To add to our fun, Operating Income has been somewhat redefined. All this with the stock down 8.9% on the day.

Source: Google Finance
And yet, things are intact. I think. Let's not forget that reorganization is, to a large extent, what AIG is all about at this time. And while this is a messy quarter to process, the shorter-term targets are not that much affected and the long term is the same. When I first wrote on the group in December, AIG was looking for an operating, or core, ROE of 10%. In the wake of yesterday's numbers, this has been taken down to 9.5% for 2017, so the move in the stock has more than covered the "downgrade".
One important facet of this set of results is that they have not impacted the capital return profile at AIG, and $25 billion of capital remains slated for return by end 2018 (its market cap is currently $63 billion). We learned on the analyst call that a gain of $2.6 billion will be booked in 1Q'17 from the Berkshire Hathaway (BRK.A, BRK.B) reinsurance contract protecting the commercial division at AIG. This offsets the gross $5.6 billion reserve addition booked in 4Q, lowering the severity of the hit.
Is this the end of high commercial reserve charges? These have been a problem at AIG for a long time. The 4Q charge reflected, inter alia, a worse loss experience than estimated, claims from the financial crisis being settled, and severity developments in US commercial lines. If the company can now emerge with lower commercial reserve expenses, then the market will slowly gain confidence that 4Q was essentially a catch-up/clean-up exercise and it will be seen as a watershed. This really is part of the strategic step the company is making away in its commercial business away from property towards financial and liability insurance.
And there's value here. Post-DTA capital remains the same, at around $70 billion. Even at the reduced 9.5% target for 2017 against a 9% cost of equity, we have something attractive: (9.5-3)/(9-3)= 1.08. And 1.08*70 = $75 billion. This suggests 20% upside before capital distribution.
It's important to note that many of this company's 2016 goals were realized: annual run rate savings in 2016 were $1.3 billion, and planned divestitures went ahead, netting $10 billion in liquidity. The Consumer division is in good shape, and 4Q was generally better than expected there. Commercial Insurance is really being rebuilt at AIG. The company points to its reduction of U.S. Casualty by 60% since 2011 (it is now 20% of the Commercial portfolio). This gives optimism to bruised investors that this management team will get there long term. Core Book value per share grew 7%. This is respectable. As Chubb (NYSE:CB) CEO Evan Greenberg always says, BVS growth is how investors should think of a "true" growth in a risk business, rather than the top line.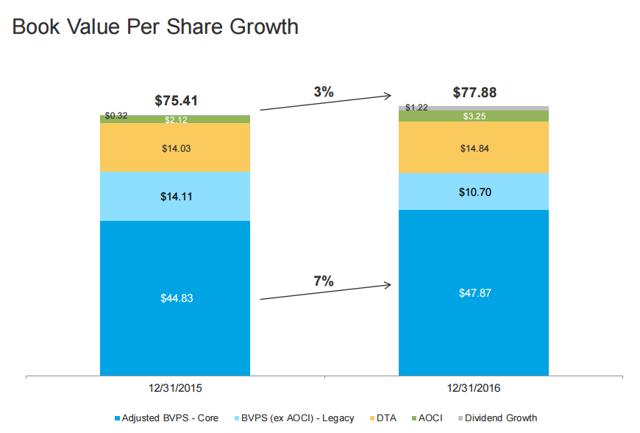 Source: Company data
Conclusion
AIG is a chunky position in the FIG Ideas US Financials Portfolio, at 5% when initiated (not so after yesterday's hit). I am taking it slow here, but will start buying on further weakness. I am not certain the company has broken the back of its Commercial Insurance issues, but I think this will happen at some point.
Disclosure: I am/we are long AIG.
I wrote this article myself, and it expresses my own opinions. I am not receiving compensation for it (other than from Seeking Alpha). I have no business relationship with any company whose stock is mentioned in this article.