Whether or not President Trump will manage to get his travel ban pushed through we don't know. But just the talk of it is making the United States appear to be unwelcoming to foreign visitors. Furthermore, with the U.S. dollar looking set to strengthen in 2017, the United States will be an expensive place for tourists to visit. One company that could struggle with this is Tiffany & Co. (NYSE:TIF). So with its shares close to a 52-week high, is now the time to take profit?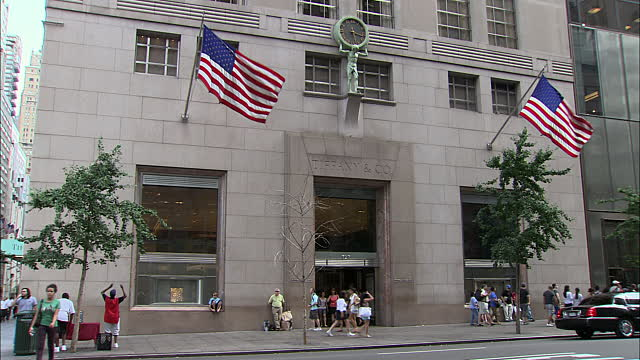 Although President Trump's travel ban is yet to be rolled out in the U.S., tourism in America has definitely felt the effects as if it were in place. Recent data released by the travel app Hopper shows that search and bookings for travel destinations in the U.S. from other countries around the world is down 17 per cent. This shows that generally travellers are keeping their distance from the United States for now. The last time U.S. tourism declined this much was in the wake of 9-11 and the war in Iraq.
As well as this the U.S. dollar looks set to get stronger despite President Trump's best efforts to keep it low for export and manufacturing benefits. Unfortunately, a stronger U.S. dollar is another deterrent for tourists, reducing their purchasing power and making accommodation, food, and retail items that little bit more expensive. Janet Yellen's comment about the economy being strong enough for rate hikes sooner rather than later, has also got U.S. dollar bulls excited.
Tourism in the U.S. is worth a fair bit to the country, $246 billion to be exact. When compared to other industries such as the auto industry ($152 billion), agriculture ($137 billion) and petroleum products ($97 billion), you can see how a 17 per cent decline can cause real damage to some businesses.
One such business is Tiffany & Co. It relies heavily on international visitors to its Fifth Avenue store. We fear that a potential drop in tourism after the travel ban announcement and a high U.S. dollar could result in a decline in its sales.
In the last quarter Tiffany posted its first growth in sales in a whopping eight quarters. Unfortunately, this looks unlikely to be the case in the current quarter following its weak performance during the holiday season.
The iconic Fifth Avenue store is Tiffany's flagship store and contributes approximately 10 per cent of its overall sales according to Jefferies. In November and December customer traffic fell 14 per cent on the prior corresponding period. This has been blamed on the store's proximity to Trump Tower. The Trump Tower building has transformed the Avenue into a boarded-up protest hot spot which has hindered foot traffic. Yet another blow to its business.
Further to a drop in tourism, domestic sales are also down for the jeweller due to its failure to appeal to the millennial demographic. Tiffany earlier this month released its Vaquera range, which was designed by four twenty year olds, in an effort to attract a younger consumer. The new collection comes after Tiffany replaced their design director Francesca Amfitheat with Reed Krakoff.
If current trends have shown us anything, it's that the millenial demographic is more interested in health and wellness than it is in diamonds. Time will tell whether the Vaquera range will be a success and win the hearts of millenials, but we can't help but feel that it may have been more beneficial to target older demographics which would be more inclined to hand over the cash for something that sparkles.
Whilst Tiffany is by no means a bad company, we just don't believe the time is right for an investment. Its shares are changing hands at 23x trailing earnings at present, which is a reasonable premium over the industry and market average. With its shares close to their 52-week high and growth likely to be challenged for the next few quarters, we believe investors would be better off taking profit and looking for opportunities elsewhere in the market.
Disclosure: I/we have no positions in any stocks mentioned, and no plans to initiate any positions within the next 72 hours.
I wrote this article myself, and it expresses my own opinions. I am not receiving compensation for it (other than from Seeking Alpha). I have no business relationship with any company whose stock is mentioned in this article.