The Bank of Montreal, also known as BMO, has reached a significant milestone this year celebrating its 200-year anniversary. It's the oldest bank in Canada after being established in 1817.
The bank was established by nine merchants and financiers executing on a vision dating back to 1790s. Impressive, isn't it? Read about the history of BMO to learn more about the evolution of banking.
BMO Business Summary
The BMO Financial Group (NYSE:BMO) has evolved from just banking to offering insurance and wealth management. The company employs more than 45,000 employees providing a broad range of personal and commercial banking, wealth management and investment banking products and services to more than 12 million customers. BMO is the 8th largest bank in North America as measured by assets.
Below are BMO's 5 strategic priorities. Based on what I have seen from the bank, even though I am not a customer, they appear to be delivering on those strategies and making headway.
Achieve industry-leading customer loyalty by delivering on our brand promise

Enhance productivity to drive performance and shareholder value

Accelerate deployment of digital technology to transform our business

Leverage our consolidated North American platform and expand strategically in select global markets to deliver growth

Ensure our strength in risk management underpins everything we do for our customers
By the numbers,
Stock: (TSE:BMO, NYSE: BMO)
Market Cap: $65.73B
P/E: 14.56
Sector P/E: Dividend Snapshot
Dividend Yield: 3.49%
Sector Dividend Yield: Dividend Snapshot
Dividend Payout Ratio: 50.87%
Chowder Score: Dividend Snapshot
BMO Revenue
BMO is seeing growth through 3 of its 4 segments. Non-recurring expenses in the BMO Wealth Management segment was cited as the reason.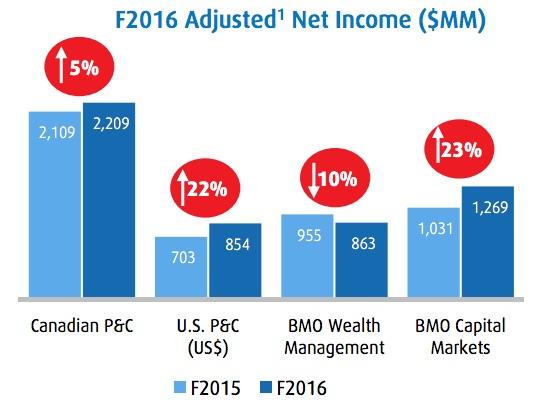 Source: Q4 2016 Analyst Presentation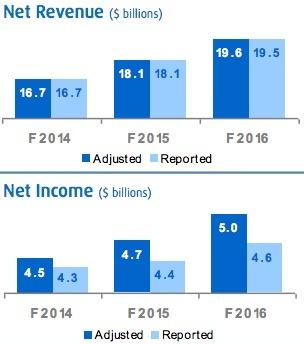 Source: Q4 2016 Corporate Presentation
We can see growth in both the top and bottom line results over the past 3 years showing healthy growth.
The top line revenue grew by 8.38% in FY2015 followed by 8.29% in FY2016 while the bottom line net income saw an FY2015 increase of 4.44% and a 6.38% growth for FY2016. The growth is currently above the dividend growth and being funded out of the profits the company makes, which is what we want to see.
On the Basel III requirements, BMO is well capitalized with a Common Equity Tier 1 (CET1) Ratio of 10.1%. By 2019, banks are expected to have a minimum of 4.50% rate. Considering the timeline, BMO is well positioned to match and maintain the minimum needed.
Canadian Mortgage Loan Exposure
BMO has a mortgage portfolio worth $103.6B with 56% of the portfolio insured. The Loan-to-Value (LTV) ratio of the uninsured portion of the portfolio is at 54%, while the condo mortgage portfolio is $14.7B with 49% insured. The mortgage losses have been minimal over the past 4 quarters, and 70% of the portfolio has a maturity of less or equal to 25 years.
Below is the mortgage exposure by provinces. Clearly, BMO does well in Ontario and BC, which also have some of the riskiest markets and growth.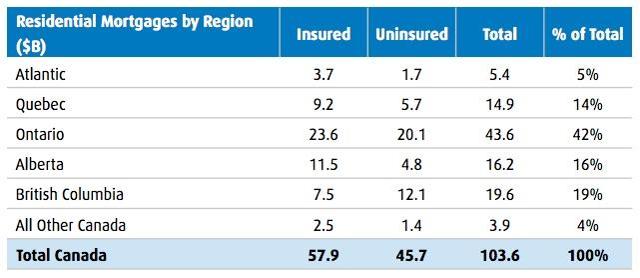 BMO Dividend Summary
BMO is now a Canadian Dividend Aristocrats with 5 consecutive years of dividend increases. Not that impressive, but it's a start and the minimum for the Canadian list. BMO is boasting an 8% CAGR dividend growth over the past 15 years, but it's much lower when you look at the 10, 5 and 3 years. I would be more comfortable assuming a 4% to 5% CAGR dividend growth.

Source: Q4 2016 Fact Sheet
3-year average of 4.74%
5-year average of 2.96%
10-year average of 5.76%
I like to look at the growth of dividends against the EPS as it shows if the earnings from the company are keeping up with the dividends. If it's not, then it's a warning sign to look further into that. BMO is right in line with the earnings after they got back in control from the financial crisis. It's progress, but if their earnings don't keep up, the payout ratio may have to go up to continue with their dividend growth.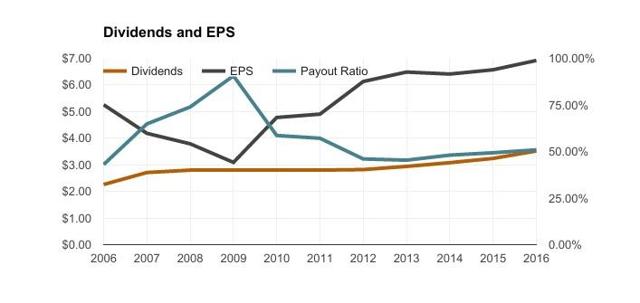 Source: Financial Reports and Website
The numbers point to BMO recovering and getting to the sweet spot compared with the other big banks. Look at the dividend payout ratio averages below to see how long it took to be around 50% like the other Canadian banks. CIBC (NYSE:CM) only had a couple of odd years with 2008 and 2009 while BMO struggled between 2007 and 2012.
3-year average of 47.57%
5-year average of 49.16%
10-year average of 57.67%
Investment Philosophy #1: Business Quality
BMO is the 4th largest Canadian bank and benefits from a strong set of mortgage rules and mortgage insurance from the Canada Mortgage and Housing Corporation (CMHC).
While 69% of their business is based on the Canadian banking oligopoly, 31% of the business can achieve higher growth. The investment in the US provides an initial foothold that can lead to growth, unlike CIBC which was mostly in Canada.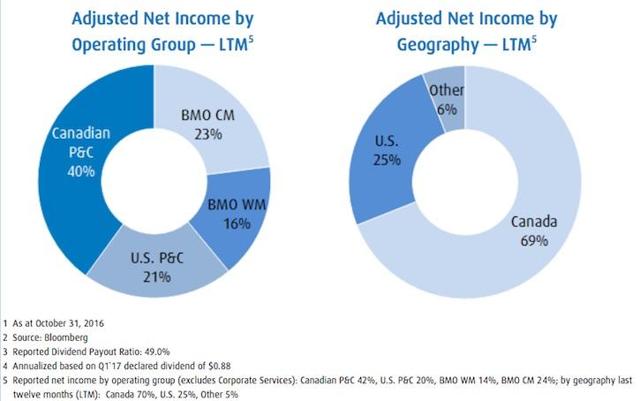 Source: Q4 2016 Corporate Presentation
Here is what a strong business can do for your money. If you had invested $1,000 in BMO 10 years ago, it would be worth $4,096 for a 15.64% compound annual growth rate (CAGR).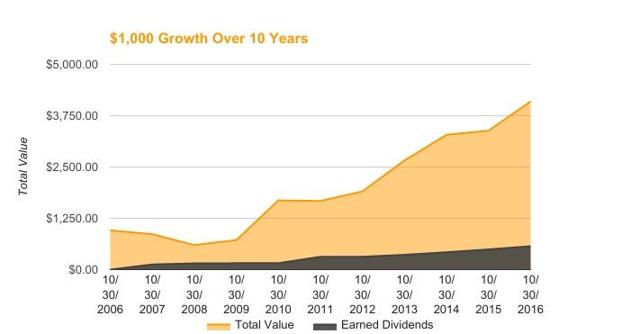 Source: Dividends from Financial Reports and stock price from Google Finance
Investing Opportunity Score: 54%
Based on my Opportunity Score formula, BMO has a score of 54% (the higher the better) for being an investing opportunity. Above 60% is a good range to pay attention to an opportunity. Anything around 80% will have a short window of opportunity unless the stock got beaten down.
When you look at their strategic goals, they seem to be executing well on that front from what I can see, but it's not growing their business at a faster rate. It seems like they just got back to where they were at before the financial crisis while the competition is increasing (think Toronto-Dominion (NYSE:TD) and Royal Bank of Canada (NYSE:RY)). It might be in the details… I know that I look at the benefits of holding multiple products at the same institution before making the jump. Those are subtle details, but it can have an impact on consumer decisions. For example, see the multiple products rebate RBC offers. Such incentives that can help a consumer make their decision. From a consumer banking perspective, if you can get them to open a bank account, you can have them get a credit card, a mortgage, make investments and so on. It's almost the springboard to earning more from a consumer.
Disclosure: At the time of writing, I have no position in BMO but I hold RY, TD and NA. See my Stock Portfolio for my current holdings.