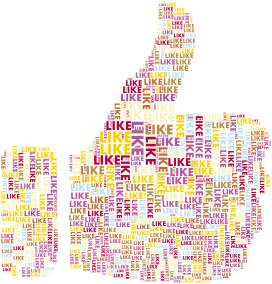 The Sprott BUZZ Social Media Insights ETF (NYSEARCA:BUZ) is the first fund to attempt to use social media analytics to invest in stocks. The theory is that natural language processing and artificial intelligence can lead to deep analysis of finance related discussion on social media platforms. The big question is " Can sentiment be measured in a predictive manner?"
Sprott believes that it can, and launched BUZ in April 2016, with the expectation of providing investors with superior returns. The problem is that after almost one year live, BUZ has underperformed a passive index of large cap stocks, the SPDR S&P 500 Trust ETF (NYSEARCA:SPY).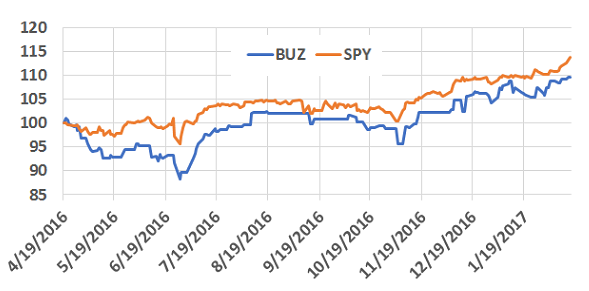 Patience is warranted however, as 10 months is not a lot of time for an ETF to prove its worth. While waiting for this alpha-generating strategy to show some results, why not take advantage of this product for individual stock selections? The ETF is reconstituted monthly, and at the very least, one can get a list of the "hot stocks" added to the fund each month. These stocks may not produce a profit, but they are hot, you can be sure that the price will move one way or the other. With a bit of extra work, investors may be able to separate the potential winners from the dogs.
The "In Crowd"
The February additions to BUZ are listed in the table below along with the best reason I could find as to why there is bullish sentiment.
The ETF was reconstituted on February 7. In some cases, there doesn't seem to be a lot going on with the stock, at least on Seeking Alpha. The table also provides the latest sentiment data from StockTwits. Note that stocktwits is only one of the many social media sources that BUZ uses to generate its index.
Eliminate the Dubious Stocks
One pattern that I found in the list of stocks is that when the StockTwits bullish sentiment is 80% or less, I often had troubles pinpointing the reason for inclusion in BUZ. My suspicion is that perhaps the Sprott AI algorithm is not as good as one would expect and is possibly making the wrong call.
Note: StockTwits identifies bullish and bearish positions, but some other social media sites do not. This is where AI interpretation comes in.
Eliminate the Losers
Social climbers don't want to be seen with losers, and you don't want to be caught holding stocks with poor past performance. Buying companies in the hope they will turn around is a big gamble and usually doesn't pan out. It is not worth the risk. Therefore, the next step is to eliminate stocks with negative earnings, and stocks with negative sales growth.
| | | | |
| --- | --- | --- | --- |
| Company | ROE | 3Y Sales Gr. | Poor Perf. |
| General Motors Co. | 22.52% | 2.30% | |
| Illumina Inc. | 22.47% | 19.06% | |
| Cisco Systems Inc. | 17.23% | 0.44% | |
| Eli Lilly & Co. | 15.87% | -4.06% | X |
| Abbott Laboratories | 4.74% | 2.32% | |
| Newmont Mining Corp. | -0.67% | -8.12% | X |
| Ionis Pharmaceuticals Inc. | -95.50% | 40.61% | X |
| Chesapeake Energy Corp | -684.51% | -1.66% | X |
(Data source: Portfolio123)
And Then There Were Four
General Motors
GM has a lot going for it, including the stock chart. The stock is outperforming the S&P 500 and is coming off a double-bottom. There is a growing Dividend Yield Of 4.2% and monster cash flow. Then there is talk of selling off its European business.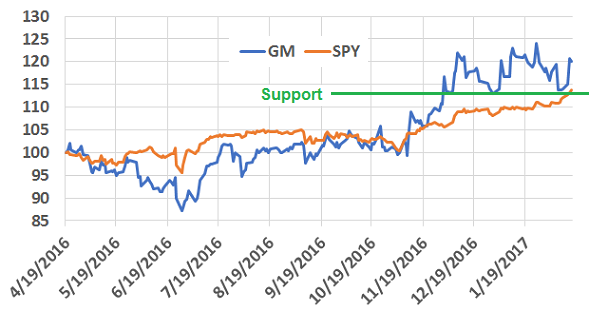 I like GM and believe that it would make a good investment.
Illumina
ILMN is a company that should be avoided. When you see a 25% one-day drop in share price you have to believe there is more coming, no matter how bright the future appears to be.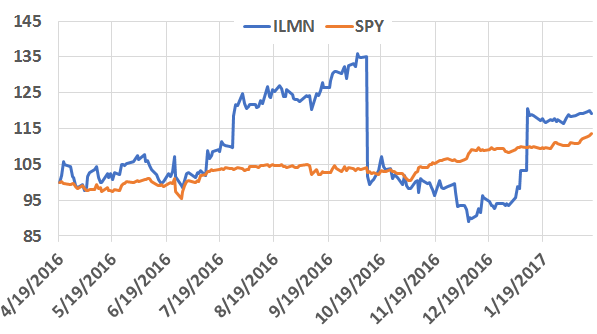 Cisco Systems
CSCO is a steady performer with a good dividend yield of 3.22%. The stock price is in breakout mode but may pull back to the support level of $115. The company has lots of cash and appears to be a low-risk investment. It is a solid low risk investment.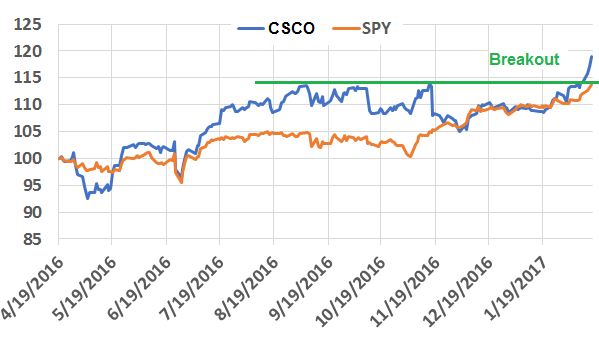 Abbott Laboratories
ABT is certainly a dividend growth story. But the stock chart doesn't appeal to me. The stock price has been stuttering since mid-2015. Avoid this stock for now unless you are specifically looking for a track record in dividends.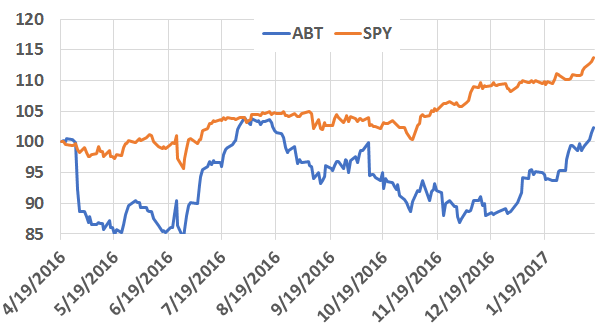 Wrap-up
GM and CSCO are the stocks I would choose to buy from the list of stocks being added to the BUZ ETF.
Disclosure: I/we have no positions in any stocks mentioned, and no plans to initiate any positions within the next 72 hours.
I wrote this article myself, and it expresses my own opinions. I am not receiving compensation for it (other than from Seeking Alpha). I have no business relationship with any company whose stock is mentioned in this article.