By Raul de Frutos
The 3-Month LME aluminum price soars. Source: Fastmarkets.com.
Aluminum prices hit $1,900 per metric ton this week. Aluminum has surged 13% so far this year.
China Proposes Supply Cuts to Fight Pollution
We already predicted at the beginning of January that China's supply would be the most important price driver to watch this year.
In February, a Chinese government document proposed that about a third of aluminum capacity in the provinces of Shandong, Henan, Hebei and Shanxi be shut down over the winter months. If implemented, they would be some of the most radical steps so far to tackle air quality in the country of 1 billion's most polluted cities.
China looks like it is taking air pollution seriously. Given that burning coal is the largest contributor to air pollution in China, industrial metals supply could shrink this year, particularly steel and aluminum. Environmental closures are looking increasingly likely in China this year.
Questions remain over whether the government will push through with large output cuts that will most definitely result in layoffs. It's clear that China doesn't want to reduce jobs, however, the country doesn't really have many alternatives if it wants to combat air pollution.
Chinese citizens have increasingly been protesting about pollution issues. Earlier this week, more than 200 people chanted and held banners outside the Daqing city government headquarters to protest against a planned aluminum plant over pollution fears. Even though the plant would produce more than 30,000 jobs, locals are prioritizing production cuts and pollution reduction over jobs.
Midwest Premiums Hit $0.1/pound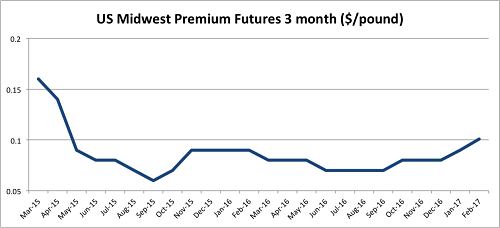 Midwest premiums rise to $0.1/pound. Source: MetalMiner IndX.
Midwest premiums continued to climb in February, hitting an almost three-year high. As we predicted last month, in addition to higher aluminum prices due to supply cuts, we could see higher aluminum premiums this year due to ongoing trade tensions, just as we saw the spread between domestic and international steel prices widen.
The U.S. has also experienced a sharp contraction in aluminum smelting capacity over the past year. This has created a case of supply shortfall within the U.S., which now depends on aluminum imports to satisfy its rising domestic demand.
The fight against imports is getting more serious and this is something that could support domestic aluminum premiums. Recently, the U.S. launched a formal complaint against the Chinese government with the World Trade Organization over subsidies it says Beijing provides to the country's vast aluminum industry.
In addition, U.S. customs officials seized $25 million worth of aluminum linked to a Chinese billionaire accused of stockpiling the metal across the world. The move is the most potent action yet by federal authorities probing whether U.S. companies connected to Chinese magnate Liu Zhongtian illegally avoided nearly 400% tariffs by routing the metal through other countries.
The same combination of domestic environmental and foreign trade imperatives already forced China to get serious about steel capacity closures. It is possible there could be a similar outcome in aluminum.