Under Armour's (NYSE:UAA) (NYSE:UA) stock price has been under pressure well over a year now. This was partly due to insanely high valuations combined with a slowdown of revenue growth and a decline in profitability. Since reaching a top of well over $50 per share back in 2015, Under Armour's share price has lost more than 60% of its value and currently trades around $20 dollars per share. The latest decline from $29 to $21 was the result from the fourth quarter earnings and revenue miss along with a disappointing guidance for FY 2017.
It looks like investors think Under Armour's growth will keep declining further, but a significant increase in international sales would argue otherwise. Management sees this and has declared to capitalize on this opportunity by increasing investment and CAPEX spending. It instills in me a belief, grounded in reason, that the growth is far from over.
Declining company performance
Although the miss on its Q4 results was not that big ($0.23 EPS vs $0.25 expected + revenue miss of $100 mln), the expectations were already very low due to Under Armour's declining growth and increasing pessimism among investors. Its total revenue grew only 12% yoy in the fourth quarter, compared to a yoy growth rate of 30.7% just a year earlier. For the whole FY the company saw revenue grow by 22% which might seem amazing if you do not know Under Armour's history. To get a better picture of historical growth rates take a look at the picture below: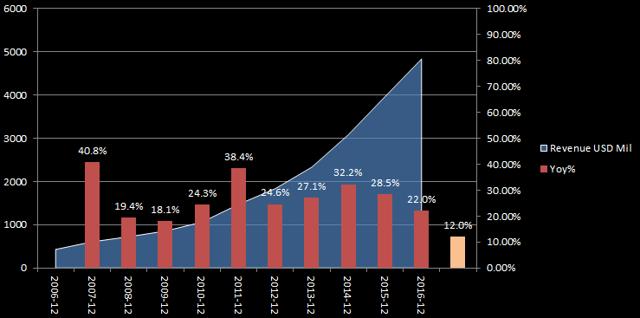 Source: Morningstar and Under Armour
As you can see the annual growth rate of revenue has been coming down since 2014 with the current growth rate being the lowest since 2009. Besides just having realized the lowest growth rate in years, management actually guided for an even further decline of this growth rate to just 12% in FY 2017. Combine this with a high valuation (P/E 49) and declining margins: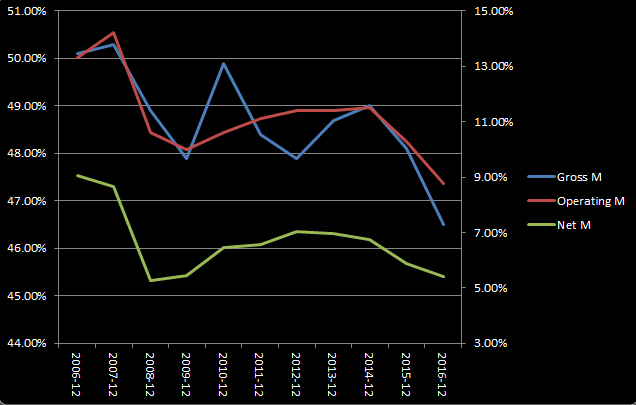 Source: Morningstar and Under Armour
And you will get why this stock has tanked as much as it has. A big (expected) growth decline with increasing costs, resulting in lowered margins is cause for concern for any investor. But the real question of course is: "Will this decline continue?"
It is far from over
The trend of sales growth as seen in the first chart seems to imply that the market is slowly saturating and that the growth opportunities for Under Armour are starting to disappear. But I honestly believe that this would be far from the truth. And so does management, which has been very vocal in stating that its current goal is to grow Under Armour to a $10 bln business.
This would be more than double the total revenue that was realized in the most recent FY, indicating that there are more than enough growth opportunities left for management to capitalize on.
North America
The biggest source of revenue is North America, where Under Armour scored 85% of the total revenue in the most recent FY. This came on the back of a 16% revenue growth yoy in this region. The whole North American retail industry has had a rough year with bankruptcies, channel dislocation and destocking. Keeping this in mind, and knowing how much other retailers have struggled during this time, a growth rate of 16% is not as bad as it might seem. So while the whole industry is currently having a hard time, these industry conditions will not stay the same forever.
International growth opportunities
The most part of Under Armour's future growth will come from abroad. Its international business is currently only good for about 15% of total revenue, but the growth rates here are insane. Just last FY Under Armour saw revenue from outside of North America grow by a whopping 63% after growing 69% the year before. While already having an established brand in North America, the company is still in its early days internationally. And it is currently heavily investing in making sure it lays the foundation for future profitability here. Of course it costs money to lay the infrastructure for a $10 bln business. Which is why this was part of the reason SG&A expenses grew 9% yoy and CAPEX over 30% yoy. Management acknowledges that its growth plan has a negative effect on its income, but adds that it believes that it has to do so in order to drive further strong revenue growth.
I share this belief, knowing that the pressure on margin and income are merely short term negative effects of a growth plan.
Outlook
Since management gave an outlook of 12% yoy growth of its revenue it does not believe the growth rates of 16% in North America and 63% Internationally will be repeated. Again North America will be to blame for this lower number considering the company is still in its early growth phases Internationally. But it is highly likely that the 12% guidance given by management is a conservative one in order to lower expectations for once.
I expect the North American growth rate to pick up when industry conditions improve, which might not happen for another year. But when this happens, this will drive growth rates up again along with the International growth rate that makes up a bigger part of total revenue every year.
Debt
Another concern investors have when it comes to Under Armour is the growth-rate of their debt. This has been growing at a faster rate than their revenue and stockholders' equity over the recent years.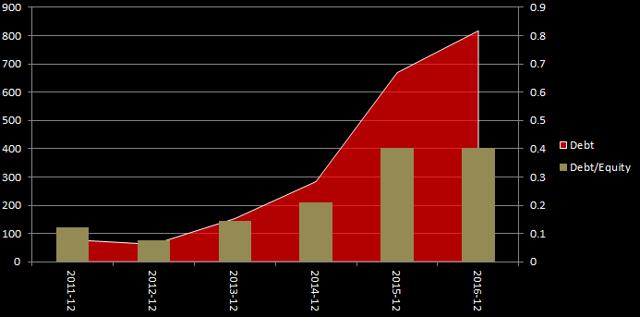 Source: Morningstar and Under Armour
So as made clear earlier Under Armour is currently in its phase where it focuses heavily in investing in growth opportunities. And since it is still in the midst of large expansion this debt load will most likely be growing even further. This could turn into a risk only if management gets too excited in its expansions, which seems unlikely. Although a larger debt load will without a doubt cause higher costs (interest payments) which would put additional pressure on income.
Concluding with valuation
Under Armour's share price has fallen significantly due to declining growth. Usually I look at stocks like these because there is a significant safety margin after a fall like that. But with Under Armour there is still a very high valuation when we look at the P/E ratio. Despite falling 60% the stock currently has a P/E ratio of 49 compared to an industry average of 19.2. Its P/B stands at 4.4 vs an industry average of 4.4 with P/S at 1.8 vs an average of 1.3.
So while I do believe that management is taking the right steps to drive further revenue growth and lay the foundation of future earnings growth, there is not much of a safety margin present. Therefore an investment in this stock would be a highly speculative one considering there is still a declining growth rate expected for the upcoming fiscal year.
This could be reason for short term uncertainty and therefore risk, but it is highly likely that the 12% guidance given by management is a conservative one in order to lower expectations for once. While management continues to lay the foundations for further growth in the next fiscal year, it would be wise to buy this stock on dips to profit from the long term growth story, which is still very much in tact.
Disclosure: I/we have no positions in any stocks mentioned, and no plans to initiate any positions within the next 72 hours.
I wrote this article myself, and it expresses my own opinions. I am not receiving compensation for it (other than from Seeking Alpha). I have no business relationship with any company whose stock is mentioned in this article.