American International Group (NYSE:AIG) reported Q4 2016 results that were not well-received by the market, which is shown by the fact that the company's stock price fell by almost double-digits the day after the earnings were released.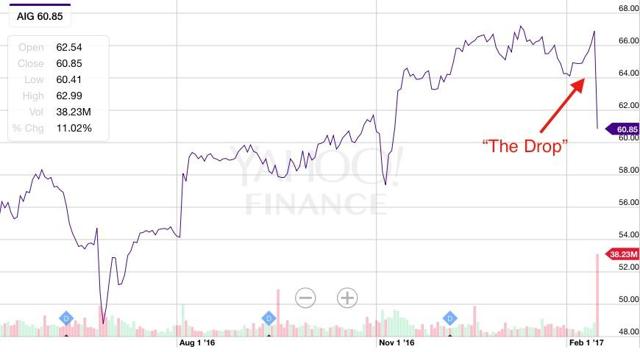 (Source: Yahoo! Finance)
The company missed on both the top- and bottom-lines so there is no denying that AIG reported "poor" Q4 2016 consolidated results, but, in my opinion, this kitchen sink type of a quarter was exactly what was needed. Let me expand on this.
The Poor Q4 2016 Results, Worst Than Expected
The company reported an adjusted loss per share of $(2.72) for the last quarter of 2016, which was largely a result of one-time (laughable, I know) adjustments that were taken to strengthen reserves in order for AIG to "radically reduce reserve risk and improve earnings sustainability" (words of Peter Hancock, President & CEO of AIG).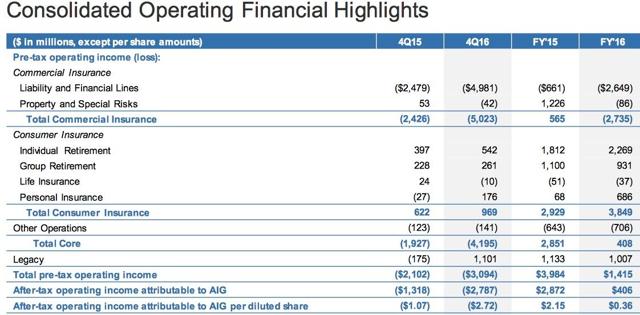 (Source: Q4 2016 Earnings Presentation)
Most people in the financial community were already well-aware of the fact that AIG would be taking a reserve hit due to the Berkshire (NYSE:BRK.A) (NYSE:BRK.B) deal that was announced in late January 2016, but the market was caught off guard because the quarterly charge was much larger than anticipated. AIG took a $5.6b prior-year reserve charge in Q4 2016, and I should note that this was after the company took similar type charges in Q3 2016, although the prior-period charges were not as material as the current quarter.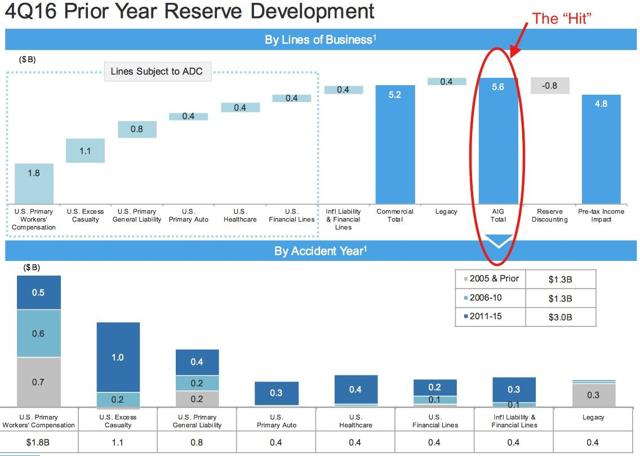 (Source: Q4 2016 Earnings Presentation)
An almost $6b prior-period reserve adjustment is a tough pill to swallow, especially after the company already "strengthen" its reserves in recent quarters, but I believe that this is something that had to be done if AIG ever wanted to right the ship. The company's reserving process has been called into question many times over the years and this is exactly why the company's stock consistently traded at a steep discount to its book value.
The substantial Q4 2016 charges will not put all of the under-reserving concerns to bed but it is a big step in the right direction, in my opinion. On the other hand, this quarter could have a significant impact on what happens to AIG in 2017 so the company is not out of the woods just yet.
Looking Forward, There Are A Lot Of Question Marks
Management provided the following slide to detail the company's priorities for the current year.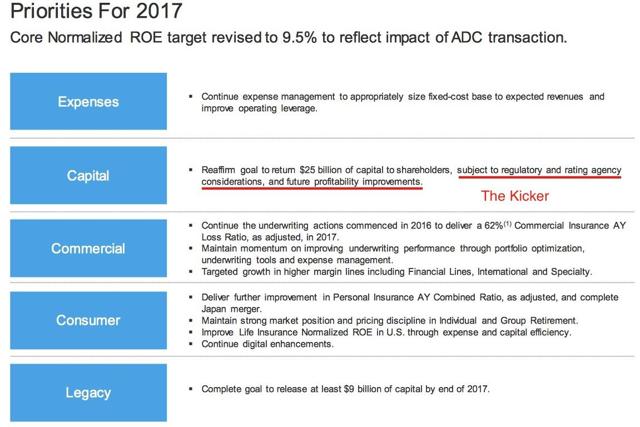 (Source: Q4 2016 Earnings Presentation)
Management reaffirmed the capital return plans and financial targets, but this all depends on the fall out from the poor Q4 2016 results. AIG may be forced to tone down the buybacks and future dividend increases if the rating agencies and regulators pressure management to maintain more capital, and this would be a hit to my long-term investment thesis. Therefore, investors should not put much faith in the 2017 targets and capital return plans until further details are available. AIG is officially on a short leash, at least in my book.
Bottom Line
During Q4 2016, AIG made great progress in reducing expenses and improving the operating results for some of the company's businesses, but the reserve charges are getting all of the attention, and rightfully so. I plan to stay the course with AIG, even after the hard-to-digest Q4 2016 results, because I believe that the company was already trading with a margin of safety (yes, the margin is a lot thinner today).
Management will need to show that the reserves are now appropriate and that they are able to properly manage this global insurer or many shareholders, including myself, will end up running for the hills. Plus, I would not be surprised to hear more from Mr. Carl Icahn and company in the quarters ahead because the company's management team has failed to impress for some time now.
Full Disclosure: I hold a AIG position in my R.I.P. portfolio and I do not plan to sell my shares or warrants based on a review of the Q4 2016 results.
If you found this article to be informative and would like to hear more about this company, or any other company that I analyze, please consider hitting the "Follow" button above.
Disclaimer: This article is not a recommendation to buy or sell any stock mentioned. These are only my personal opinions. Every investor must do his/her own due diligence before making any investment decision.
Disclosure: I am/we are long AIG.
I wrote this article myself, and it expresses my own opinions. I am not receiving compensation for it (other than from Seeking Alpha). I have no business relationship with any company whose stock is mentioned in this article.