Background
A few years ago, my father passed away unexpectedly and prematurely. I received a moderate inheritance once the probate had been concluded.
Since I was in my mid-twenties at the time, a portion of the money immediately found its way to flights, a killer sound system and some very nice craft beer. After that splurge, I decided to investigate how I could maintain or potentially grow what was left.
I attended an investment course, which was primarily geared to day trading. I didn't really take to the rapid-fire nature of that approach but instead found a home in the methodologies of Ben Graham, Warren Buffett, Phil Fisher and Peter Lynch.
After reading a host of books, articles and chapters about value investing for the long term, something clicked inside me. I decided to put a small portfolio together using the general principles of Graham and Buffett.
Goals
"An investment operation is one which, upon thorough analysis promises safety of principal and an adequate return. Operations not meeting those requirements are speculative." Ben Graham, The Intelligent Investor
My goal for the portfolio was to gain a reasonable return after holding the stocks for a long period of time. A decent dividend yield would pay me while I waited and could be used for reinvestment. I was drawn to US companies because of the unrivaled size of the marketplace and the volume of stock information available.
This defensive portfolio would enable me to learn about securities and Mr. Market without disrupting my sleep. To this end, I only invested a small amount ($4,000) evenly spread between the ten selected stocks.
Methodology
For this first foray into investing, I wanted strong companies, which had maneuvered their way through cycles of boom and bust. Value and fundamentals were a priority. I avoided small caps, growth stocks, turnarounds and IPOs as they were too risky for my purposes.
I began by studying each of the 10 sectors (before REITS joined the list). I wanted firms with a number of attributes including:
Large market cap
P/E level of 15 or lower
Consistent and strong cash flows
Low or manageable debt levels
At least 10 years of paid dividends
A variety of products or services for sale
Strong position in respective industry
Earnings growth
Reasonable dividend yield
The Selections
After a long but enjoyable slog through Morningstar, Google Finance and various SEC filings, I found my 10 survivors. These were the initial purchases for my portfolio in late 2015:

If I had known then what I know now, I'd have bought a lot more Corning Inc. (NYSE:GLW), Johnson & Johnson (NYSE:JNJ) and Norfolk Southern Corporation (NYSE:NSC)!
Dow Chemical (DOW), Archer Daniels Midland (NYSE:ADM), Wells Fargo (NYSE:WFC), Johnson & Johnson and Corning were pretty easy choices. They each shared a heritage, durability and market position that I admired.
Railroads are not always fashionable but Norfolk Southern was a strong firm that met all my requirements. It was cheap at the time at just over $80.
In the telecommunications space, I preferred the story and balance sheet of Telus (NYSE:TU) to its North American counterparts.
Public Service Enterprise Group (NYSE:PEG) is a utility that holds a dominant position in the state of New Jersey while Magna International (NYSE:MGA) is one of the world's largest manufacturers of auto parts. Before purchasing the latter, I thought 'why take the risk with one car company when you can invest in a firm that supplies them all?'
I wasn't comfortable putting money in a fossil fuel provider so finding an energy company to suit my needs was difficult. Woodward (NASDAQ:WWD) provides components for aerospace and energy markets. It's a good business but the paltry dividend yield of less than 1% bothered me after a while. I sold my shares in September 2016 for a 20% return.
Growing The Portfolio
In 2016, I increased the amount of shares held in most of the original companies and added a number of new holdings. While searching for value, strong fundamentals and a decent yield, I also branched out into firms with dividend growth potential.
I purchased shares in Packaging Corporation of America (NYSE:PKG), Western Digital (NYSE:WDC), Amgen (NASDAQ:AMGN), Robert Half International (NYSE:RHI), Travelers Companies (NYSE:TRV) and AT&T (NYSE:T). PKG, WDC and T had good yields when I bought them while I was enthused with the low payout ratios of AMGN, RHI and TRV.
After reading a bucketload of Brad Thomas's articles amongst other things, I dipped my toe into the REIT sector. I looked for diversified trusts that boasted good yields and reasonable payout ratios (in most cases).
My REIT portfolio now consists of Chatham Lodging Trust (NYSE:CLDT), Easterly Government Properties (NYSE:DEA), Hannon Armstrong Sustainable Infrastructure (NYSE:HASI), Independence Realty Trust (NYSEMKT:IRT), Omega Healthcare Investors (NYSE:OHI) and Stag Industrial (NYSE:STAG). The overall return on those hasn't been optimal but the dividends sure are nice!
Portfolio as of Q1 2017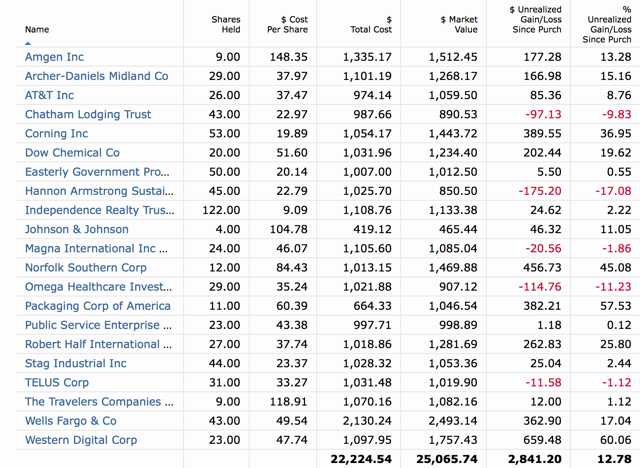 (Image from Morningstar)
So this is how it looks during the middle of February 2017. The extraordinary rally since the election of Donald Trump as President has been extremely beneficial to Norfolk Southern (+29% since November 8th), Robert Half International (+23%) and Dow Chemical (+15%). The market clearly feels that Trump's business agenda allied with an improving economic picture will spur growth and chemical, railroad and staffing companies should benefit.
Up to this point, my most successful stocks are Western Digital (+60%) and Packaging Corporation (+57%). WDC has risen sharply since its acquisition of SanDisk and looks well placed as market conditions improve. Meanwhile, PKG seems to be one of those boring stocks that Peter Lynch loves. Containerboard isn't very exciting but the Illinois firm's rapid price increase and 4% dividend yield on cost certainly brings a smile to my face.
REITs are the losers so far in my investment journey but I'm unconcerned. CLDT and OHI can comfortably cover their dividends while I admire the business plan of HASI as a green-minded soul.
As pleased as I am with the portfolio now, it can only be properly judged after a long period of time. I want compounding to take hold and help offset my pension when the time comes. Until then, I hope to continue adding to my positions, research new opportunities and learn about Mr. Market.
Disclosure: I am/we are long AMGN, ADM, GLW, DOW, JNJ, MGA, NSC, PKG, PEG, RHI, TU, WFC, WDC, TRV, T, OHI, IRT, CLDT, DEA, STAG, HASI.
I wrote this article myself, and it expresses my own opinions. I am not receiving compensation for it (other than from Seeking Alpha). I have no business relationship with any company whose stock is mentioned in this article.